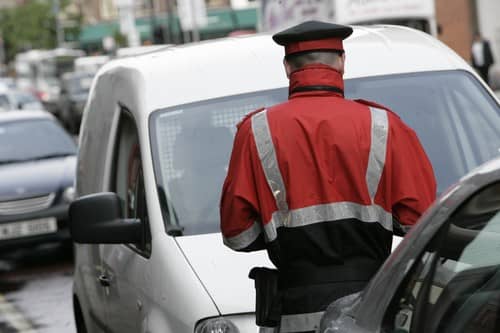 Inconsistent approaches from traffic wardens across Newry and Armagh was an issue raised during a debate in the Assembly this afternoon.
Parking was the hot topic at Stormont and Justin McNulty MLA said delivery drivers in Armagh are finding it harder and harder to do their job without incurring the wrath of "overzealous red coats".
However, contradictory approaches from several wardens is deepening the problem.
"One very vexing complaint I have is from delivery drivers," said Mr McNulty.
"They are constantly telling me that they are finding it increasingly hard to make a delivery in either Newry or Armagh without getting a ticket.
"So not only are the red coats driving customers out of towns, they are doing the same to delivery drivers. And wants more vexing, is the inconsistency. One attendant can be accommodating on one day whereas a different attendant the next day can be ruthless and completely inflexible.
"We need to see the system reviewed, we need to take on board the views of the motorists, traders and delivery companies alike.
"We need to see engagement with local government, town centre groups and chambers of commerce. We need to ensure traffic turn over but also accommodate the needs of shoppers. Can the fee be reduced? Can the length of time to pay a reduced fee be extended from two weeks to a month?  Do we have enough parking available in our cities, towns and villages?"
The SDLP representative was keen to stress the need for parking attendants but added "we must do more to protect and grow our town centres".
"No one likes to get a parking ticket, but when someone does, we want them to learn their lesson and come back into our towns, rather than putting them off all together.
"This is an issue which can show a weary public that this place listens, that the government listens to its citizens."
Read more news:
Farmer distraught as tractor belonging to late son stolen overnight
Free parking for up to 30 minutes in town centres to be debated
Schoolgirl has dream come true rubbing shoulders with stars of TV soap
Armagh charity iCare undertake 22-night Christmas extravaganza at Santa's Gatelodge
Brave family plan first annual fundraiser in Eva's memory and ask for community support
Co Armagh prestige car dealership enters administration
Funeral to be held on Saturday for loving fiancee and devoted mum-of-four Tanya
Become a member
Support local, independent businesses by becoming an independent member.
Become a member