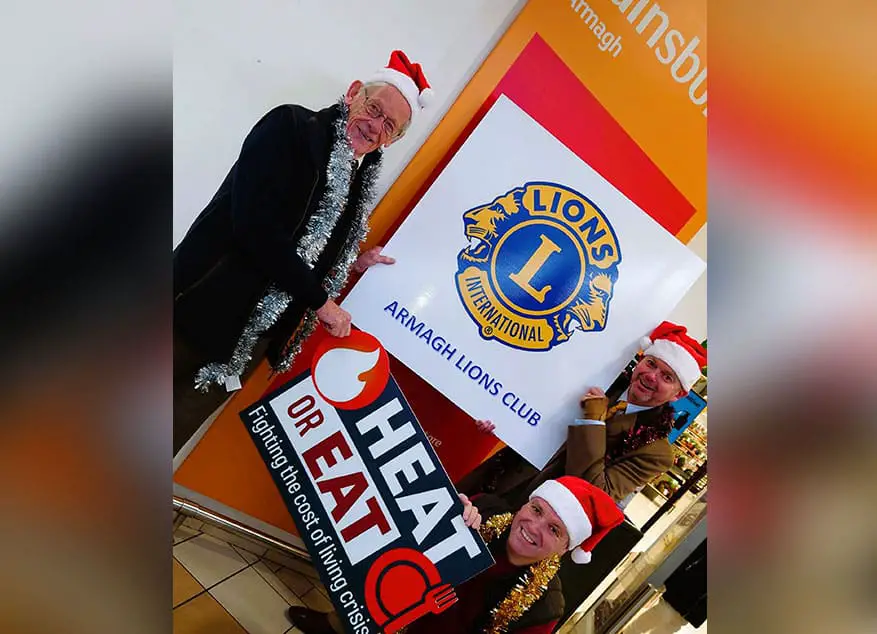 Armagh Lions Club are sending out a huge thank-you to everyone who supported their Christmas Appeal which made a timely return after a two year absence due to Covid-19 restrictions.
This year, with the cost-of-living crisis taking a harsh grip on so many, the club decided to offer those donating the choice to help heat or eat.
Conscious of the financial constraints on everyone at present Armagh Lions asked those who could to pledge a £1, either in food or toward fuel vouchers.
The response was overwhelming as people from Armagh and beyond, braved the bitterly cold, damp weather and helped fill trolley after trolley with food and donated over £1,000 in cash – all of which are already off to where they are needed most.
Club President Iain Wright said, "Every single person who contributed in any way has blessed someone in our community in need. The response surpassed our expectations and it really warmed our hearts to see the enthusiasm with which people so freely gave. The kindness and generosity of spirit is alive and well and that's what Christmas is all about. Even in these straightened times people were focusing on others who are struggling."
Thank you to everyone who donated and for their kind and moving words of encouragement. Thank you also to Sainsburys and the wonderful security staff in the shopping mall who helped in so many ways. Thank you to Armagh Food Bank for collecting the donated items for onward distribution and to Michael Campbell and his team at St Vincent de Paul for their invaluable fuel voucher scheme.
It all adds up to making life a little easier this Christmas and the people of Armagh should be rightly proud of the wonderful community spirit which has allowed this to happen.
Happy Christmas to all from Armagh Lions and thank you again for such amazing support now and throughout the year.
Armagh I People of the Year: Check out and vote for our finalists here.
Sign Up To Our Newsletter