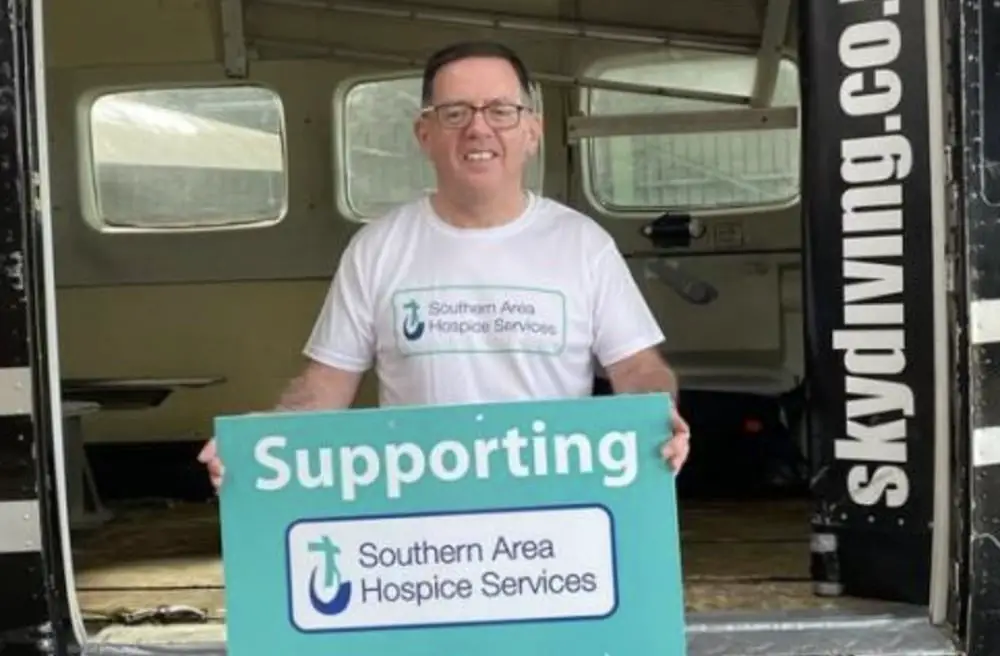 A County Armagh cleric has told of his "delight" after being awarded the MBE in the King Charles' first New Year Honours List for his work in the local community.
Rev Matthew Hagan was rector of Tynan, Aghavilly and Middletown Group of parishes for 12 years until his recent appointment as Rector of Brackaville (Coalisland), Donaghendry and Ballyclog (Stewartstown) Group of parishes,
Rev Hagan also continues to be a chaplain at the Southern Area Hospice in Newry, a position he has held for over 13 years.
He receives his MBE for Services to Hospice Healthcare and the Community in Northern Ireland.
Over the years, Rev Hagan has personally raised thousands of pounds for the Southern Hospice.
In June 2020, he pulled on his running shoes to jog 5k a day for 30 consecutive days.
When Rev Matthew was made aware of the shortfalls in fundraising due to Covid-19 forcing all Hospice fundraising events to be cancelled he felt that he had to do something to help and so he signed up for his 'Jog for June'.
And in May this year he undertook a skydive at Garvagh to continue to help the Hospice, an organisation so close to the hearts of so many.
"I personally feel that it is a privilege to be part of the Hospice and to be part of the Chaplaincy team," he said at the time. "I have a great love for the Hospice and everything that it stands for, including the outstanding care provided to both patients and their families throughout this pandemic."
The award came out of the blue but has been well-received by the rector.
Rev Hagan said: "I am delighted and honoured to receive an MBE and to have been recognised in His Majesty King Charles III's first New Year's Honours List.
"I feel very humbled that my work in parish ministry, hospice chaplaincy and work in the local communities has been recognised by this award."
Rev Hagan had contributed much time and energy to various projects in the Tynan Group of parishes.
As well as helping to oversee the £650,000 refurbishment of Tynan Parish Church following an accidental fire, he was also successful in securing over £300,000 of funding to build Middletown Parish Community Hall.
In Tynan, he was Chairman of Tynan Development Committee Limited and led a village re-imaging group which made improvements to the village of Tynan and this resulted in two Northern Ireland Amenity Council Best Kept Awards being received for Tynan Surgery and Abbey Park.
As a Hospice Chaplain, the Honours Award of an MBE is a recognition for all Hospice care and how vital it is to offer chaplaincy support to patients and their families and to meet them at their point of need.
Rev Hagan said: "I see my role as a chaplain as very much being part of an extremely committed team of dedicated, caring and amazing staff and volunteers in the Southern Area Hospice in Newry."
Rev Hagan feels privileged to have been part of the Hospice movement in Northern Ireland for over 13 years and in 2014 he set up the Annual Hospice Sunday Appeal, initially in the Church of Ireland Diocese of Armagh, and collections have been undertaken previously in some of the other Church of Ireland Dioceses in Northern Ireland.
To date over £200,000 has been raised and distributed to the Southern Area Hospice, Newry; Northern Ireland Hospice and Children's Hospice, Belfast; Marie Curie Hospice, Belfast; Foyle Hospice, Londonderry; Donegal Hospice and the Palliative Care Unit at Omagh General Hospital.
For over 20 years Rev Hagan has also contributed to education by serving on numerous Boards of Governors at Primary, Secondary, Grammar and Further Education levels.
He also served as a Board member of Stranmillis University, Belfast, for eight years.
Also recognised is Trevor Dale Robinson, principal at Lurgan College for the past 17 years, who will receive an OBE for services to eduction.
Andrew Saunders, chair of the Southern Regional College, will receive an MBE for services to the further education sector in Northern Ireland, while Eileen Donnelly, a member of the Board of Governors of the Integrated College, Dungannon, will receive the MBE for services to education in Northern Ireland.
David Ronald Quigg has also been awarded the MBE for services to police and military welfare in County Armagh.
James McDowell has been awarded the BEM for services to the Banbridge community.
Raye Elizabeth Greenaway, Portadown, County Armagh has been awarded the BEM for services to young people in Northern Ireland through the Boys' Brigade as has Derek Richard Greenaway.
Sign Up To Our Newsletter