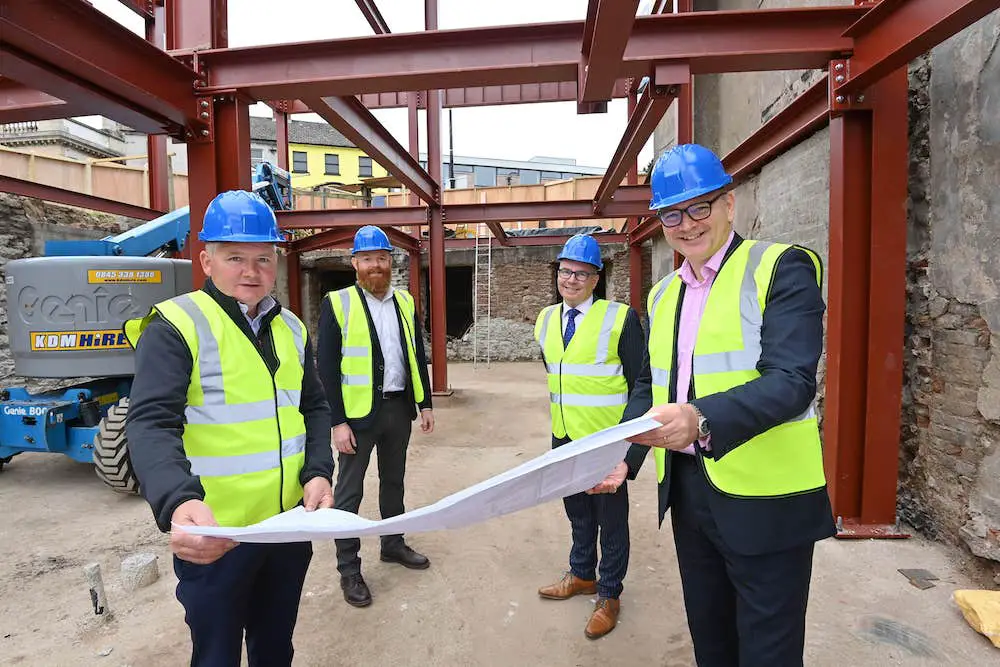 One of Armagh's most historic houses will rise from the ashes as part of an overall £6.3 million investment 60 years after being destroyed in a devastating fire.
Transformative work on No. 1 Seven House on Upper English Street, an iconic Georgian building created in 1770, will breathe new life into this part of the city, with work on several others also well under way.
With a collective investment of £950,000, the investment in No 1 Seven House has created new jobs and commercial and residential opportunities, providing a real catalyst for renewal, recovery and growth.
All Seven Houses on the street date back to the 1770s, although currently only six of them remain after the fire damage in 1955.
The handsome terrace is B+ listed and were built by Dean Averell of Armagh who was said to have commissioned their creation so that each of his seven sisters would have a house of their own.
The development is part of a major £6.3 million investment to revive and transform some of its best-loved historic buildings and streetscapes.
Up to 15 iconic buildings are being sympathetically restored across the city centre under a five-year Townscape Heritage scheme in a partnership project supported by The National Lottery Heritage Fund, Armagh City, Banbridge and Craigavon Borough Council and the buildings' owners.
One of the oldest cities in Ireland, Armagh is famous for its Georgian façades and listed buildings which are instrumental in giving Armagh its distinctive, unique and historical feel.
Lord Mayor of Armagh City, Banbridge and Craigavon, Alderman Glenn Barr, said: "Our historic buildings are part of Armagh's fabric and I'm delighted with the progress being made to revive their beauty and their use in this forward-looking, confident and
vibrant city.
"This carefully-planned multimillion-pound restorative project puts buildings and conservation at the heart of our city's future, adding to its unique character and making it an even more attractive place.
"This investment is important in protecting the city's built heritage and beauty, and the progress being made now is particularly timely as we look forward to staking our claim for the UK City of Culture 2025."
Key buildings in Armagh's protected conservation area are on track for investment include Upper English Street, Scotch Street, Barrack Street and Russell Street, which are also being redeveloped as part of the overall heritage-led regeneration scheme, with many existing businesses in the city set to benefit directly from the sympathetic developments.
The National Lottery Heritage Fund has invested almost £2 million in the Armagh Townscape Heritage Project.
Darren Rice, Committee Member, Northern Ireland, The National Lottery Heritage Fund said: "Investing in heritage means investing in the community it belongs to, which is why we are proud to support the Armagh Townscape Heritage Project, thanks to National Lottery players.
"This will not only preserve and rejuvenate the important built heritage in the city to be enjoyed by locals and visitors from further afield, but will also play a significant role in boosting the local economy and aiding the wider regeneration of the Armagh city region."
Welcoming the investment, Colin McKee, who owns No 1 Seven House on Upper English Street, said: "With the support of The National Lottery Heritage Fund and ABC Council, the project to restore No. 1 Seven House will have a positive impact on this part of the city while preserving and protecting Armagh's built heritage."
Last month, The UK City of Culture officially released the names of all those cities competing for the coveted title in 2025 and confirmed Armagh City, Banbridge and Craigavon as a potential future winner for Northern Ireland.
The Townscape Heritage Project also provides grants to eligible owners or tenants of historic buildings identified for transformation within the Conservation Area.
Sign Up To Our Newsletter