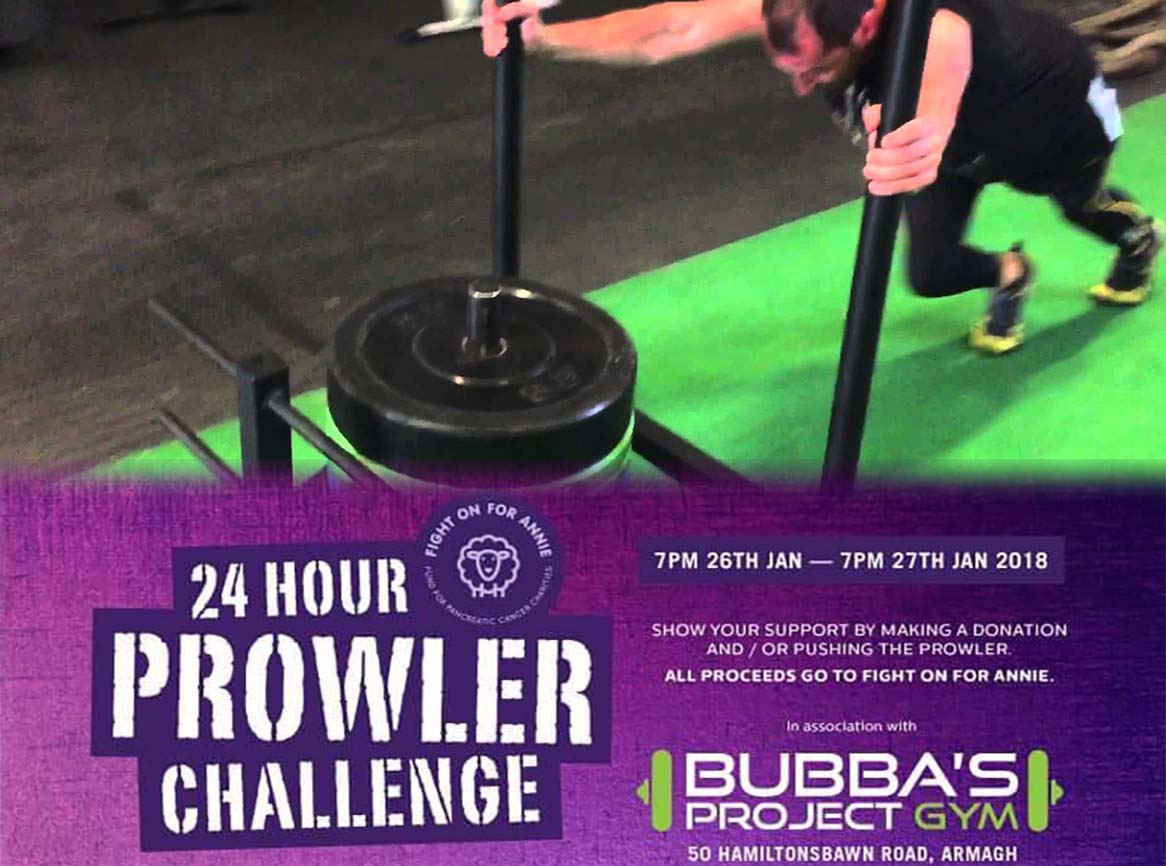 Six people will aim to push a prowler for a gruelling 24 hours in aid of the 'Fight on for Annie' pancreatic cancer charity in Armagh later this week.
The idea came about after fitness-fanatic 'Rach Beat' approached gym boss Bubba Ali, hoping to run a unique fundraiser  for the charity on Friday, January 26.
The participants will push the prowler for 24 hours – from 7pm until the 7pm on Saturday – at Bubba' Project Gym on the Hamiltonsbawn Road.
Other people are welcome to come down, make a donation and push the prowler for as long as they would like.
It is a very hard task as it doesn't take long for your legs to burn.
Bubba Ali said he decided on this challenge because the prowler symbolises a lot about what Fight on for Annie represents.
"The cancer patient getting the distressing diagnosis, pushing through the pain of their treatments, constant needles, surgery, maybe hearing that their treatment isn't working, the worry and fear about their future being uncertain.
"Other people jumping in to push the prowler represents how it is not only the cancer patient that is effected by the diagnosis, the pain of watching their loved one being sick and going through this horrendous time of their life, the pain and anger that cancer has hit their family.
"The worry and stress whilst trying to continue with life while their loved one is fighting this disease.
"It also shows that even when the survivor kicks cancers a** there is the fear that it might come back again. Or even worse, the prowler is the pain, heartache and grief that the family of those who lost their loved ones carry around every day as they miss them dearly.
"By coming down, donating and/or pushing the prowler for a few minutes you will raise money and show your support to all the cancer patients, cancer survivors, cancer angels and families affected.
"As well as showing that we are united, fighting for a world without cancer."
How you can help
Donate Take part and get sponsorship for pushing the prowler.
Come down and support the teams taking part
Tell people about the event
The reality of pancreatic cancer
Just five per cent of patients survive – it has the worst survival rate of all 22 common cancers. Pancreatic cancer is the fifth biggest cancer killer.
There are 26 people diagnosed each day; 24 people will die each day.
It receives just over three per cent of overall cancer research funding: a total of only £8 million in 2015.
Pancreatic cancer affects men and women equally For those diagnosed in time for surgery their chance of survival increases significantly
Statistics
In 2014, 9,614 people were newly diagnosed with pancreatic cancer. In 2014, 8,834 people died from pancreatic cancer in the UK.
Bubba added: "For myself, I've worked with Fight on for Annie and respect the cause so much, close to my hearts as the founder's mother had past away with pancreatic cancer, being relatives of mine, but even closer friends to support and help them raise awareness is a given.
"Grainne (O'Neill) is such a great girl, a fighter and so determined in her cause she does everything in the memory of her mum, a true role model for anyone wanting to raise awareness.
"In business we have a duty to help raise awareness with the exposure we can create, with the strength of social media and footfall of a gym we have a perfect set up for fundraising and am extremely proud this time to have this big event in the name of FIGHT FOR ANNIE.
"We are putting everything into this and will be physically and mentally pushing to our limits.
"I'm really not looking forward to the task ahead but the reality of one day of pain is nothing compared to the pain of a real sickness, whatever it may be.
"Please come out and turn Armagh purple once again and raise awareness of pancreatic cancer.
Sign Up To Our Newsletter