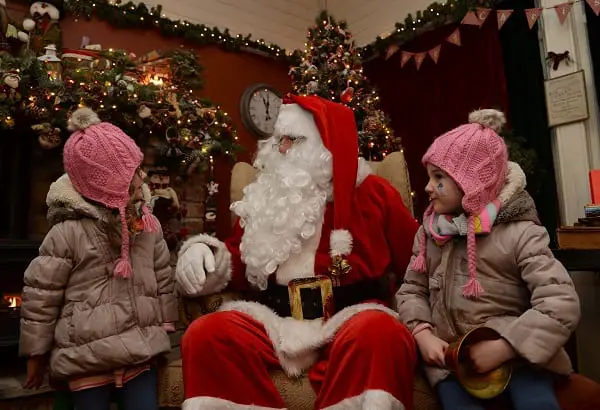 Families from all corners of the country flocked to County Armagh at the weekend for the annual iCare charity's fundraiser and Christmas extravaganza, Santa's Gatelodge.
The 2015 sell out extravaganza opened in Milford on Friday night (Nov 27) giving families the opportunity to meet the Fairy Godmother, Mrs Claus, the elves and Santa himself.
The magical Christmas tour, which attracts over 5,000 people every year, raises thousands of pounds for iCare – a charity which was set up by Homecare Independent Living employees and was shortlisted in the Social Enterprise category at this year's Ulster Bank Business Achievers Ulster Awards.
The event has been in the planning for months and, yet again, its mystical characters have captured the hearts and imaginations of children from all over.
Mairead Mackle, chief executive of Homecare Independent Living and iCare committee member, joined her team in welcoming families to Milford over the weekend along with volunteers from the community.
Ms Mackle said: "iCare has been doing phenomenal work since it was formed in 2010. We have supported families, individuals, community organizations and social enterprises.
"Year on year thousands of people continue to support iCare at Santa's Gatelodge which is fantastic. The support for our other fundraising efforts such as abseils, our text donation facility and other initiatives is much appreciated because without that support we would not be able to help people to the extent we do.
"Money raised at Santa's Gatelodge helps so many people and all proceeds raised goes directly to the charity and is distributed via the national 'iCare wishes' programme where people can request an 'iCare Wish' for someone in need.
"Funds from Santa's Gatelodge help so many people and a recent example was the donation of a special chair to a four-year-old boy from County Tyrone. Rory Casey, from Killyman, has Down's Syndrome and delayed development so the chair is very useful to his mobility at school. This is just one example of how the iCare Wishes programme helps.
"Again this year, Santa's Gatelodge sold out within a few days and our appeal for volunteers was hugely successful. We require about 275 volunteers to make Santa's Gatelodge happen so we are very grateful to everyone who is selflessly giving us their time."
Families this year are being treated to two great additions in the form of a traditional sweet shop and a new fairy mound.
Santa's Gatelodge runs this year until December 13. To make a £5 donation to iCare, Text iCare to 70660. Text costs £5 plus network charge.
Sign Up To Our Newsletter