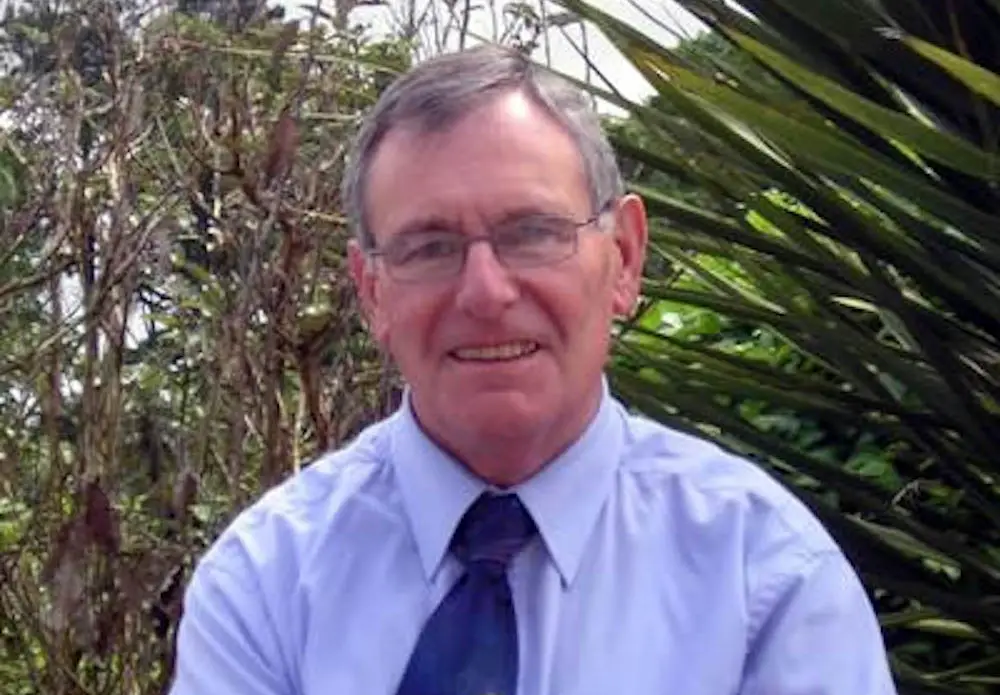 The founder of Pinkertons of Armagh has been remembered as a man whose skills, hard work and ethics helped him establish a business which became a leading player in the meat industry.
And Eric Johnston, who passed away on Sunday at his home at Milford at the age of 78, was first and foremost a family man who endeared himself to so many.
Rev Simon Hamilton, speaking at his funeral service in Tassagh Presbyterian Church today (Wednesday), spoke of the difficulties which arose as the family coped with the progression of Parkinson's Disease which beset Mr Johnston in his latter years.
But he also spoke of his own personal experiences of Mr Johnston, who aside from his business dealings enjoyed sport and was a regular attender at Loughgall FC matches.
Mr Johnston was the second of eight children born to John and Jane Johnston, who lived at Tullybroan in Tassagh.
As a boy he attended Keady Primary School and when his mandatory school years were complete he undertook some further studies at night tech and also began to work as a breadman for a local bread distributor where he served the community well.
Rev Hamilton said: "At the age of 19 he became an employee for a pork processing business – Pinkerton's – which was located more or less where Sainsbury's now is in Armagh.
"This employment prompted Eric to develop his own bacon slicing business that operated and thrived from the garage of his dwelling house.
"Eric worked for Pinkerton's for over 30 years before acquiring it in 1995, where it was relocated to its present site outside Milford.
"His detailed knowledge of this business – as well as his own self employed skills – ensured that his acquisition was a wise and profitable one.
"Under Eric's watch, Pinkerton's provided quality employment to many staff and quality products to its many customers and it continues to trade now under the ownership of Eric's son, James.
"We know that when it comes to the Agri-Food sector in NI that there are many requirements to comply with in order to ensure that food standards are kept high. Eric would never have been one for short-cuts.
"I know of people who have worked for Eric in the past and they speak so highly of him with regard to his hard work and focus on high standards of business ethics.
"These personal qualities were surely important factors with regard to the growth of Pinkerton's under Eric's ownership."
The minister, speaking personally from his own time spent working at the Ulster Bank in Armagh, recalled Mr Johnston as being a "focused and reputable businessman", before adding: "I still have an image of him in my head in his clean and neat white coat."
Rev Hamilton reflected on the wedding of Eric Johnston to Jean Faulkner, at St Mark's Church in Armagh, on April 30, 1977.
"Their wedding was attended by just two witnesses as guests and I understand that Eric had a little bit of explaining to do to his parents after!", he said.
Mr Johnston was predeceased by his loving wife, Jean, exactly 10 years ago.
Together they were blessed with eight children – sons, Gordon, James, Robert, Christopher, Keith and Philip, and daughters, Allison and Laura – and six grandchildren.
Away from his work, Mr Johnston was someone who had a "great interest in local soccer", said Rev Hamilton.
"Saturday afternoons were often spent watching his beloved Loughgall FC," he said.
And he added: "He also was a member of the Royal British Legion branch in Armagh."
Looking back on his own personal connections to Mr Johnston, Rev Hamilton said his memories as his minister were rather different from what he remembered of him during times when he worked for Ulster Bank.
Said the minister: "As we know, in recent years, Eric has suffered more and more with the degenerative effects of Parkinson's disease.
"During the initial years of my five years as Eric's minister, he would have been fairly regular in his attendance at our services of public worship, but in more recent years with the progression of his illness, this had not been possible.
"It has not been easy for Eric's family to see their loved one's quality of life reduce much over the years and with such limited communication.
"The family are thankful for all the medical people and carers who have sought to help Eric during the various stages of his illness.
"I would pay tribute to Philip in particular for the way that he has taken on the sacrificial role of being his Dad's main carer over the past few years and for his focus on trying to ensure that Eric's various needs were provided for.
"As we reflect on a life that was well lived in many ways, as your minister, it is my role to try and commit you to God and the word of His grace that can strengthen you within at this time."
Mr Johnston was predeceased by his infant brother Gordon and sister Pamela, and is survived by sisters Betty and Jennifer and brothers Roy, Jim and Adrian.
To they – and to his sorrowing sons and daughters and wider family circle – we offer our deepest sympathy on their heartbreaking loss.
Sign Up To Our Newsletter