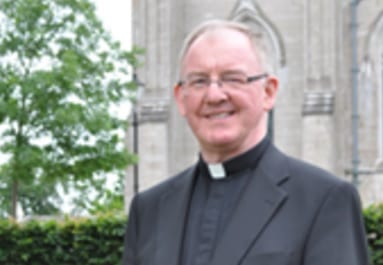 The headmaster of St Patrick's Grammar School in Armagh is to retire from the end of this school term.
Fr Kevin Donaghy will be stepping down after 17 years at the helm.
He has overseen some exciting changes to the city-based school.
In January, he also welcomed Education Minister John O'Dowd to oversee work on the £4 million School Enhancement Programme.
Fr Donaghy has been a popular headmaster with staff, parents and pupils.
He is understood to the be last priest serving as a school headmaster in Northern Ireland.
An advertisement has been placed for a new principal to take over from September.
Fr Donaghy attended the school himself and he leaves St Patrick's after a time of great transformation.
Now a voluntary grammar school, St Patrick's is looking to the future and work is continuing to upgrade the school meals accommodation and conversion of the extensive former boarding accommodation into classrooms, a library, ICT rooms and a careers suite.
Fr Donaghy – speaking in January during a ministerial visit – said: "This project amounts to a significant upgrade in both accommodation and facilities at the school and it equips us to serve the needs of students and staff to a very high standard."
The principal knows as he steps down that the school has fared well under his leadership and is well prepared to continue to offer educational excellence to generations to come.
We wish Fr Donaghy well in his forthcoming retirement.
Read more news:
Armagh's Lennox House shops and office complex is put up for sale
Council told of multi-million pound 'health hub' plans for Armagh and Lurgan
Family urge support for Air Ambulance in memory of 'our beautiful Lesley-Ann McCarragher'
Brave Rachel's fashion show final tribute to much-loved brother John
Armagh secondary schools 'unable to cope with demand for places' in just nine years time
Vile fake news scam reports multiple teen fatalities in County Armagh crash
Paul Quinn murder: man in custody after border searches
Become a member
Support local, independent businesses by becoming an independent member.
Become a member