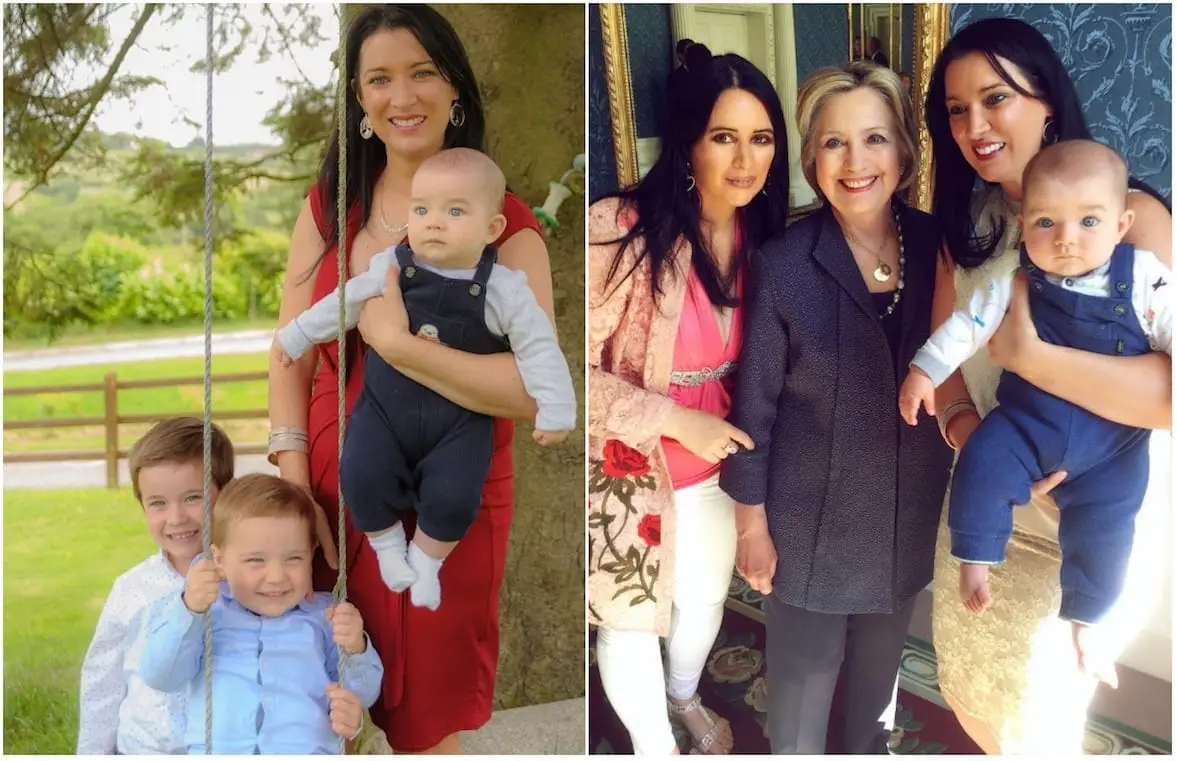 Former Lord Mayor Sharon Haughey-Grimley has announced that she will not be seeking re-election next year following 14 years as a public servant.
The SDLP representative has cited growing family commitments – with three young boys all under the age of four – for her reason to take a step away from the limelight.
The popular councillor was 24 when she was first elected back in 2005 and has consistently won the only nationalist seat in the Cusher electoral area since.
Back in 2012 she was Lord Mayor of Armagh City and District and welcomed record numbers of people to the palace to recognise the impact ordinary people were making on their communities everyday.
She first came to prominence as a teenager, after famously presenting her heartfelt Peace Speech, when she introduced President Bill Clinton to the Mall in Armagh in 1998.
Incredibly Sharon has maintained her friendship with both Bill and Hillary Clinton and just on Friday last met up with her former boss, Mrs Clinton, in Dublin.
In an unexpected move that will stun many of her loyal voters Sharon has announced that she will take a break from elected politics once she finishes her term next May.
"It's not an easy decision for me to make as I continue to enjoy such strong support from my local community but this decision is personal for me," said councillor Sharon Haughey-Grimley.
"I now have three beautiful boys aged four and under and they need their mummy.
"It's always a struggle for working mothers to juggle work and family life but what many people may not realise is that as well as being a councillor I also work full time with Ulster GAA.
"This means I can be out of the house 50 hours-plus a week, and then when I am at home I am always available to people in my representative role.
"I have lived a very hectic life for many years now dedicated to serving others and I have decided it's now time to slow down, and with my children, it's time to be at home more."
She added: "It has been the highest honour for me to represent local people and local communities. I am forever indebted to local people who have loyally supported me over the years, welcoming me into their homes, their communities and coming out and voting for me."
Asked if this was the end of her political career Sharon said: "Politics has never been a career for me, it's more of a vocation.
"I am politically motivated and believe we should all play our part, in whatever way we can, to make our place better.
"Right now I want to spend more time with my young children. In the future, I may very well be motivated to stand for election again; I certainly intend to remain involved in politics."
The committed councillor won't exit the political stage for a while yet as she will be completing her full term of office which will end next May and she is expected to endorse a new SDLP candidate for Cusher to follow in her footsteps.
Sharon has an impressive CV, achieving a First Class Honours Degree from University of Ulster while being the youngest member of NI civic Forum.
She has worked for the SDLP as press and political advisor to the leadership at Stormont.
Famously worked for Hillary Clinton in the US Senate. And currently is involved in pioneering work with Ulster GAA in their community development unit.
"Politics was a natural home for me being so socially aware and political motivated from such a young age," said the Granemore woman.
"I set out all those years ago as a teenager to make the voices of young people heard. Since President Bill Clinton gave me a platform in 1998 to express the wishes of a young woman growing up in a troubled society, I have stepped up at every opportunity to defend Peace, reconciliation, and the protection of life. It has been a real privilege.
"I have been blessed with so many amazing opportunities and being elected to represent local people is certainly one of those experiences that I will always hold dear.
"I have celebrated with communities, I have cried with families in their darkest hours and I've worked extremely hard for all those who needed my help or support. I have made many friends along the way, from all traditions and all political backgrounds. It has been an honour."
The SDLP are expected to launch a new candidate for Cusher over the coming weeks.
Sign Up To Our Newsletter