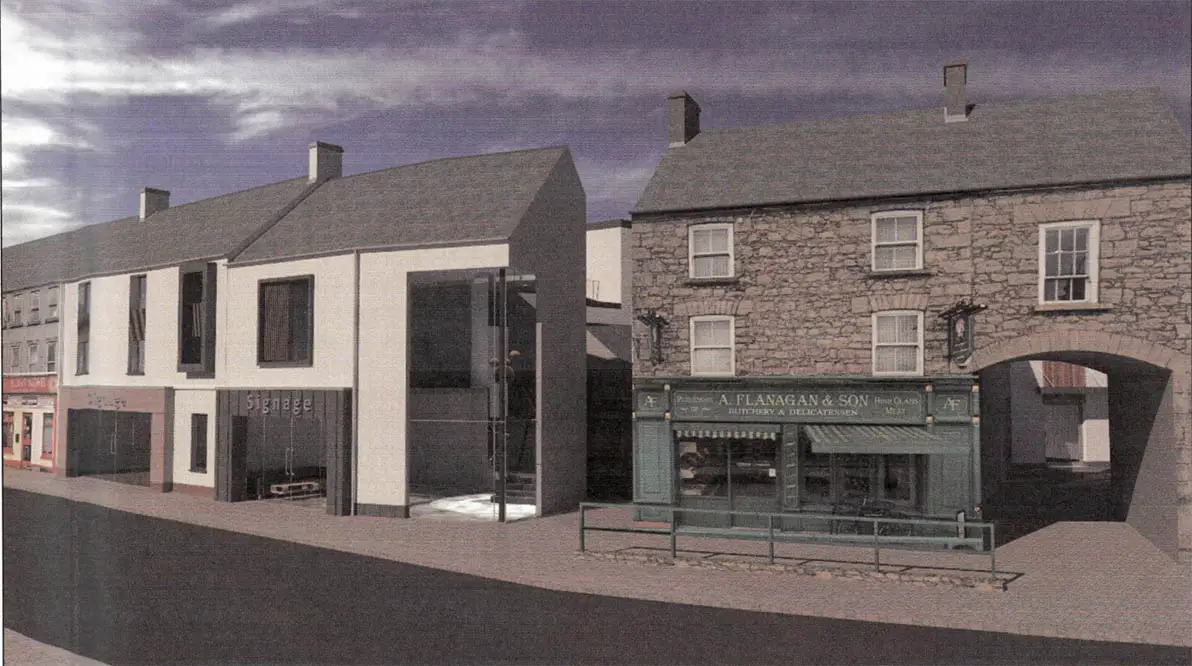 An Armagh church's plans to demolish the former Calverts Tavern pub and Spiders nightclub and build a new community hub and retail unit are to be recommended for approval.
Officials feel that ABC Council should give its blessing to Vibe's proposals for the vacant property at Scotch Street.
And they will make that recommendation to council's planning committee when it sits in May – despite concerns from the former pub's neighbours, the Armagh Indian Nights restaurant and takeaway, over the effects of development on its business.
Armagh I revealed details of the latest plans for the prominent city centre site in November last year.
The vacant premises at the foot of Scotch Street had previously been intended to be restored and refurbished.
But an application by Vibe Church – submitted over three years ago – was withdrawn.
According to that submission, the premises had been intended for "ecclesiastical use". It was planned to carry out works to the front elevation, as well as internal alterations, together with the construction of a new floor and portal structure to the rear of the existing building.
The application was submitted to ABC Council in March 2019 and would have centred around new church premises and coffee shop.
Two objections, both from the Ulster Architectural Heritage Society, were received.
As we reported in November, new proposals were brought froward which would involve complete demolition.
Once again, Vibe – which stands for Vision, Integrity, Boldness and Evangelism – was behind the plans for the derelict property.
The church is based at 1 Little Barrack Street, to the rear of the former Spiders Nightclub, which itself was to the back of Calverts Tavern, which had an address at 3 Scotch Street.
Vibe submitted an application for a "mixed use development".
The proposals, now being recommended for approval, would see the demolition of the former Calverts Tavern and Spiders Nightclub.
The work would see an "extension to the existing on site church facilities", together with the creation of a new community hub and retail unit.
The ground floor would have two entrances – the retail unit sits to the left next door to Armagh Indian Nights. The right hand side – with a separate opening – would take visitors through a reception and exhibition area. It would, among other things, include toilet provision, a number of multi-purpose rooms, coffee area and 'break-out' area.
Armagh limestone would be used to the front of the building on Scotch Street.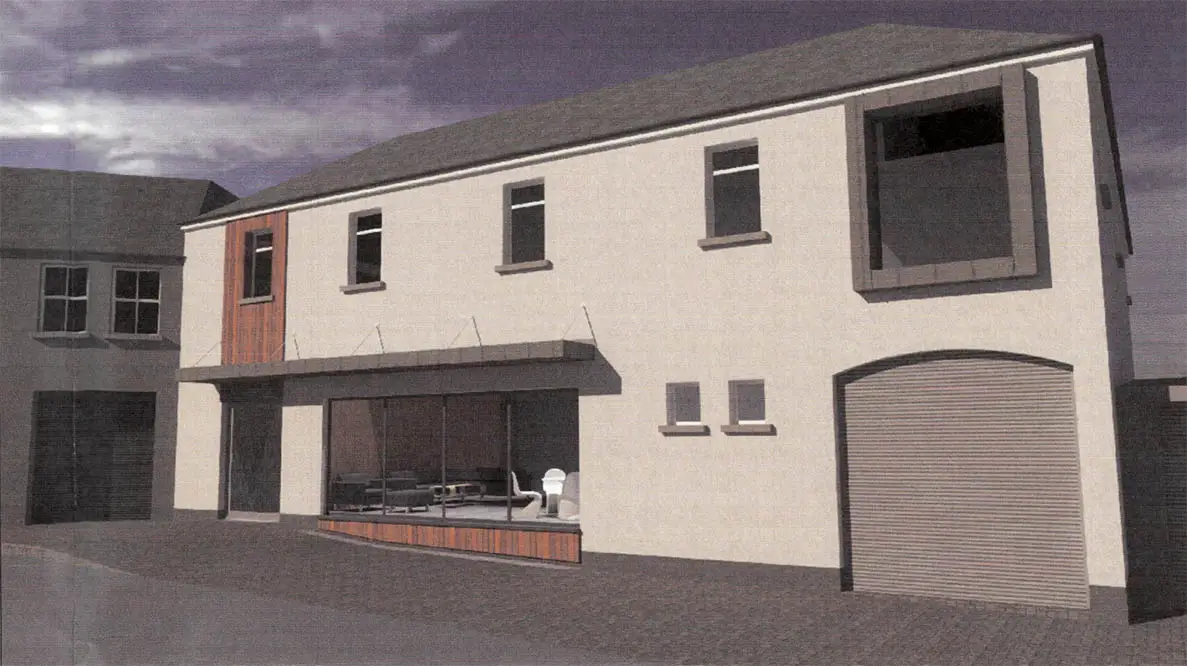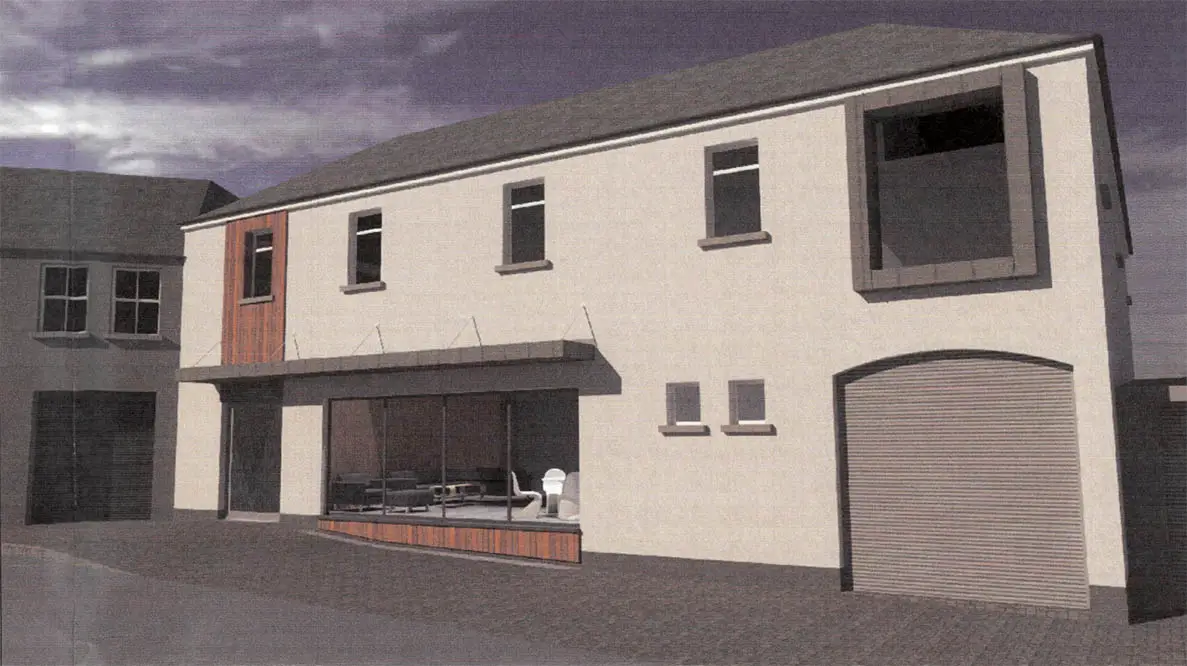 On the second floor, there would be three offices, conference room, counselling room, another seated break-out area, additional toilets, main hall and more – and all connected with stairs and lift access.
The third floor would boast a paved terrace, as well as a large teenage games room, next to male and female showers and toilets to the rear.
While considering the application, one letter of objection came forward from the neighbouring Armagh Indian Nights.
The owners wrote: "While we think it would be beneficial for this area to be transformed, we do have some concerns as we are an adjoining building.
"The wall in our dining area is an inside wall separating us from next door. When this building is demolished this wall would become open to the elements. We wish to know what the applicant would do about this.
"We are also concerned about how a long construction process may hinder our business due to road closures, lack of customer parking etc.
"We hope you are able to address our concerns."
A parking study carried out and forwarded to council took consideration of a busy Friday when it was reported there were 59 on and off street parking spaces available at 10am, 39 at 1pm and 60 at 5pm, when "car parks were becoming less busy as shops were closing".
And the study's authors concluded: "There is parking availability throughout the busiest weekday (Friday) to fully meet potential car parking demand of The Vibe proposal, and the assessment is based on primary data of car parking availability."
There has also been some modifications made in relation to appearance due to concerns raised by Historic Environment Division.
Chartered architects, on behalf of Vibe, have advised council in writing: "There is very limited, if any impact, on the character or setting of the listed buildings further along the street and this is also the case with the proposed use as a multi-use community facility whereby there will be no further noise, nuisance or general disturbance to the surrounding area.
"We have, however, taken on board HED comments and have sought ways in which we could further reduce any potential impact on the surrounding listed buildings through revisions to the Scotch Street elevation."
Calverts Tavern was cleared of old furnishings and fittings in 2017 as Belfast-based Frazer Kidd was employed to market the premises, a thriving nightspot during the 1980s and 90s in particular.
The Spiders Nightclub had been located to the rear of the bar and the ground floor site stretches to over 5,000 sq ft.
This new development would make use of the entire site and bring it back into productive use.
The application – with recommendation to approve – now goes before planning committee when councillors will have the final say on whether or not to accept that opinion and let the development process.
Sign Up To Our Newsletter