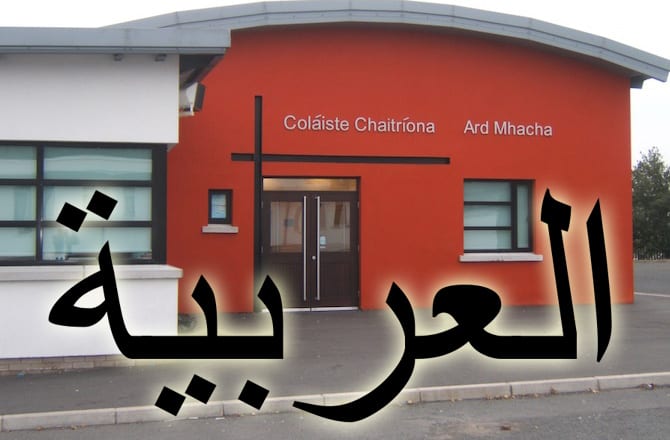 Five schools in Armagh City are among nine here who are teaching Arabic language and culture to pupils.
According to the British Council, Arabic has been identified as the "second most necessary language for the UK" over the next 20 years.
And, at present, only 300 schools – which represents one per cent of all schools – offer it to students as part of the curriculum.
A total of nine schools in Northern Ireland are now promoting the teaching of Arabic language.
Five of these – three primary schools and two post-primary – are in Armagh.
The British Council's drive to promote the teaching and learning of Arabic language and culture was identified in a report entitled 'Languages for the Future'.
The Council says "knowledge of Arabic among people in the UK creates a deeper mutual understanding between our communities and those in the Arab world".
In Armagh, both St Patrick's Grammar and St Catherine's College are taking part at post-primary level, while the young pupils can avail of teaching in Arabic at St Malachy's Primary, St Patrick's Primary and Saints and Scholars Primary School.
A spokesperson for St Catherine's College said the school was "delighted" to be able to offer students the subject choices.
She told Armagh I: "Saint Catherine's College was one of several schools in the Armagh area which offered students the chance to learn basic Arabic language skills and develop their understanding of Arabic culture.
"Funded by the British Council and delivered through Interlingua NI, the programme provided an invaluable opportunity to promote multi-cultural understanding and appreciate cultural diversity.
"The journey continues this year with the teaching of Mandarin in our school.
"We are delighted to be able to provide our pupils with such a rich curricular experience."
In addition to increasing the number of schools offering Arabic, the British Council programme aims to provide professional development opportunities, mentoring and modern resources for Arabic teachers, and to "produce fresh research into Arabic language and culture teaching pedagogy and initiate a key stakeholder committee to pave a strategic way forward to meet the UK Arabic needs".
Also taking part in the British Council programme are Belfast Royal Academy and Methodist College, also in Belfast, as well as St Columb's College in Derry/Londonderry, and Shimna Integrated College in Newcastle, County Down.
Read more news:
SS Connemara & Retriever disaster to be marked despite funding setback
GP out of hours service facing 'significant challenges' in Southern area
Second cash bid to transform Armagh City Centre due to be submitted
Major £200,000 improvements to begin at Armagh Road, Portadown
Sign Up To Our Newsletter