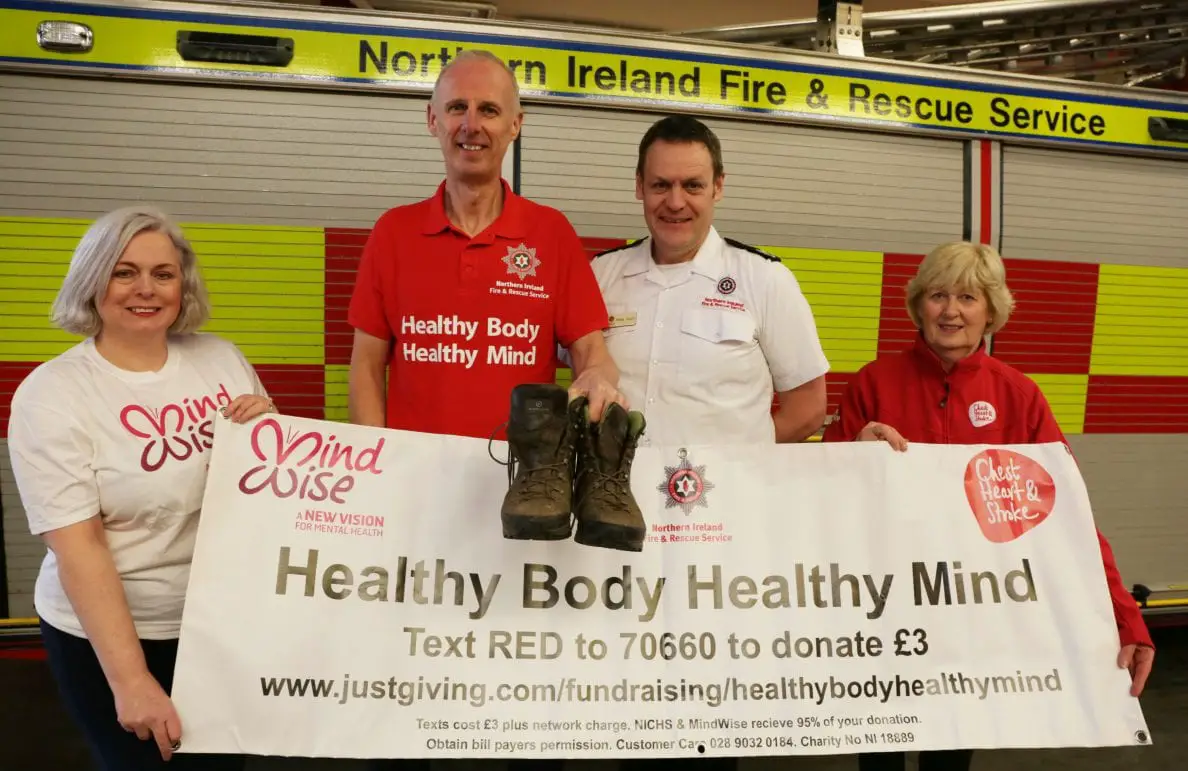 Firefighter Noel McKee is undertaking a series of marathon walks across each county in Northern Ireland in support of Northern Ireland Fire & Rescue Service (NIFRS) 'Healthy Body Healthy Mind' campaign.
The task – which will take him to Co Armagh on Monday, March 19 – is part of a partnership with local mental health charity, MindWise and Northern Ireland Chest Heart & Stroke.
Noel hopes to complete six marathon walks over six days, a total of 157.2miles, starting at Florencecourt in Fermanagh today (March 18).
Tomorrow, at 9am, he will resume his walk along the Portadown to Newry Canal Towpath.
The Healthy Body, Healthy Mind campaign is raising awareness of the importance of looking after both your physical and mental health.
As a firefighter for over 30 years and a trained counsellor, Noel knows only too well the linkages between physical and mental well-being.
As part of the Healthy Body Healthy Mind campaign, Noel, from Whitla Fire Station in North Belfast, supported by colleagues and the 2 charities, has already completed a 'Station to Station' cycle to all 68 Fire Stations in Northern Ireland, run a marathon in Amsterdam and recently swam a marathon distance, completing 1704 lengths of the pool over eight days.
His next challenge is 'Walking Out of the Darkness' – a marathon length walk each day for six consecutive days, taking in each county in Northern Ireland  –which will finish in Co. Down on Friday, March 23.
Noel, who is passionate about the benefits of exercise on our mental health, explains more about his latest fundraising effort.
"I've been a therapeutic counsellor in the community for years, and what I see time and time again is that physical ailments can have a big impact on our mental health, and vice versa," he said. "I believe that good physical health can help us to be more resilient and help improve our mental health."
Noel will be walking a marathon distance over six days to make the walk easier for people to come and join him for all or part of the route in each county.
"Sometimes, life's a bit of a marathon, but if you break it down into little bits, then it's much more manageable," he added. "The clocks will soon be going forward and it's the season when people are leaving winter behind and coming out of the darkness, so anyone is welcome to join me on any part of the walk, as sometimes a walk and a chat is all it takes to help improve someone's day."
Edward Gorringe, Chief Executive of Mindwise said: "We're incredibly proud to be part of the Healthy Body, Healthy Mind initiative. Physical health and mental health are intrinsically linked. Poor physical health can lead to an increased risk of developing mental health problems, and poor mental health can negatively impact on physical health.
"Noel has been an amazing ambassador for the initiative, and we want to thank him and NIFRS for getting out there and spreading the message so effectively.  We're fully behind Noel in this exciting new challenge.
"By working in partnership with NIFRS and Northern Ireland Chest Heart & Stroke, we've raised awareness in the vital links between mental and physical health, and how people can support both their body and their minds in staying healthy".
Declan Cunnane, Chief Executive of Northern Ireland Chest Heart & Stroke commented: "Just over half of adults (55%) meet the guidelines of 150 minutes of physical activity a week.
"This Marathon Walk which Noel is undertaking will hopefully encourage people to become more active and look after their mental and physical health.
"Physical activity is so important for both mental and physical health and can help reduce the risk of chest, heart and stroke illnesses."
Noel is raising money for both MindWise and NI Chest Heart and Stroke and you can donate to Noel's fundraising efforts via Justgiving https://www.justgiving.com/fundraising/healthybodyhealthymind or by texting RED to 70660 to donate £3.
Sign Up To Our Newsletter