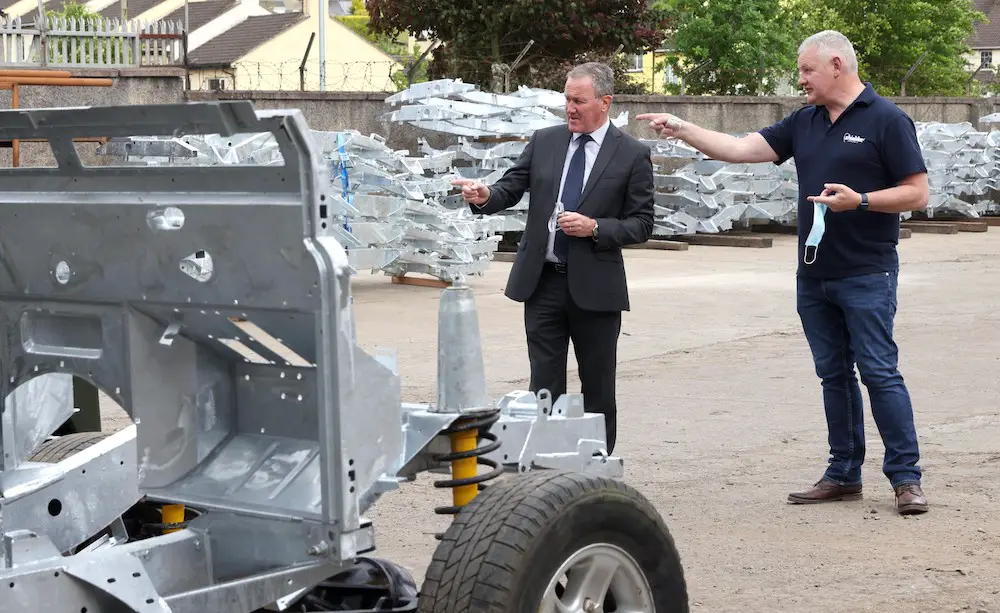 Finance Minister Conor Murphy visited Impact Fabrications this week to see how the company has benefited from the recent £25,000 manufacturing grant scheme.
Based in Armagh and employing a team of 30 people, the steel fabrication firm manufactures chassis and bulkhead parts for classic Land Rovers, exporting their products globally.
Finance Minister Conor Murphy said: "I am delighted to visit this innovative local company to see how the grant scheme has supported the business and its employees through the pandemic.
"I have been determined throughout the pandemic to ensure vital support reaches as many businesses as possible. Manufacturing businesses are an essential part of our economy employing over 85,000 people across the North. Like many other sectors they've been adversely impacted throughout the pandemic.
"This one-off grant of up to £25,000 has provided over £2.7m to 115 businesses in the Armagh, Banbridge and Craigavon borough, most of which were unable to access grant support in the initial lockdown.
"I hope this grant scheme, combined with the second year of a 12 months rates holiday, will support companies like Impact Fabrications and give them the capacity to recover and grow in the time ahead."
Impact Fabrications received the £25,000 grant as part of the Department of Finance's Manufacturing (Industrial Derating) Support Grant.
Paul Coyle, Managing Director of Impact Fabrications, said the grant has provided a lifeline for the company as it rebuilds following the pandemic. "This is an incredibly welcome investment by the Department of Finance which has enabled our company to facilitate social distancing and ensure compliance with safe working practices.
"While the last year has been a difficult one for our business, the grant support along with the additional 12 month rates holiday our industry has received will help save jobs and allow us to invest in our recovery."
Sign Up To Our Newsletter