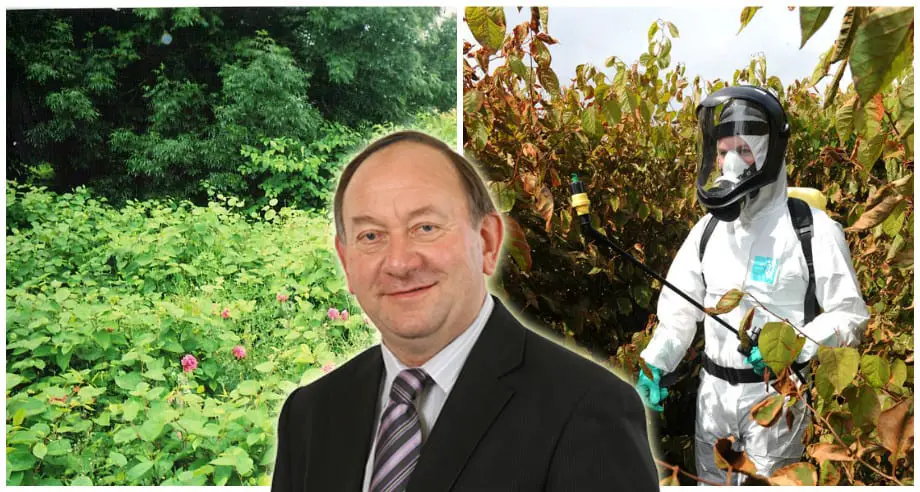 A regional programme could be brought forward in a bid to eradicate Japanese knotweed – an invasive alien plant which has played havoc with our local heritage, houses and wildlife.
A motion has been passed at Stormont which calls for Environment Minister Michelle McIlveen to bring forward proposals.
But the Minister has pointed to the costs involved and the dangers of setting a precedent in taking action on just one such alien species.
Japanese knotweed has been discovered just feet from the homes of two local constituents and their fears were raised on the flood at the Assembly.
It was Japanese knotweed too which held up the progress and development of Keady Glen after its discovery during the early stages of work there.
Contractors were unable to move on with the work. Spraying is carried out and it can take up to seven years before an area is declated clear.
The Minister referred the chamber to one published source which reported a cost of £2 million to eradicate Japanese knotweed in a two hectare development site in 2010. The European Environment Agency, meanwhile, quotes a figure of €175 million being spent in the UK on control — not eradication — of the species.
Japanese knotweed was actually introduced to the United Kingdom in the 19th Century as an ornamental shrub, but has since spread ferociously and without obstruction, particularly on waste ground and along watercourses.
It becomes rapidly established in tall thickets, preventing the growth of native species. In doing so, it chokes waterways and hedgerows and greatly reduces local biodiversity.
The impact that it can have on the built environment is also of great concern; it can penetrate concrete and tarmac and cause structural damage to buildings.
South Antrim DUP MLA Pam Cameron – who brought forward the motion – said it was "particularly distressing for householders who have found themselves in a position in which their property becomes virtually worthless owing to the mortgage company's reluctance to lend on homes that have been affected by, or are even in proximity to, an infestation of Japanese knotweed".
Among those backing the motion was Newry and Armagh Assemblyman William Irwin, who said he had been approved by two constituents in the past week after outbreaks of Japanese knotweed close to their homes in rural areas.
He said: "In those instances, the weed is only a matter of feet away from their homes, which is, of course, a huge source of concern for them.
"In both instances, the weed is not on land in their ownership, raising the important issue of who has responsibility for control and removal, given that, under current environmental law, it is not an offence to have Japanese knotweed growing on your land.
"The very word 'knotweed' strikes fear in homeowners across the Province, especially as the weed is extremely difficult to control. Homeowners themselves cannot effectively and ultimately eradicate the weed without there being an evacuation of the root system.
"As an invasive species, knotweed, like hogweed and other species, once established, spreads easily in almost any type of soil. When you consider that it can be spread easily by an accidental movement of the plant stem or its root system, which can grow to a depth of three metres and seven metres horizontally, it is easy to understand why it is so prevalent.
"Even the tiniest fragment of knotweed root can produce a plant, which can then grow by up to two centimetres a day regardless of soil type. It can penetrate existing cracks, blockwork or concrete walls and foundations.
"People are most concerned about the weed growing in close proximity to homes. There are many reported instances of homeowners being hampered, as was said, in attaining mortgages and in reselling their properties if knotweed is close to those properties."
Mr Irwin said a "renewed focus" was required to work towards the effective eradication of knotweed, and those affected by the spread of knotweed "deserve assistance in the fight against this highly invasive species".
Offering his support for the motion, the local MLA said regardless of difficulties and costs, and in view of public concerns, "a suitable plan and procedure" for dealing with Japanese knotweed – especially for homeowners – needed to be put in place through an "effective eradication policy".
Minister McIlveen said that, given treatment approaches for removal of Japanese knotweed required three to seven years, it would "not be unreasonable to predict that costs of an eradication programme would increase year on year and would require ongoing budgets over a prolonged period".
And she continued: "The question of whether there should be a regional eradication programme for Japanese knotweed raises interesting secondary questions about why we should do so for this species and not other plant species that can cause damage and whether that creates expectation and precedent that public resources be used in this way."
But given high-profile cases of late and the effects of knotweed on the build environment and strain on families affected, the Assembly passed the motion and requested "proposals for a regional programme to eradicate Japanese knotweed" be brought back.
Read more news:
Sign Up To Our Newsletter