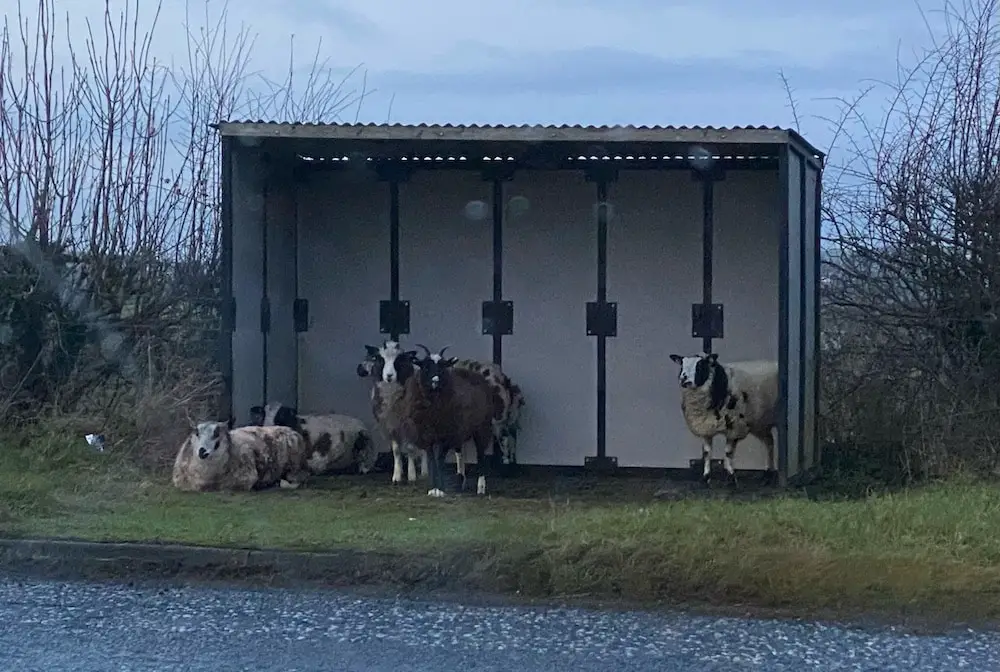 Have you heard it said there's wiser eating grass?
If so, there's no pulling the wool over your eyes as it would appear that it is indeed true.
For these fine animals had the good sense to take shelter from what you might say was a dirty old day!
Anyone hoping to find a space at this bus shelter in Tassagh would have been bitterly disappointed this morning (Monday).
There was no separating the sheep from the goats who had made themselves at home.
This was at Ferla Crossroads, on the Newtown-lamb-ilton – sorry hamilton! – Road, and we must say thanks to Fiona, who took the photographs, and whizzed them over to us, chop chop!
We don't know if these four-legged friends were waiting on a bus or not – ewe'll have to make your own mind up!
Certainly a few were lying down, quite unconcerned, while others were standing about the area, and some did appear to be watching and waiting.
Not sure if Rams-link actually stop on this route. This was earlier today and by this evening they appeared to have flocked off – must have hoofed it!
Too much? Ok, ok, my baaaaaa-d!!
Sign Up To Our Newsletter