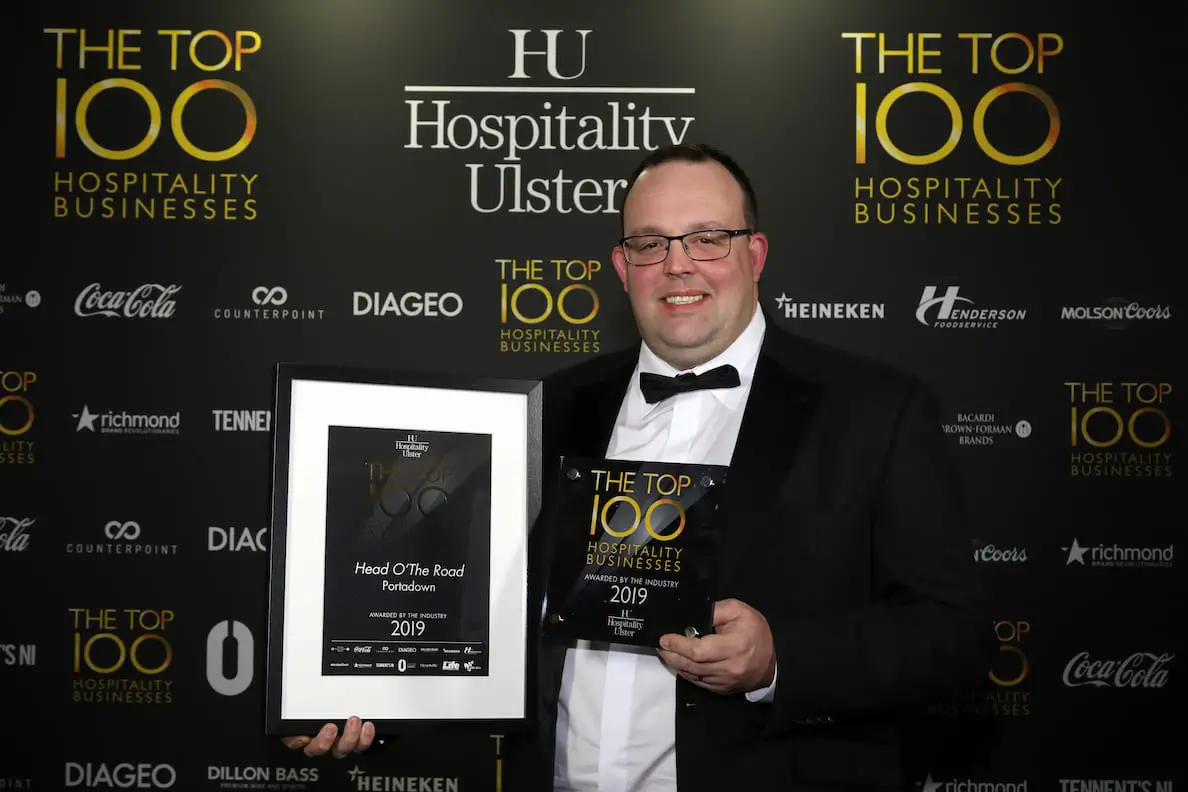 Eight Co. Armagh businesses have been named amongst the Top 100 Hospitality Businesses in Northern Ireland for 2019.
Newcomers to the list, Head O'The Road in Portadown, Red Neds in Armagh and The StillHouse of Moira were amongst the top hotspots to be honoured.
They join Keegan's Bar in Armagh; The Cellar Bar and Corner House in Lurgan; McConville's in Portadown and Wine & Brine in Moira, who all appeared on the list for a second year.
The local businesses were announced as winners at Hospitality Ulster's second annual Top 100 Hospitality Business Awards at Titanic Belfast on Wednesday 27th February 2019.
The prestigious ceremony was hosted by acclaimed stand-up comedian Colm O'Regan and attended by a number of VIP guests including former Ireland rugby captain, Brian O'Driscoll and sports pundit, Adrian Logan.
Hospitality Ulster's Top 100 Hospitality Businesses shines the spotlight on Northern Ireland hospitality at its best. The Awards were presented in alphabetical order on the night, with each winner receiving equal recognition for their role in driving forward industry standards.
Commenting after the Awards ceremony, Mark Stewart, chair, Hospitality Ulster said: "We're delighted to shine the spotlight on the top hospitality businesses throughout Northern Ireland for a second year.
"The Top 100 Hospitality Businesses are venues that continually go the extra mile to provide first-class hospitality and customer service, from pubs to nightclubs, restaurants to hotels. We have so many businesses at the top of their game here in Northern Ireland and we would like to congratulate all of our winners again on making it to the Top 100."
Hospitality Ulster's Top 100 Hospitality Business Awards are the only industry recognised awards. Entries and nominations were vetted and shortlisted by a panel of independent judges.
Headed up by Northern Ireland food critic, Joris Minne (Belfast Telegraph), the panel included celebrity chef Paula McIntyre, Irish News journalist and food columnist Allison Morris, Ulster Business editor, John Mulgrew and Sunday Life Pub Spy columnist and music journalist Edwin McFee.
This year's Awards were supported by partners, Bacardi Brown-Forman, Coca-Cola, Counterpoint, Diageo, Dillon Bass, Heineken, Henderson Foodservice, Molson Coors, Richmond Marketing, Tennent's NI and United Wine Merchants Ltd and media partners, Hospitality Review NI, Sunday Life and U105.
As part of Wednesday's event, the 100 winners were also placed into a prize draw to win a range of incredible prizes. A place on a Mini MBA course at Queen's University Belfast (sponsored by Queen's University) was won by Hagan's Bar & Bar Bella, Dungannon; Henry's & The Jailhouse scooped a £2,000 marketing package with U105 (sponsored by U105) and Ocho Tapas in Portrush won the use of a branded Top 100 car for a year (sponsored by Donnelly Fleet and Towergate Dawson Whyte).
Funds raised on the night will be donated to The Benevolent, a charity that provides help and support to current and former employees of the drinks industry and their families.
The full Hospitality Ulster Top 100 can be viewed online at www.Top100NI.com
Sign Up To Our Newsletter