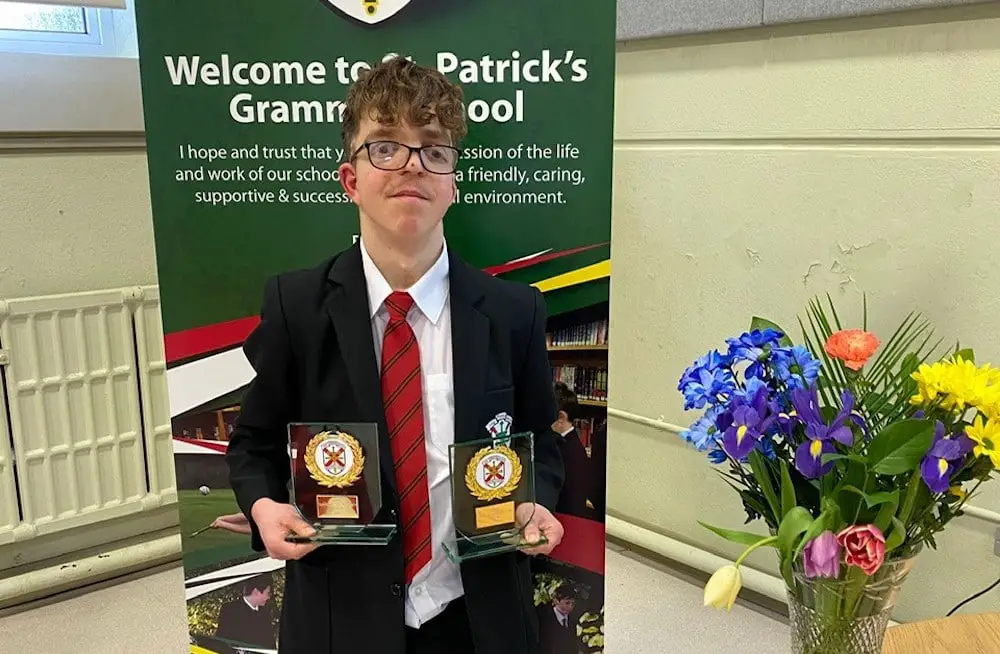 An Armagh schoolboy has received a top award from The Prince's Trust after exceeding in his education and overcoming challenges posed by a rare genetic disorder that disrupted much of his personal and academic life.
The Prince's Trust and TK Maxx & Homesense Awards recognise young people who have succeeded against the odds, improved their chances in life and had a positive impact on their local community.
Seventeen-year-old Callum Miles scooped the prestigious Ascential Educational Achiever Award for Northern Ireland, recognising young people who have overcome barriers, developed new skills and improved their education prospects.
"My doctors told me there'd be a lot of things I couldn't do when I was older, things like riding a bike or go swimming. I've proved them all wrong!," he declared.
Callum is the only child in Northern Ireland to be born with a rare congenital form of Acrocephalosyndactylia, commonly known as Pfeiffer's Syndrome.
There is a 1 in 100,000 chance of being born with this rare genetic disorder and, when Callum was born, his parents were told that he would need multiple surgeries throughout his life to help manage his condition.
Now aged 17, Callum has endured nearly 60 surgeries in Birmingham Children's Hospital.
"It has been really tough at times with all the surgeries, but I never let my condition deter me," he said.
"I want to do well and push myself and prove that I can be just like everybody else and achieve all the same things. It can be hard to stay on track though when I have to take time out for my operations.
"I was told I wouldn't be able to go to mainstream school, but I did, and I have gone on to pass all my GSCEs, and I'm now studying for my A-Levels.
"I was so scared when I got my exam results letter as I really didn't want to have failed, but was so proud of myself to see how well I passed everything."
As part of his studies at St Patrick's Grammar in Armagh, Callum took part in The Prince's Trust Achieve programme, a personal development programme delivered in schools to help students learn new skills and improve confidence.
He embarked on a two-year Prince's Trust journey, successfully obtaining the Level 2 Achieve Award, equivalent to grade B at GCSE.
"The Achieve programme gave me the opportunity to build up my confidence, improve my results in other classes and make friends with people that I'm still in touch with today," said the worthy winner.
And his mother, Teresa, added: "Callum remains determined to not let his medical condition hamper his progress in any way; no matter how many setbacks he remains resolute and is the truest of inspirations to me and everyone who meets him."
Looking to the future, Callum aims to finish his A-Levels, so he can go to university to continue his studies. Callum also hopes to train as a coach so that he can help children and adults with physical needs overcome their fear of getting into fitness and to help improve their physical and mental health.
Just like every other 17 year old, he's also keen to work towards getting his driving license.
On winning the Ascential Educational Achiever Award, Callum said: "I'm so proud to have won this year's Educational Achiever Award for Northern Ireland. For anyone like me struggling with a disability I just want to say never give up, and don't let anyone tell you that you can't do something.
"Keep pushing and keep trying because that's what I did and now I can do all sorts of things. Anything is possible."
Duncan Painter, CEO of Ascential said: "On behalf of everyone at Ascential, I am pleased to congratulate Callum for winning The Prince's Trust Educational Achiever Award in Northern Ireland. He is truly inspiring and Callum should be very proud. We at Ascential are sure he will continue to thrive. Well done Callum!"
TK Maxx and Homesense have been a partner of The Prince's Trust since 2013 and are one of The Trust's largest delivery partners of the Get into Retail programme. This is a two to six week course that develops young people's skills in the retail sector and supports them into positive outcomes in retail.
Youth charity The Prince's Trust gives young people the skills and confidence to get their lives on track. Three in four young people helped by The Prince's Trust move into work, training or education.
Sign Up To Our Newsletter