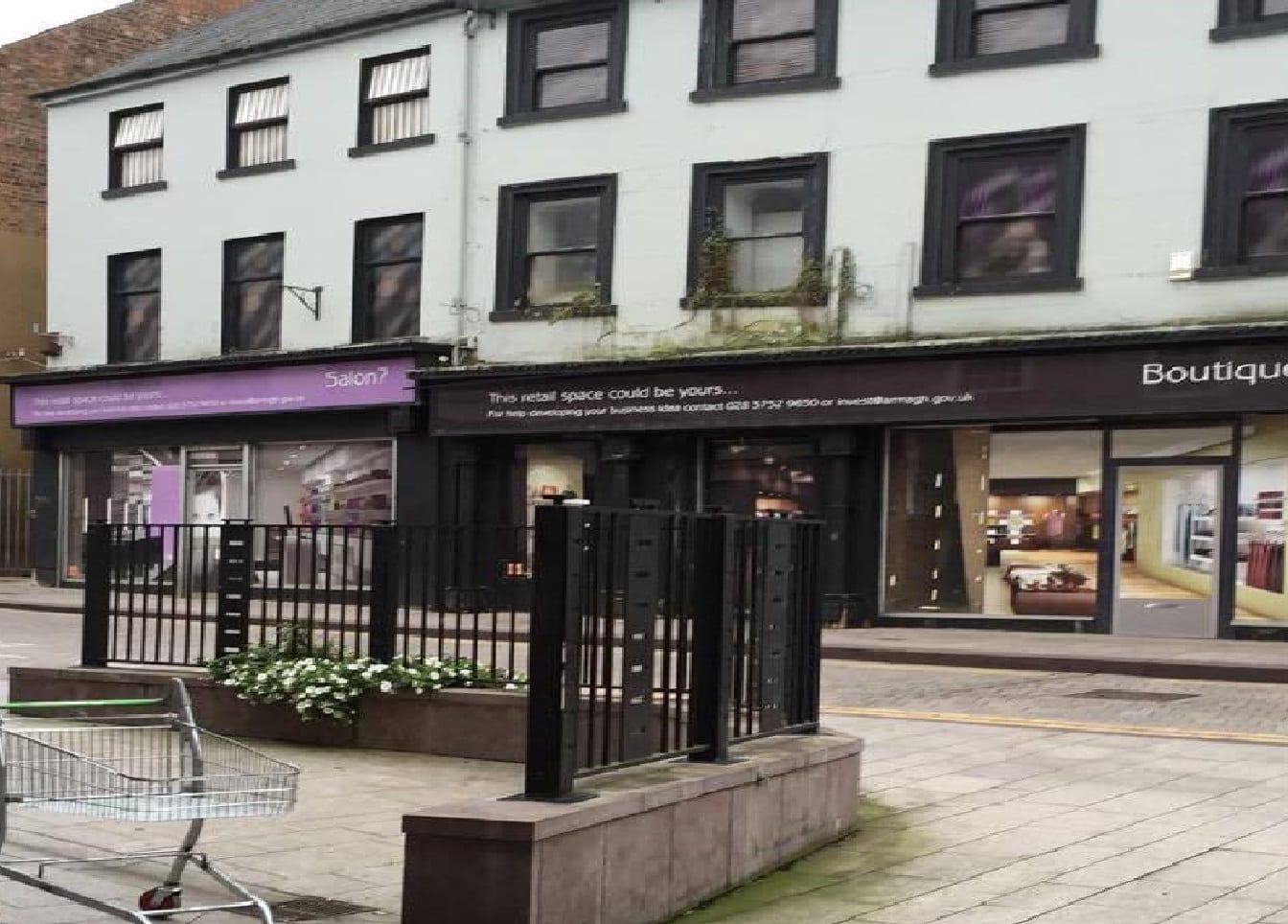 A former family-run store in Armagh – which has been boarded up and has fallen into a state of disrepair – could soon be given a new lease of life.
The old Wrights Soft Furnishings store at Upper English Street is to be gutted and renovated to provide two new shops, Armagh I can reveal.
That, of course, is the intention, but will depend on planning approval being granted by Armagh City, Banbridge and Craigavon Borough Council.
At present, the substantial property – which is at numbers 14-16, sandwiched between Hesters and Johnston's shoe store – is among the city's growing army of outlets which sadly hide behind fake shop fronts.
It has been that way for almost a decade.
Efforts are continuing to regenerate and there is a growing desire to bring back into productive use these many valuable properties.
Wrights Soft Furnishings was owned by the late Mr Sam Wright, who previously had worked in the House of John M Wilson on the opposite side of the street.
A very popular and successful business, it was part of the fabric of Armagh, where the majority of businesses were indeed family-run.
In actually took up two extensive units as the picture shows; both the units covered with a purple and black sign formed part of the popular store, with the area above used for both storage and residential.
The business – now under the name of Wright Interiors – is owned by Mr Wright's daughter, Roberta, having relocated some time ago to Russell Street, where there is also the addition of a coffee shop.
The English Street premises, which sit on a 'corner' of sorts, are now deteriorating behind two fake fronts.
The first floor level has weeds growing from it, as does the spouting and guttering on the roof.
But there is hope that these premises will be restored, with a taste of the past retained for the future.
An application has gone before the council for the development of two individual shop units.
Meanwhile, there are also plans for the first and second floors to be renovated to provide four apartments, each with two bedrooms.
A design and access statement has been submitted to council.
In essence, it points to maintaining the old appearance – one might say 'quaint' – while ensuring they are restored for generations to come.
The Victorian theme is very much to the fore, as the report states: "Armagh has probably the finest collection of 18th and 19th Century doorcases, fanlights and panelled doors of any town in the Province."
And, while the original doors have been lost, the aluminium-framed specimens which are there would be replaced with replicas of traditional Victorian shop front doors and fanlights also used. Hand crafted and painted, Victorian-style shop signs would be used for each outlet.
Internally, some features will also be retained, among them a damaged staircase, which would be repaired and restored.
Separate access to the apartments above will be provided too.
It is not known at this stage if the retail units – which will measure 178 sq metres and 79 sq metres – are to be restored with specific tenants in mind.
But the development is required, with the current building described as being in need of "extensive repair in an attempt to kickstart restoration work".
The application will now be considered by the council and a decision would be expected early in the New Year.
Read more news:
Parents fear for future of Armagh autism services amid claims of radical change
Armagh girls asking for your help to bring Christmas comfort to the homeless
Approval sought to demolish and replace Armagh's Southern Regional College
Huge funding award to construct a Middletown-to-Monaghan greenway
Multi-million pound community 'hub' and library will have huge impact on Armagh City
Grieving mum urges donations to cancer charity in memory of brave Rebecca
Sign Up To Our Newsletter