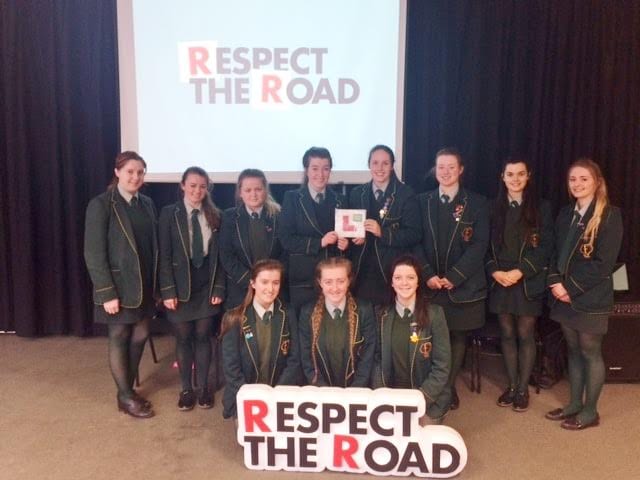 Students at St Catherine's College in Armagh have become the latest group to buckle-up for Northern Ireland's most up-to-date road safety initiative.
Autoline Insurance Group, in association with the road safety charity 'Brake', is using modern technology in the form of a state-of-the-art car crash simulator to drive the safety message home.
The specially equipped Ford Focus ST is a key part of the 'Respect The Road' campaign and has been adapted to include in-car screens, speakers, smoke machines and bespoke hydraulics.
The vehicle is used to recreate a real life fatal crash incident that led to a 17-year-old driver being sentenced to prison.
Commenting on the initiative, Matthew McFadden, Director of Chaplaincy Services at St Catherine's College, said: "We were delighted to host the Autoline Road Safety Event. The car crash simulator was a big attraction with 23 simulations taking place and 115 students participating throughout the day.
"Each participant found the event very informative and thought-provoking and I hope that it will make our young drivers think about the responsibility that comes with driving a car. It's great to see young people driving and, for many, it's their first step on the road to independence but events like this are vital to help young drivers drive safely."
Despite numerous road safety campaigns, 74 people died on Northern Ireland's roads last year.
Thirty per cent of those who were killed were under 25 years old, and nine were from the Armagh City, Banbridge and Craigavon Borough Council area.
As well as the crash simulator, the programme delivers an informative workshop, presented by Autoline and Tracey Doherty, a former PSNI Traffic Branch Officer of over 30 years' experience. The workshop consists of eye-opening videos, statistics, group discussions and strong advice from Tracey who tells the students about her previous role where she was responsible for telling parents that their child had died in a traffic accident.
Suzanne Curtis from Autoline Insurance Group said: "As a local insurance broker we're passionate about working with the local community to make our roads safer and getting alongside younger drivers to tackle issues relevant to them.
"In the last three and a half years we've brought the campaign over 5000. It is important that students are fully aware of the dangers they potentially face on our roads.
"New regulations being introduced by the Northern Ireland Assembly will restrict the number of passengers that new drivers can carry between 11pm and 6am and an improved training programme for learner drivers will also help.
"The simulator car is part of this wider effort to improve road safety.  It is a very sobering and vivid experience, using hi-tech equipment to reinforce the issues we discuss and drive home the message that careless driving ruins lives."
In addition to the 'Respect The Road' campaign Autoline has also developed 'ChilliDrive', an innovative product that turns a smart phone into an in-car 'mentor'. The app measures driving skills and rewards safer drivers with lower premiums.
For further information about how your school or organisation can participate in the 'Respect The Road' programme please contact Evanna Kieran at Autoline Insurance Group on 028 302 59011.
Sign Up To Our Newsletter