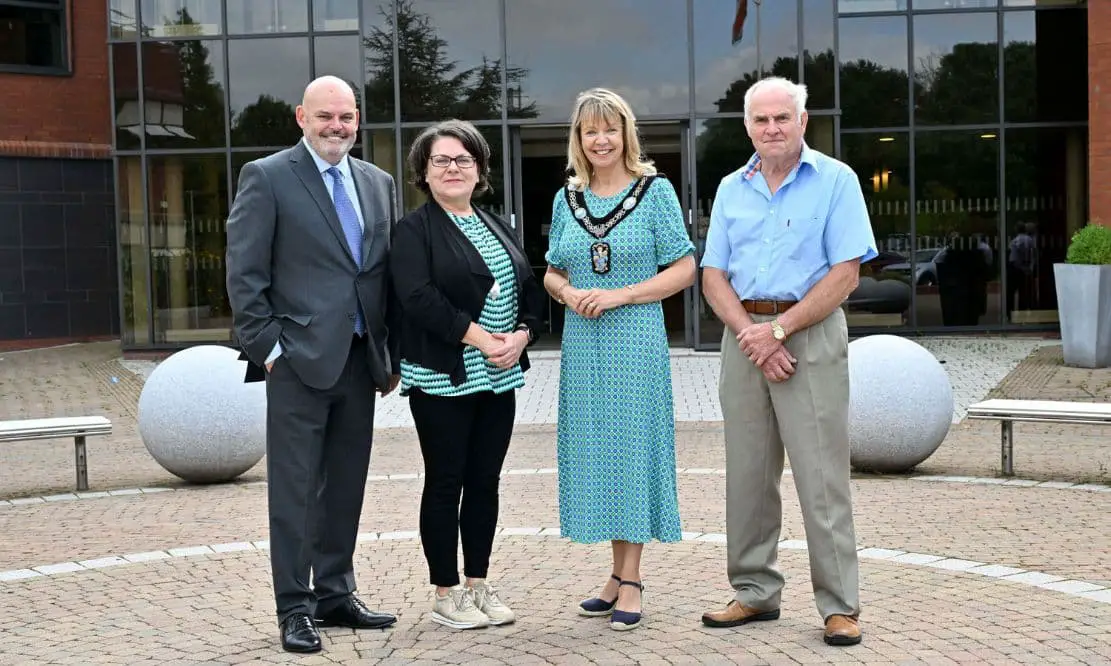 A peacebuilding project which works across County Armagh and Monaghan is marking a successful first year thanks to a pilot programme funded by the International Fund for Ireland (IFI).
'Connect2Gether' is a forward-thinking initiative led by County Armagh Community Development (CACD) in partnership with Clones Family Resource Centre in Monaghan.
The organisations identified a need to build positive cross-border and cross-community relationships alongside tackling common issues such as poverty, isolation, and the cost-of-living crisis.
Over a 12 month period, Connect2Gether has built valuable links through a range of activities and workshops fostering understanding between different border communities.
The celebration event, held at Craigavon Civic Centre, also shared key insights and outcomes from an interim report highlighting a positive experience for those involved.
Funded through the IFI's Communities in Partnership Programme (CiPP), projects focus around developing and embedding sustainable relationships on a cross-border basis through supporting cooperation and innovation between groups and organisations North and South.
IFI Board Member, Peter Osborne says: "Conect2Gether is a testament to the positive peace and reconciliation work happening everyday across Northern Ireland and southern border counties. It is working hard, establishing a shared vision to unite border communities rather than divide.
"I am encouraged to see the positive connections between people who perhaps would never meet other than through this project.
"Bringing people together on a cross-border and cross-community basis is an important part of what the CiPP programme seeks to achieve in its peacebuilding efforts.
"It is clear that Connect2Gether is committed to creating long-term positive, meaningful relationships between cross-border communities who share similar challenges."
From practical cookery classes to help with budgeting in the current climate to informative history sessions designed to improve knowledge and understanding about history, participants have gained useful culinary skills and empathy in their relationships with others from diverse backgrounds in border areas.
Several themes have emerged at the end of the 12 months including shared experiences, building intercommunity connections, increased skills, more understanding and empathy and a clear appetite for future activity.
William Moorcroft, Chairperson of CACD noted: "The Connect 2Gether project has successfully brought people from different communities together in both County Armagh and the Clones areas.
"Through taking part in a programme of educational and social activities participants have built relationships and discovered shared experiences and commonalities in various aspects of their lives. We extend our gratitude to the International Fund for Ireland for their generous support in making this project possible."
Looking to the future, Connect2Gether has big plans for growth, securing IFI support for a further 15 months. Key activities for phase two will include gardening workshops, training courses, music and culture workshops, dance classes and a residential.
Jim Flanagan, Chairperson of Clones Family Resource Centre, expressed his appreciation for the success of the Connect 2Gether project.
He said: "This is the first time for Clones FRC and County Armagh Community Development to work in partnership with each other and it has been a journey of building relationships and sharing knowledge about each other's life experiences.
"Together, we have addressed important topics such as the cost-of-living crisis and healthy eating. The project has highlighted the shared experiences and mutual understanding among participants, emphasising that there is much more that connects them than divides them."
Sign Up To Our Newsletter