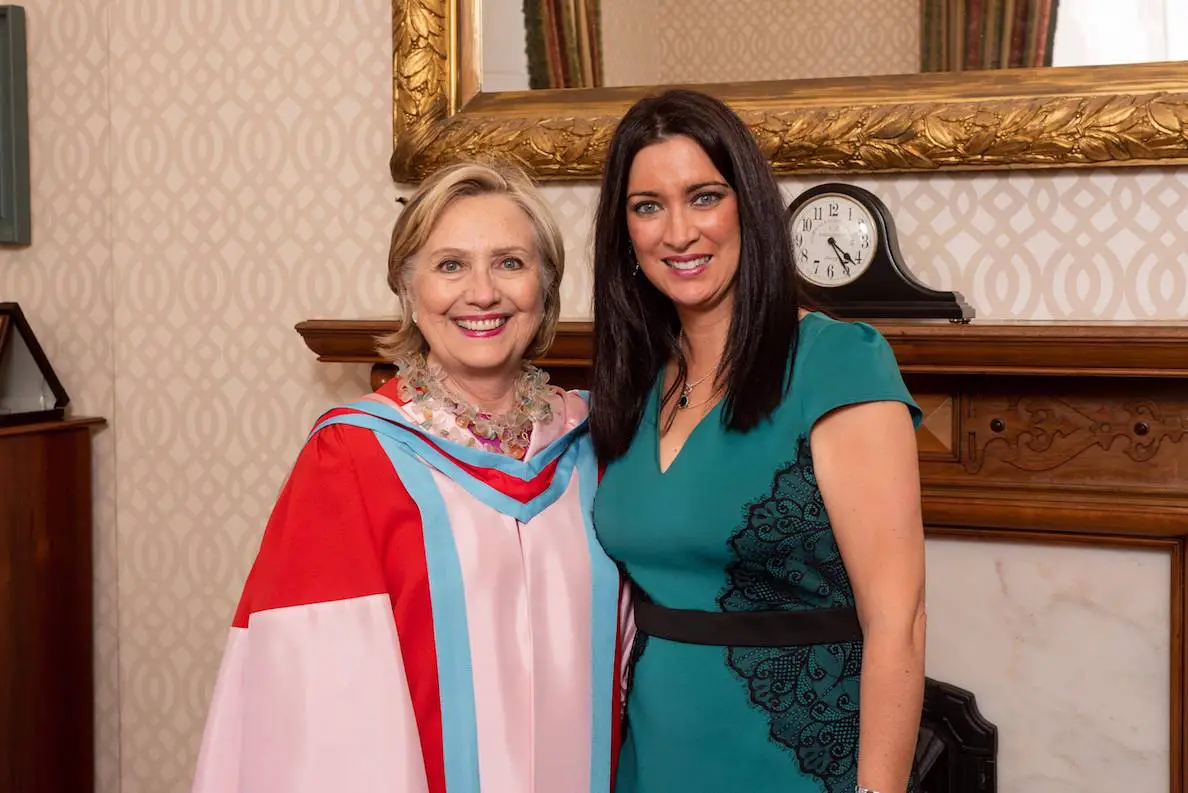 Outgoing SDLP councillor Sharon Haughey-Grimley says she has been humbled and left a "little emotional" as the former First Lady of the US paid her a "beautiful" tribute during her visit to Queen's University in Belfast.
Hillary Clinton, who herself ran for office – narrowly missing out to Donald Trump – eulogised the work of the former Lord Mayor of Armagh City and District Council this week, ever since the then 14-year-old schoolgirl wrote a letter to her husband – President Bill Clinton.
In her speech, Mrs Clinton paid homage to Sharon, saying "her story is a story of this land and its remarkable journey" and of how "a child of The Troubles becomes a woman of the peace".
Councillor Haughey-Grimley, who will step away from politics next year to concentrate on her young family, was one of those in attendance in Belfast on Wednesday.
"I was absolutely overwhelmed when Hillary recognised my public service since writing to her husband President Bill Clinton as a schoolgirl," said Councillor Haughey-Grimley.
"I feel truly humbled by Hillary's beautiful words and it is something that I will always cherish."
She added: "It is always a wonderful opportunity to welcome Hillary to Ireland and I was delighted to personally congratulate Hillary on her well deserved honorary doctorate from Queen's, recognising the important role she has played and continues to play in the Northern Ireland peace process.
"I'm very fortunate to have maintained a strong relationship with the Clintons since 1995. They have been an incredible support and inspiration to me over the years and I am very grateful for their encouragement and friendship, which they have extended to my family also.
"The Clintons played a very important role in progressing the peace process at critical times. Led by John Hume, the Irish American dimension to the peace process brought our problems to a world stage, and in finding the solution of the Good Friday Agreement that relationship has reaped many economic benefits for our land.
"Hillary's strong message to our political leaders should not fall on deaf ears. She is absolutely right that we now need brave leadership that puts the people first, and provides a strong voice in the BREXIT negotiations.
"Twenty years after the signing of the Good Friday Agreement, and all the issues that have been resolved since then, it is shameful that we have no functioning government.
"The people deserve better, and it's long past time for political leaders to do the right thing and make this place work for everyone."
Sign Up To Our Newsletter