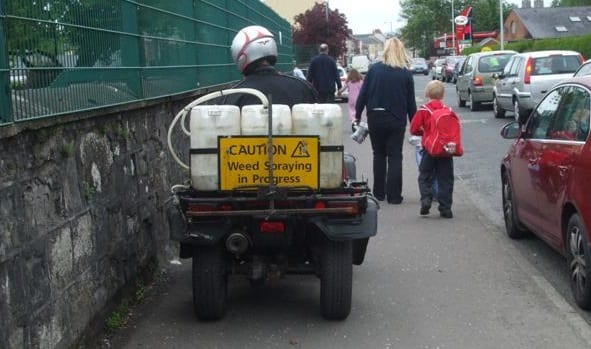 Council is currently spending over £50,000 to spray weeds across the Borough – with some businesses benefiting while others do not!
And, following a report by council officials, there is an effort to reduce that cost by more than half as they present two options for councillors to debate at the Environmental Committee meeting this evening (Tuesday).
In the last financial year more than £33,000 was spent in the Armagh area alone, with spraying in the Craigavon legacy area costing just over £12,500, while Banbridge added the final £4,000 to that total.
Prior to the formation of Armagh City, Banbridge and Craigavon Borough Council the legacy Council areas each sprayed different types of land at different frequencies.
Land in Craigavon was sprayed on an ad hoc request basis. In Banbridge, Council owned land was sprayed twice each season.
In Armagh, Council owned land, car parks, town centres and private land were sprayed each year.
No changes have been made to the areas sprayed since the formation of the new 'joined-up' local government Borough.
The situation at present is inconsistent in the fact that a resident or business is being treated differently depending on where they are from.
The frequency for spraying at facilities also varies across the legacy areas.
Council parks are sprayed across the Borough twice per season.
Cemeteries in Armagh are sprayed four times per season, whilst cemeteries in Banbridge are sprayed twice per season.
The Armagh area also sprays car parks, town centres and private land. Craigavon area sprayed annually for TransportNI/Housing Executive land historically or on request.
Two options will be presented this evening.
The first, Option A, will be to keep the current system which costs the tax-payer in excess of £50,000 in the last financial year on spraying.
By keeping this system it is anticipated that the financial costs will remain similar for this incoming year, but with the inclusion of all Council owned car parks the actual total will be approximately £51,695.
In the council's report, it states that "if the status quo remains there will continue to be an inconsistent approach to the location of spraying and the frequency".
However, Option B – the option reccomended for approval – is to spray all Council owned land at the same frequency.
The report states that "if it is decided to just spray Council land at the same frequency throughout the Borough the cost would be approximately£18,717.00".
This would be a reduction of £32,978.
There are 16 car parks in the Banbridge legacy area, 17 in the Craigavon area and 15 in the Armagh area.
The harmonised approach would mean that a resident or business in any part of the Borough will be treated in the same way, no matter where they are located.
Sign Up To Our Newsletter