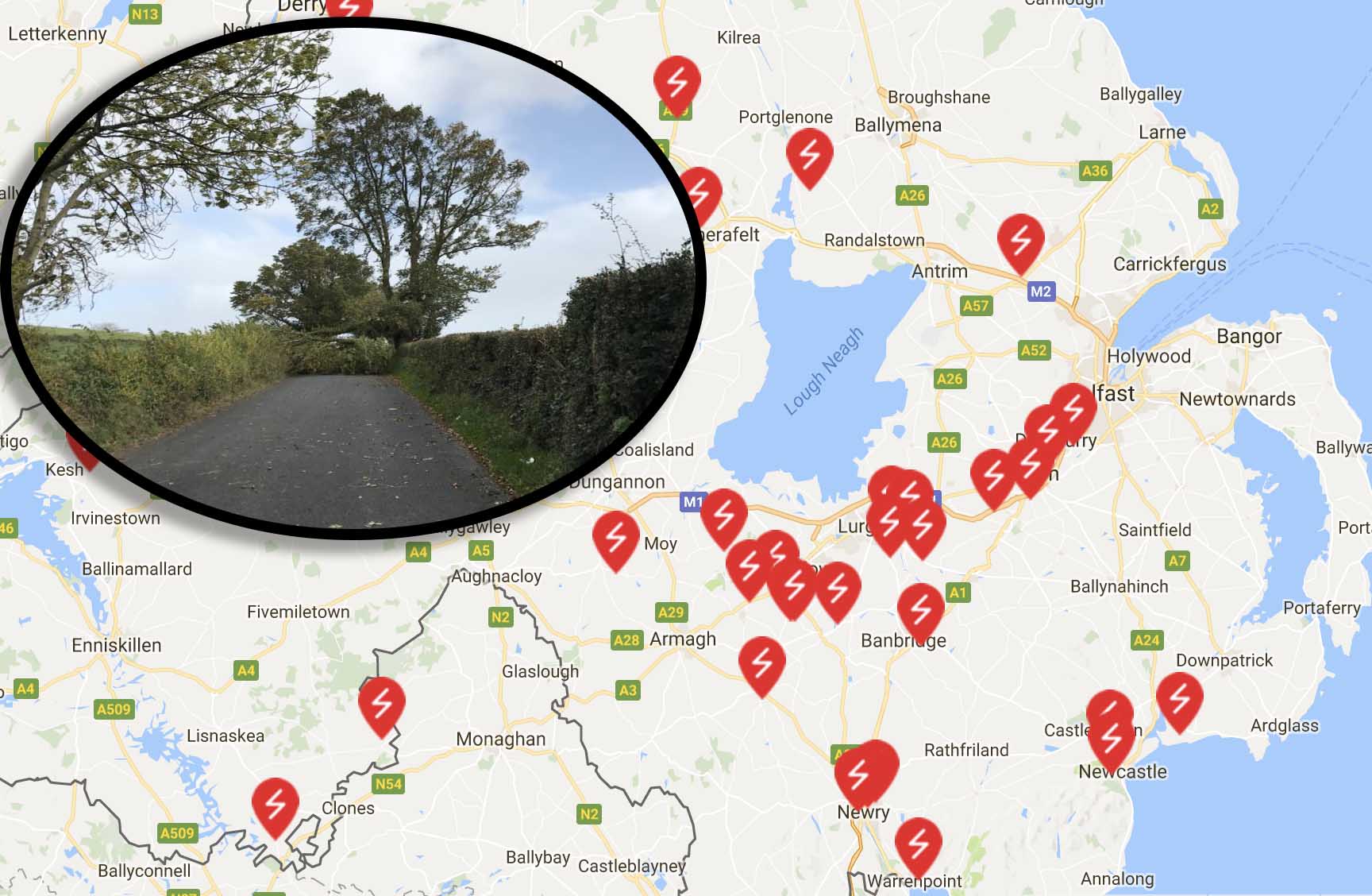 More than 1,000 homes are without power in county Armagh this afternoon as storm Ophelia continues to batter the country.
Markethill is the worst affected area with 468 homes in the area currently experiencing a power outage.
There are 438 homes in the Portadown area without electricity while areas of Lurgan and Tandragee have also been affected.
Banbridge, Newry and Moy have also been badly hit with NIE engineers tasked to those worst hit.
M1 is a mess from Lisburn to Portadown. Well done those keeping it clear including road services & PSNI. #StormOphelia

— Doug Beattie (@BeattieDoug) October 16, 2017
A NIE Networks spokesperson said: "Our Incident Management Centre at Craigavon is open, as are NIE Networks' Local Incident Centres across Northern Ireland.
"Customers who are able to report the location of damage to the electricity network should call on 03457 643 643.
"If customers reporting network damage are not answered by a call handler due to call volumes there will be a facility to leave a message."
Tree down on the Hall Road in Donaghcloney pic.twitter.com/XwBa0PRGYt

— Jordan Moates (@jordanmoates) October 16, 2017
The Markethill to Newtownhamilton Road has been closed at Abbey Hill with a large tree across the road.
Meanwhile, there are reports of a third fatality due to Ophelia today.
It is believed a man has been killed in a car near Dundalk, Co Louth.
Earlier, Gardai confirmed a woman in her 20s died in Waterford while a Tipperary man in 30s has been killed trying to clear fallen trees with a chainsaw.
The Head of the Northern Ireland Civil Service, David Sterling, has provided an update on the response to Storm Ophelia following a meeting of the Civil Contingencies Group (Northern Ireland).
Newry to carlingford greenway workers working threw #ophellia heros or madmen? #newry #tourismni #carlingford pic.twitter.com/prlHMo6yCn

— Padhraic McArdle (@pocomcpoco) October 16, 2017
David Sterling said: "Events relating to Storm Ophelia will inevitably be fast moving throughout the course of today.
"This afternoon I called a meeting of the Civil Contingencies Group and I can reassure the public well-established co-ordination protocols have been activated and experienced emergency teams are in place for deployment as required.
"Over the last 48 hours, judgement calls have had to be taken in relation to matters which impact on the daily lives of our citizens and all those decisions have been taken in the context of keeping the people of Northern Ireland as safe as possible.
Avoid Gilford#Opheliani pic.twitter.com/YcgL3iQCQf

— Arma, Banb & Crai (@PSNIABC) October 16, 2017
"I was reassured by representatives at the meeting where they reported they have identified additional resources for the service and areas they consider most in need. This forward planning will leave us better placed to deal with the aftermath.
"I have arranged for a further meeting at 8am tomorrow morning unless we need to convene before then. This afternoon I will visit the strategic command centre at the PSNI to view the operation and thank staff for their efforts.
Currently 1300 customers without power. Widespread damage across NI. Our 12 local incident centres are open and call centre is working hard. pic.twitter.com/qh98T0JtOQ

— NIE Networks (@NIElectricity) October 16, 2017
"I would appeal to members of the public to remain calm but be vigilant to the potential effects of the storm and follow the advice on the nidirect website at: www.nidirect.gov.uk/ophelia.
"Further information will be communicated as quickly as possible as the situation develops."
Sign Up To Our Newsletter