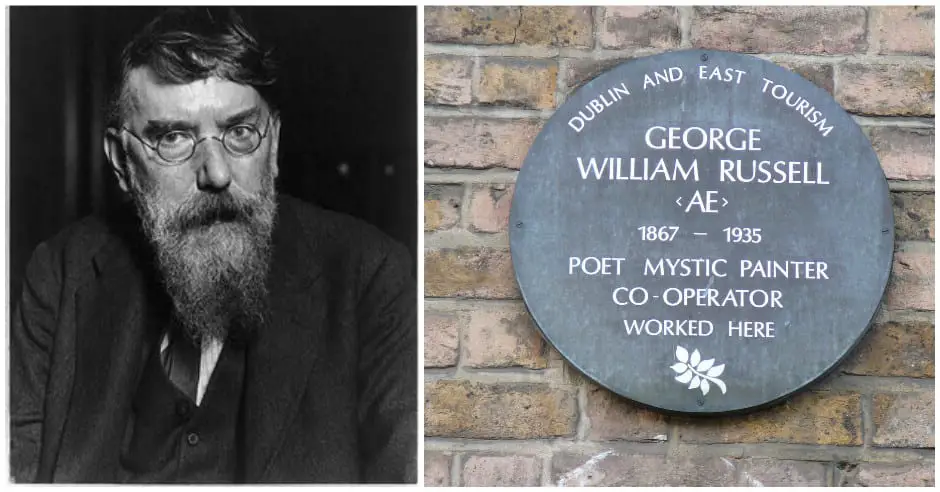 One of County Armagh's most famous sons could be honoured with a series of events to mark the 150th anniversary of his birth.
George 'AE' Russell is renowned the world over as a poet, artist, journalist and economist.
And he has close links to both Lurgan and Armagh City.
He was born on April 10, 1867 in Lurgan.
During his lifetime, he was highly regarded by peers and others within the many fields in which he excelled.
He is immortalised as a character in James Joyce's 'Ulysses'. It was during the Irish literary revival that he met the young Joyce and he was introduced to other great writers of the day such as William Butler Yeats.
While he was born in Lurgan, he lived most of his life in Dublin, and it is there he was buried after his death from cancer in Bournemouth in July 1935.
Russell is commemorated with a blue plaque on his home in William Street in Lurgan.
And it is in the Armagh County Museum where one will find the largest collections of AE artefacts – both and art and personal effects – outside of the United States.
Armagh City, Banbridge and Craigavon Borough Council is currently considering a celebration to commemorate the anniversary of his birth.
A number of suggestions have already been put forward for discussion by councillors if they decide to proceed.
It must be stressed that no decision has yet been taken on whether or not events will go ahead, and costs have still to come back before committee.
But already ideas mooted include an exhibition in Armagh County Museum of the AE Russell collection of oil paintings, pastels, letter and personal effects.
An 'AE' Day at Armagh County Museum, in which four visiting lecturers will provide talks on Russell's art, and an AE Day in Lurgan Town Hall, comprising two lectures, an exhibition, open mic 'AE' poetry recital, and a public art workshop inspired by his paintings.
Another suggestion is for a performance in Lurgan Town Hall of Russell's 1903 play 'Deirdre', which would be staged by a local amateur dramatic group.
An 'AE' walking tour of Lurgan, taking in associated sites, is another possibility, which it could also be hoped to develop a schools' poetry competition and arrange an 'AE' bus connection between Armagh County Museum and Lurgan to facilitate attendance at all of these events and activities.
To maximise the potential of the programme of events, the Armagh County Museum staff would work with academic institutions such as Queen's University Belfast, University College,Dublin and the National College of Art and Design, Limerick,, with other partners including Poetry NI, Libraries NI and National Museums NI.
Costs will be presented and final decisions taken at a future committee meeting.
Read more news:
Parents fear for future of Armagh autism services amid claims of radical change
Armagh girls asking for your help to bring Christmas comfort to the homeless
Approval sought to demolish and replace Armagh's Southern Regional College
Huge funding award to construct a Middletown-to-Monaghan greenway
Multi-million pound community 'hub' and library will have huge impact on Armagh City
Grieving mum urges donations to cancer charity in memory of brave Rebecca
Sign Up To Our Newsletter