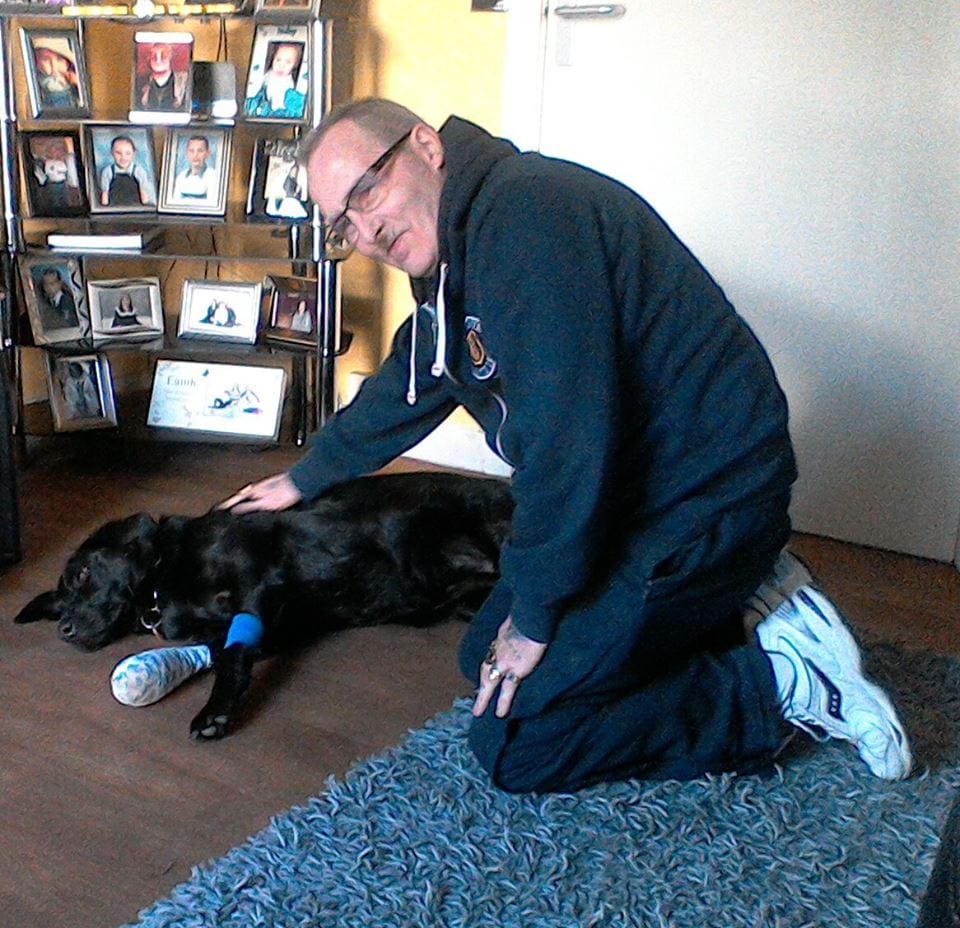 Emily is more than just a guide dog. She is more than just a lifeline.
She is a friend. She's family.
And this afternoon she has returned home to that family in Armagh – and they're delighted to have her back.
Emily was knocked down in Armagh yesterday (Monday) afternoon and has spent the past 24 hours under observation at the vets.
Fortunately she has not sustained any broken bones and is now recovering well from minor injuries, a bandaged paw to show for her ordeal.
But Emily's owner, Peter O'Kane, together with wife, Lenora, have been overwhelmed by the kindness and support of the good people of Armagh since the dramatic events of yesterday unfolded.
Both have spoken to Armagh I to thank everyone for their help, especially dog warden Ronan Hughes, who went above and beyond the call of duty.
Emily broke free in the Dobbin Street area at around lunchtime and both Peter and Lenora – who only married in October 2014 after meeting on Facebook three years ago – were beside themselves with worry.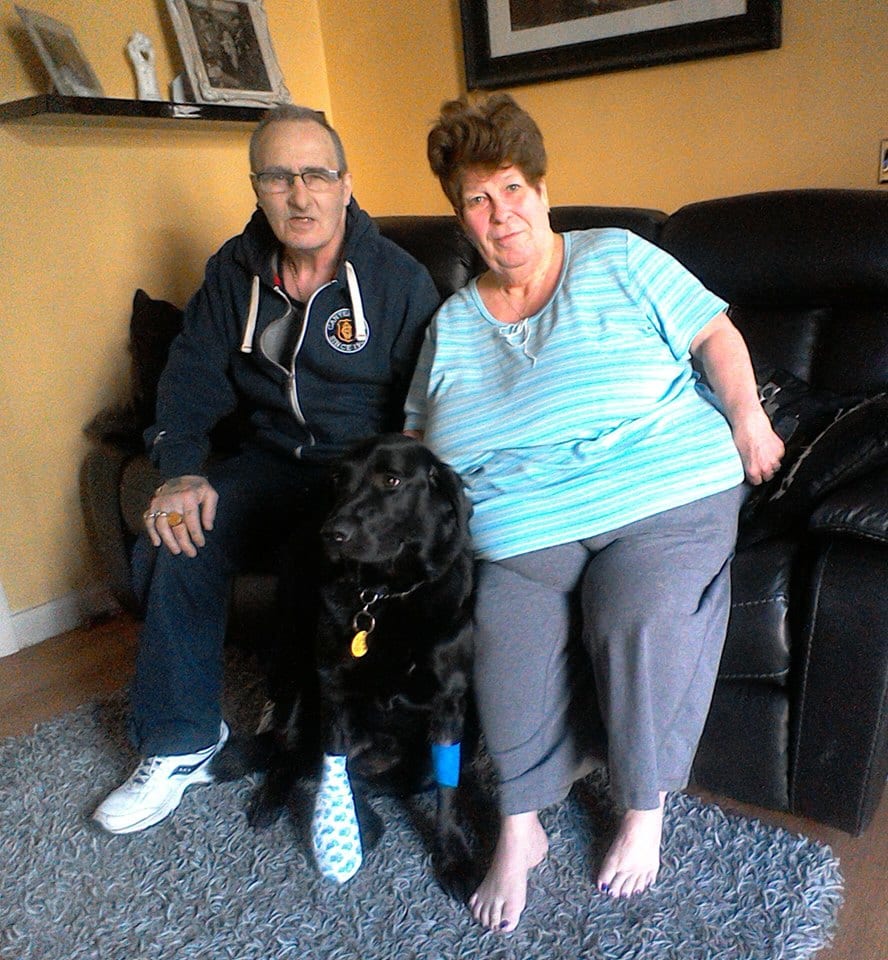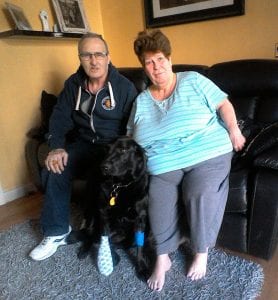 And their situation was not helped because of their own mobility issues.
Peter is losing his sight and is registered blind, while Lenora walks only with the aid of a cane and also makes use of a mobility scooter, having been involved in an horrific road collision in her native California, in which four people tragically died.
Lenora told Armagh I both she and and her husband would be lost without Emily, who was provided to Peter last July by the Royal National Institute for the Blind.
The couple firmly believe that the cherished guide dog was making her way to the Palace Park when she was struck by a vehicle.
A frantic Lenora, who had been at a neighbour's house, went looking for Emily and found her at the busy Friary Road.
But her phone was dead and she was unable to use it to summon help…
Lenora explained: "Emily loves to play in that park and the weather had been bad until the last few days.
"Peter and I are still newlyweds and I didnt know where the park was as the weather had not allowed us to go.
"I was searching the area and found the park and spotted her. I was scared she would try to cross when she saw me and told her to stay. I went to her and saw that she needed help so went to get help. I rode on the scooter to get Peter.

"That road is so busy, I was very scared for her. I was so happy when the dog wardens appeared.
"Peter was calling for help and they came to the rescue and took them both in the van and headed for the vet.
"The dog warden stayed with Peter and I took the scooter home and waited to hear from them."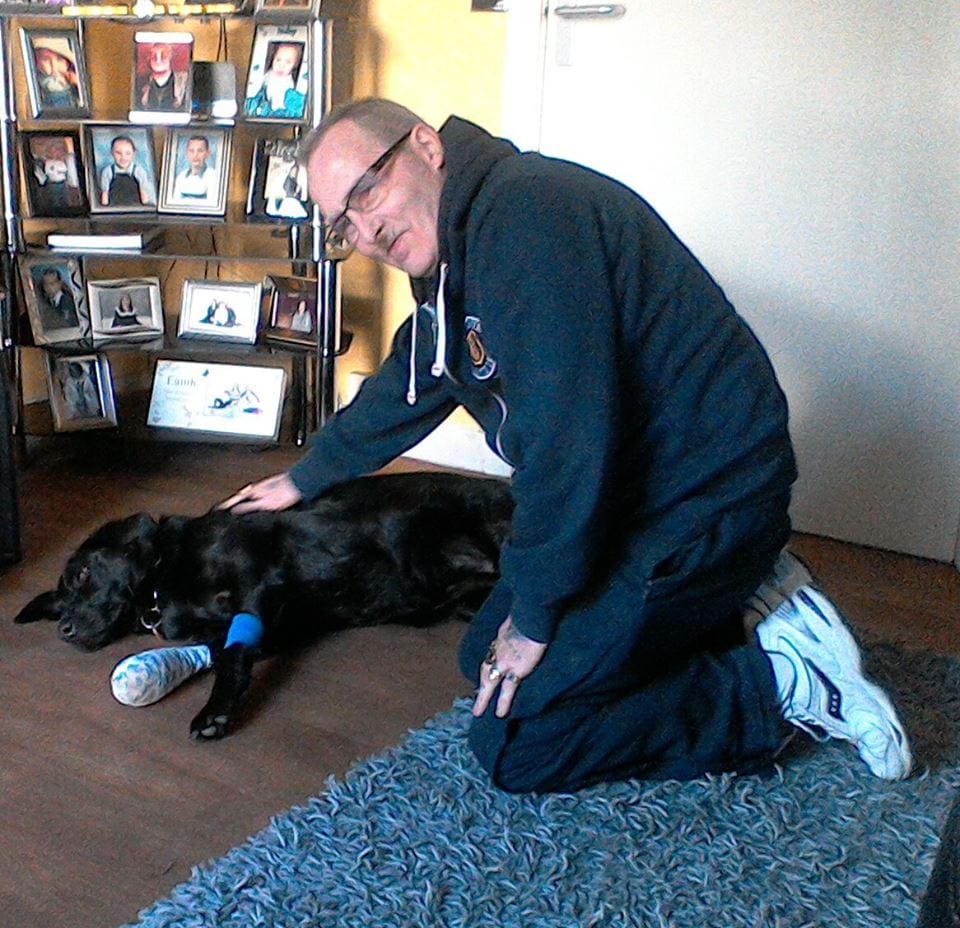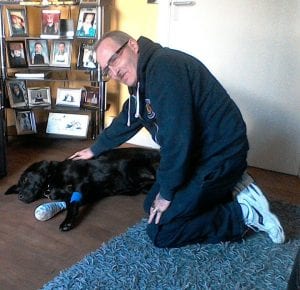 It transpired that Emily had been hit by a vehicle and she sustained a cut to her paw and was left shocked.
But she has been allowed to go home after being kept in by the vet overnight.
Lenora has now called on motorists to slow down and, if they do realise they have hit and injured an animal to do the right thing and seek help.
"Emily is family," she said. "We love Emily dearly, but drivers should be aware and stop if they injure an animal. They need to be aware of animals and watch out when they are driving.

"Emily is a guide dog. She is therapeutic for both of us. She helps Peter get around and we would be lost without her.
"Emily is my buddy; she keeps me company and we play in the apartment all the time. She is as much a part of my life as Peter's.

"We were both truck drivers. Peter has a disease of the retinas and is going blind. I was injured in a bad accident and am disabled. We help each other and Emily helps us both."
Lenora, meanwhile, has been overwhelmed at the response to the couple's plight.
"I am new here from America making Ireland my new home. I love the people and how welcome I have been made feel and the help we recieved yesterday was just amazing," she added.

Sign Up To Our Newsletter