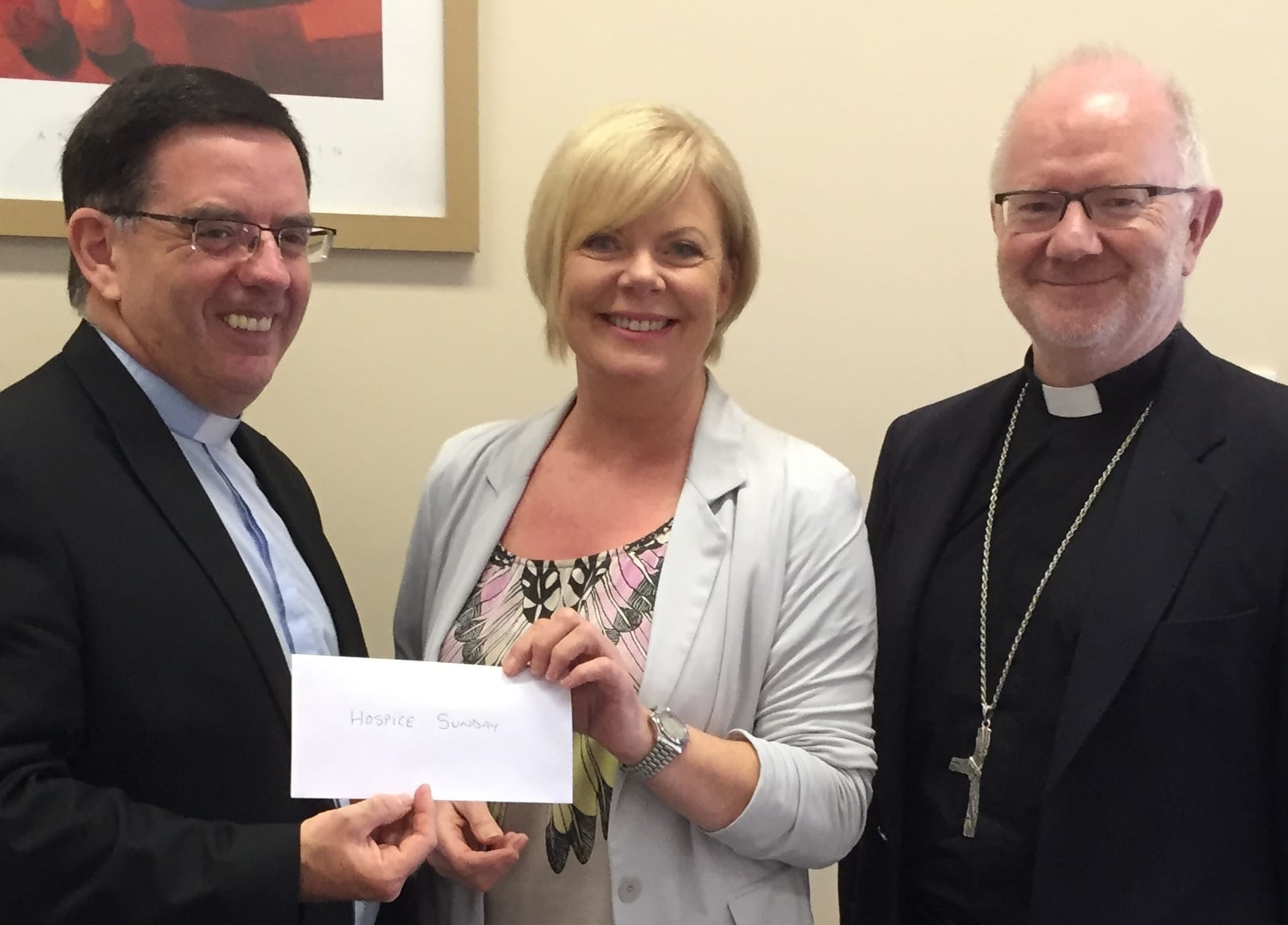 Church of Ireland parishioners in the Armagh Diocese have now raised a fantastic £42,000 their its annual Hospice Sunday collections.
And the proceeds of the initiative – which has run for two years now – have been handed over, helping the work of the dedicated hospice teams in Northern Ireland.
The Church of Ireland Diocese of Armagh, at its Diocesan Synod  in November 2014, agreed that an annual Hospice Sunday be established and observed by all Church of Ireland Parishes throughout the Diocese of Armagh.
The appeal is co–ordinated each year by the Rev Matthew Hagan, rector of Tynan, Aghavilly and Middletown group of parishes. He is the representative for all hospices throughout Northern Ireland on the UK-wide Board of the Association of Hospice and Palliative Care Chaplains.
Hospice Sunday began in 2014 and takes place on the first Sunday in November each year and, to date, including Gift Aid, the money raised in 2014 – £20,000 – and 2015 – £22,000 – has reached a total of £42,000.00.
This has now been distributed to the following Hospices: The Southern Area Hospice, Newry; The Northern Ireland Hospice, Belfast (which includes the Northern Ireland Children's Hospice) and The Foyle Hospice, Derry/Londonderry.
Therefore, depending on where the parish or parishes are within the Diocese of Armagh, the money raised by each has been given to their local hospice.
Rev Hagan commented: "All hospices throughout Northern Ireland depend greatly on the support of the public when it comes to raising much needed funding for their hospice on an annual basis.
"I am extremely pleased at the magnificent amount of money that has been raised for hospice care in Northern Ireland through the generosity of the parishioners throughout the Diocese of Armagh and I encourage other Dioceses in the Church of Ireland to set up a similar initiative to support the wonderful hospice care afforded to those people in our communities who need this high level of care.
"I can assure the many parishioners in the Diocese of Armagh that their generosity will undoubtedly benefit the excellent level of patient care in local hospices.
"My sincere thanks to everyone who has contributed to the Hospice Sunday appeal."
Picture: The Archbishop of Armagh pictured with Rev Matthew Hagan, Diocese of Armagh Annual Hospice Sunday Co–Ordinator, and Mrs Jane Leighton, Diocesan Secretary, as they make  cheque presentations to the Southern Area Hospice, Newry; The Northern Ireland Hospice, Belfast, including the Northern Ireland Children's Hospice and The Foyle Hospice.
Read more news:
Increased security call as drinker exposed himself and urinated openly on Mall
Charity single released by Armagh group with chronic illnesses and conditions
Council plans second bid to add to £2m Armagh City regeneration pot
Milford to host 'big breakfast' fundraiser in memory of Lesley-ann McCarragher
Fantastic £1m redevelopment plans for Cathedral Road Recreation Centre
Borough's Colour Dash to become annual event after fantastic public response
Man discovered dead at the side of Markethill road named locally
Over 400 drug 'incidents' in 10-months in Upper Bann and 'numerous' lives lost
Sign Up To Our Newsletter