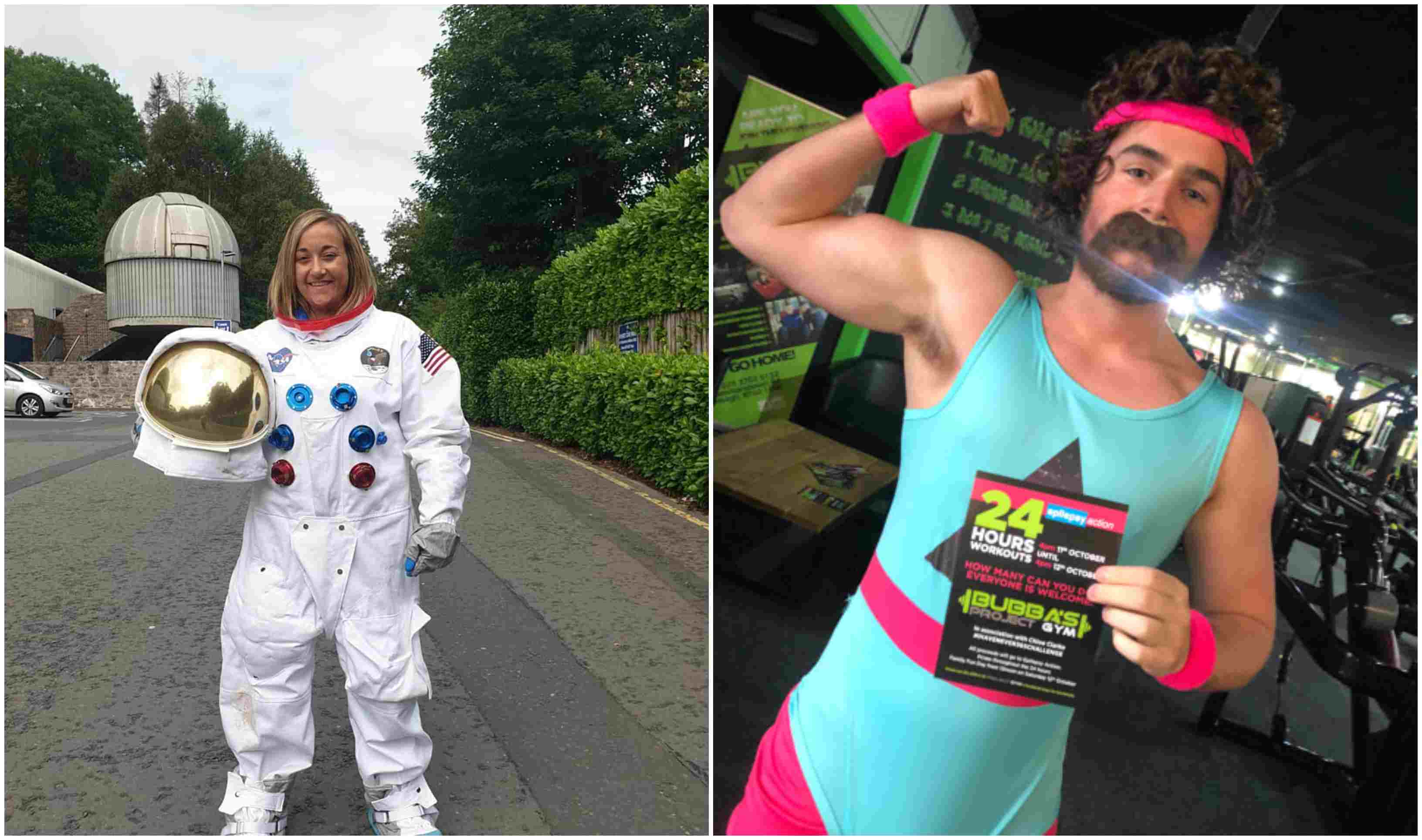 Armagh woman Chloe Clarke is continuing her 'I Have Never 365 Challenge' with a 24-hour workout this Friday.
The challenge will entail 24 workouts over 24 hours taking place in Bubba's Gym on Friday, October 11 at 4pm.
The event is open to all the public and already has several instructors and members from near and far taking part.
The event is being held to mark the Gym's third birthday and recent success of Bubba Ali being awarded the Personal Trainer of the Year at the recent Health & Fitness Awards in Belfast, all the while, working alongside Chloe Clarke in her yearlong 'I Have Never 365 Challenge' to raise awareness and money for Epilepsy Action after her eldest daughter was unexpectedly diagnosed last year.
The full 24 Hours will be action-packed from start to finish with a variety of workouts from a number of well-known trainers throughout the province including; Bubba Ali, Armagh Amateur Boxing Club, Michael Downey (International Strongman), Matthew Nicholson (Run Armagh), Janine Forrest, Ian Young, Maria Harrison, Natalie Gorman, Jake Wilson, Joel Scott, Nathan Golicki and Adam Donald to name but a few.
Workouts range from Bootcamp's & Conditioning, Pump & Combat, Yoga, Boxer-size, Strongman/Women events, Taekwondo, Running Challenge and a retro Mr & Mrs Motivator workout too.
The classes will suit all ages and fitness levels and promises to be fun for all that attend and is open to non-members of the gym; we ask that participants arrive 15 minutes before the scheduled workout to complete a disclaimer and sign-in.
The Lord Mayor Mealla Campbell will kick-start the event on Friday at 4pm and from 12 noon on the Saturday will be a family fun day so you can all come along and support the workouts and participants with the Food Path Food Van & The Craic'd Pot Van to be in attendance outside to fuel everyone as the event draws to a close.
Fight on for Annie and Team Emily will also be up on the Friday & Saturday promoting the Blood Drive that they will be organising in the start of 2020.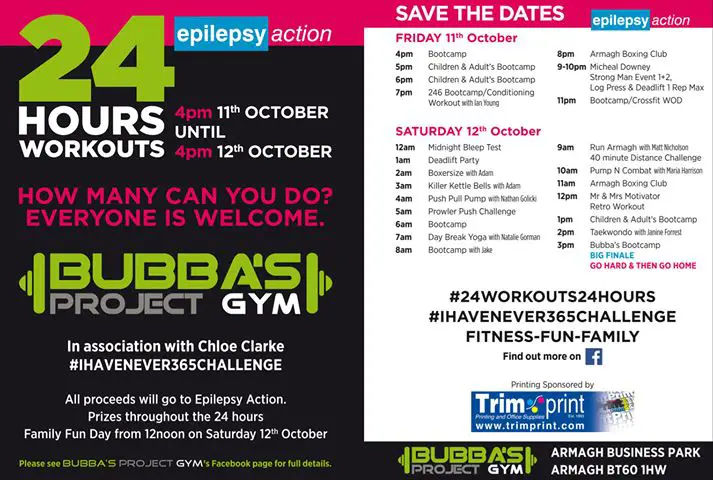 Conor Kelly & his Healthy Cave Team will be located within the gym on Saturday, supplying their meal plans and promotions so definitely one not to be missed.
Workouts are ALL FREE and donation buckets will be located within the gym for all who wish to donate to this worthy cause, we are hoping for massive numbers so we can raise as much money and awareness as possible for Epilepsy Action and look forward to seeing how many workouts people can do throughout the 24 hour event. Follow and book in on the Facebook events page.
We would like to take this opportunity to thank all our business sponsors Armagh Business Park, Trim Print, Active Mortgages, Brookwood Clinic, Healthy Cave, JP's Fish & Chips, Daily Bake, R & J Gillander's Family Butchers, DC Hairstudio, Armagh Sport's & Trophies, Clarke Decorate, Mullan's Spar Shop, Mourne All Blacks Amateur Boxing Club, St John Bosco Amateur Boxing Club & Bryansford Amateur Boxing Club.
Sign Up To Our Newsletter