Businesses in Armagh Shopping Centre are inviting shoppers to come out and join them this morning for a charity cuppa!
People can drop by between 10am and noon today (Friday) and enjoy a tea or coffee and a delicious bun or slice of cake.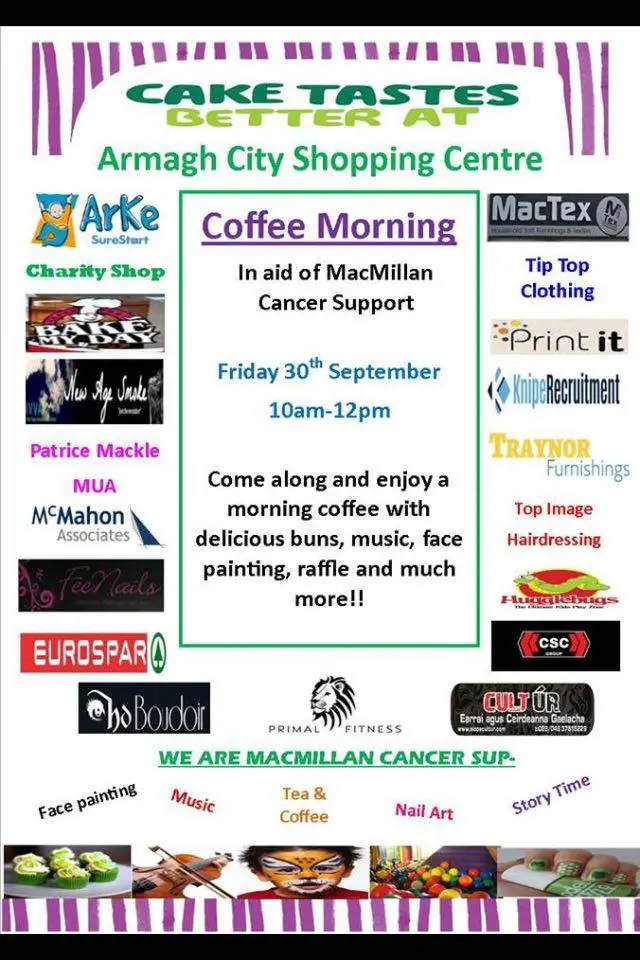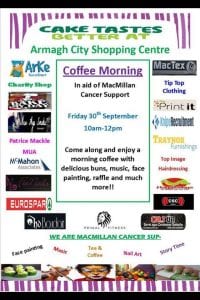 There will also be much more to entertain, including music and face-painting and story-time for the children. There will also be free entry into Hugglebugs.
Everyone in the shopping centre is contributing in some way and they are asking for your support.
There is no set cost or fee, but people are asking to make a donation in some form, however big or small.
And all the money will go to a fantastic cause – Macmmillan Cancer Support.
An amazing raffle is also taking place this morning with some fantastic prizes up for grabs. These include a £100 voucher for Primal Fitness personal training, £50 Ularu voucher, £50 EuroSpar voucher, hairdressing vouchers and lots more, not to mention the beautiful cake and teas available throughout the centre!
Colleen McCance, of ArKe SureStart appealed for all to come along and join in the fun and support this fantastic effort.
She said: "The more people we get in the door the more money we make for a very worthy cause."
Please do come along – you'll be made very welcome!
Sign Up To Our Newsletter