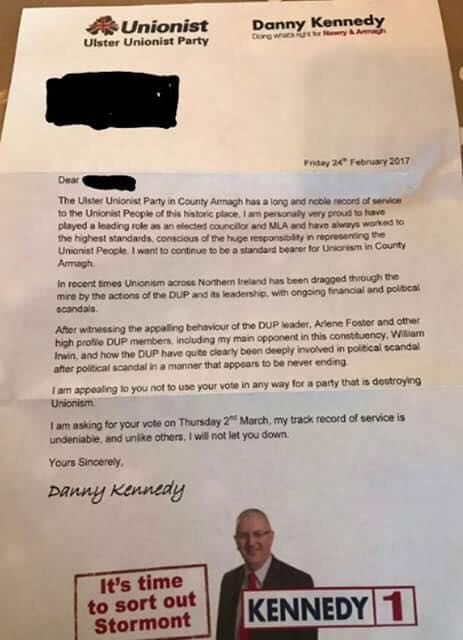 The election countdown in Newry and Armagh has taken a sinister turn with claims of sabotage and dirty tricks.
Ulster Unionist Danny Kennedy has hit out after a fake letter purporting to represent himself has been delivered to local homes.
It is not known how many homes have received the correspondence, which looks professionally produced and convincing, or how long it has been circulating.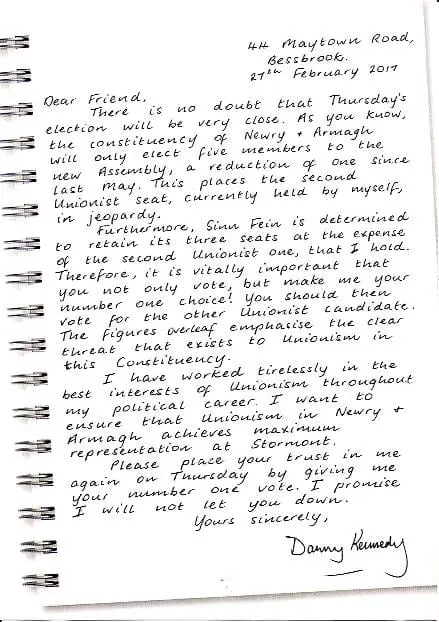 What is known is that Mr Kennedy has rubbished the malicious missive and branded it "absolutely disgraceful".
The Ulster Unionist Leader Mike Nesbitt earlier expressed his intention to give preferences votes to the SDLP.
But Mr Kennedy – a former Newry councillor and MLA since the Assembly's inception – was quick out of the traps to state his case.
He very publicly disagreed with his party leader and encouraged those voting for himself to give their preferences to the other pro-Union candidates.
This fake letter – personally addressed and bearing a printed replica of Mr Kennedy's signature alongside his photograph – states quite the opposite.
It singles out the DUP candidate William Irwin as his "main opponent in this constituency" and calls on people "not to use your vote in any way for a party that is destroying Unionism".
With the slogan at the bottom declaring 'It's time to sort out Stormont', and the party logo at the top, the letter has been branded an attempt at dirty tricks and forced Mr Kennedy to write his own genuine response and set the record straight.
The senior UUP hopeful took to social media to distance himself from the letters and say they have nothing to do with himself.
Mr Kennedy said: "It has come to my attention that bogus election letters are being delivered in my name.
"I want to assure everyone that these letters are not genuine and appear to be an attempt to sabotage my campaign and my good name.
"This is absolutely disgraceful.
"This has NOTHING to do with me or my campaign team."
Tomorrow's election will see five candidates instead of six returned in each constituency, with nine on the ballot papers in Newry and Armagh.
In his hand-written follow-up, Mr Kennedy acknowledges that the second Unionist seat – held by himself – "may be in jeopardy".
He has again called for first preference votes for himself and asks people to "vote for the other Unionist candidate".
Main picture: The bogus letter and, inset, his hand-written personal letter written after the emergence of the "absolutely disgraceful" missive.
Sign Up To Our Newsletter