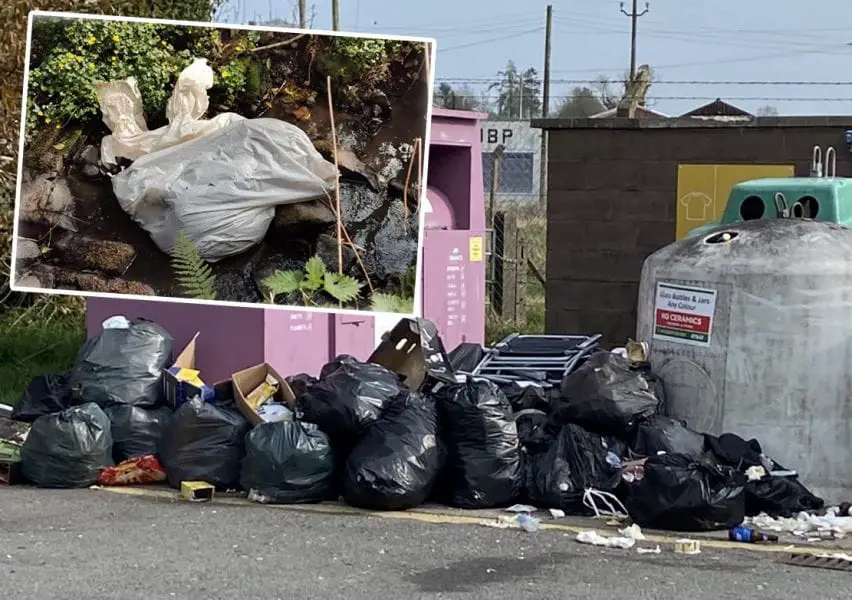 There is a growing clamour for recycling centres to re-open as the rate of fly-tipping escalates out of control.
Fly-tipping, which has always plagued local council resources, has been more prevalent during the current lockdown with local authority amenity sites closed up and out of reach for residents.
On Friday morning, Keady Recycling Centre (main image) had piles of rubbish stacked up against the gates.
There were also a number of dead sheep dumped in a ditch in Annaclone (inset).
Sinn Fein councillor Kevin Savage described the culprit as an "idiot".
"Whilst we face the worst public health crisis, some idiot has decided to dump some dead sheep in Annaclone, just off the Ballynanny Road," he stated.
"I have spoken to Council and a contractor will be engaged to remove as soon as possible. Shame on whoever did this."
Meanwhile, DUP councillor Alderman Gareth Wilson, has called on recycling centres to re-open.
"There is certainly a growing need for amenity sites to reopen and this has been given a new importance with the unfortunate levels of fly-tipping occurring in recent days," he told Armagh I.
"I and my Council Party colleagues would fully support the reopening of amenity sites in a tightly controlled manner and with the understanding and respect of the public for our Council staff. I will continue to put forward this view to ABC Council."
Sign Up To Our Newsletter