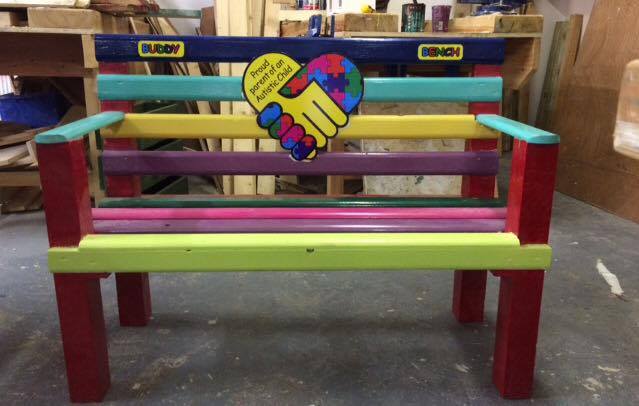 A crafted heart stolen from a 'buddy bench' for autism in Armagh has been located.
The specially made seat was installed at the Palace Park in Armagh just over three weeks ago to mark World Autism Awareness Day.
But the heart at the centre of the design – bearing the words 'Proud Parent of an Autistic Child' – was removed from the seat on Sunday.
Armagh I was asked this morning to help share the appeal in the hope of recovering the centre-piece.
Bernie Maguire O'Connor, one of those who had ensured the special bench go in place at the Palace Park to raise awareness of autism, had been at a loss after it was discovered the bench had been vandalised with heart stolen.
She later confirmed that the heart – composed of two hands clasped in a handshake – had been located.
She told Armagh I that the news was relayed through the Lord Mayor's office to say the heart had been found.
Bernie said: "I just got a phone all from the council to say it was found among the trees up at the Palace grounds.
"It was blatant vandalism whoever did this. They would have had to use something like a screwdriver to take it off and I was also told there were bits of the bench that were taken into also.
"I can't believe why anyone would do this and in daylight too."
Thankfully the heart will be returned and other damage repaired so the public can enjoy and make use of this fantastic addition to the Palace Park.
Bernie said they were grateful to the council who were "going to fix all and put it back".
She also offered a "big thanks" to all who had shared the appeal and added: "We are thankful that it will be returned to where it belongs.
"Hopefully now they will leave it alone."
Read more news:
Vile vandals steal crafted heart from Armagh's new 'buddy bench' for autism
Popular Methodist preacher David Hull to be laid to rest tomorrow
Police issue description as intruder robs pensioner in Loughgall home
City couple overwhelmed by Armagh kindness as injured guide dog comes home
Council to explore 'viability' of free swims for residents living on key benefits
Woman's horror at sickening find outside a County Armagh primary school
Fire Service confirms raging Slieve Brack gorse fire 'started deliberately'
Sign Up To Our Newsletter