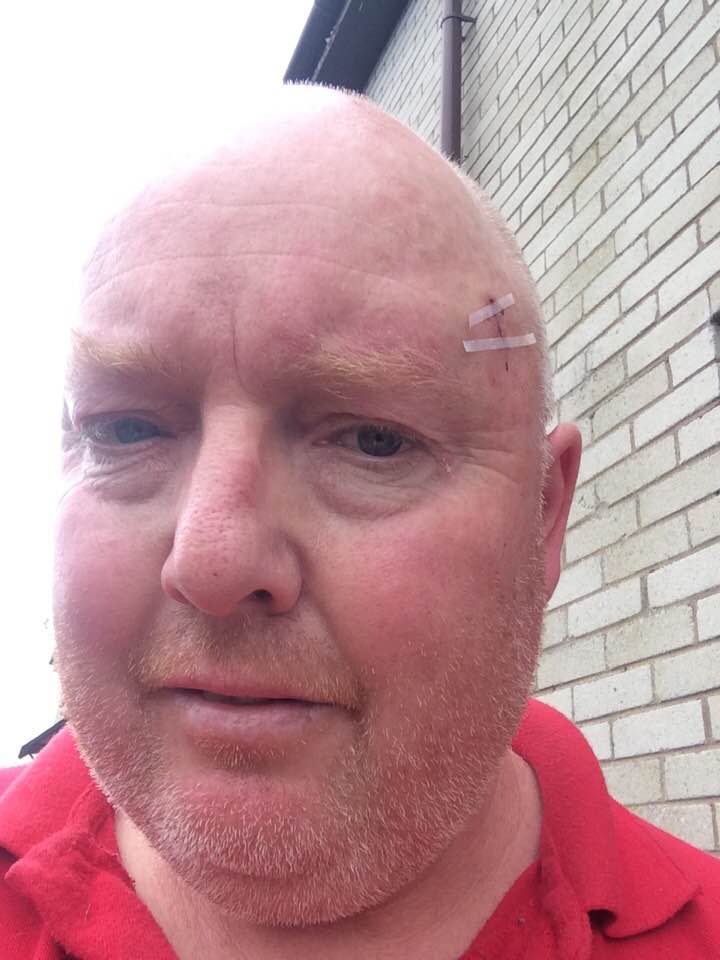 The brother of an Armagh supermarket worker set upon while doing his job has called on police to arrest and charge those who carried out the "cowardly and unprovoked attack".
Paul Loughlin spoke to Armagh I on Saturday as brother Barry recovers from his shocking ordeal.
The Armagh man had been collecting trolleys on Friday when the attack happened. He was beaten and punched before the thugs responsible shoved the trolleys he had been collecting down steps.
The incident happened outside Emerson's Supermarket, where Barry has been a valued member of staff for the past 20 years.
The hugely popular young man sustained injuries including a laceration to his head which required stitches.
As he recovers after the incident, he has passed on his thanks for the hundreds of kind wishes which have been sent his way – from friend and stranger alike – and to the staff and his employer for all they did in the aftermath of Friday's assault.
Brother Paul said there have been reports of similar incidents being carried out in the area.
And he is demanding police take action to ensure nobody else is singled out for such a shocking attack and that all are allowed to go to work or shop in the city centre free from fear of intimidation or injury.
Said Paul: "My information is that there has been a gang of foreign nationals causing trouble at McCrums Court this past few weeks. The security team at the Mall Shopping Centre would verify this.
"Barry has served Emerson's Armagh for 20 years. This was a totally unprovoked attack on a man just doing his job.
"Barry is physically OK but a bit shaken by this cowardly act.
"It's important to thank Alessie, Mr Chris Abraham and the staff of Emerson's for assisting him.
"When I arrived yesterday there was anger in the general public about this. Barry is a very well-liked person."
Paul insisted that "police know the perpetrators" and he wants to see something now being done.
He added: "They have eyewitness accounts. Action is needed. Those responsible need held to account.
"Barry never complains or asks for much. Now he needs a guarantee he'll be left alone to carry out his job. He shouldn't really need to ask for that.
"We'll be keen to learn what the police will do here. Again there's eyewitnesses; I believe a recording exists on somebody's phone.
"This is the time to stand up for the victim of this cowardly assault. Time to serve justice for a working man attacked whilst doing his job.
"The general public and businesses at McCrum's Court require action being taken here. So does Barry.
"People won't stand for this sort of violence. Why should they?
"Barry wishes to thank everyone for their concern, as well as his colleagues in Emerson's who are upset by the events of yesterday.
"The PSNI have evidence. They have the assailants' names and addresses. Everybody knows what they did. Let's see action. Let justice be served."
Meanwhile, police in Armagh confirmed they had received a report of an assault outside premises on Scotch Street at around 2.45pm yesterday (Friday).
A PSNI spokesperson told Armagh I : "Officers attended and have taken details of a number of male youths reported to have been involved and will conduct interviews in due course.
"A man aged in his 40s sustained a cut to his head following the incident.
"Anyone who witnessed this incident or who has any information which could assist our enquiries, is asked to call police in Armagh on the non-emergency number 101 quoting reference number 1109 07/08/20, or submit a report online using our non-emergency reporting form via http://www.psni.police.uk/makeareport/.
"You can also contact Crimestoppers anonymously on 0800 555 111 or online at http://crimestoppers-uk.org/."
Sign Up To Our Newsletter