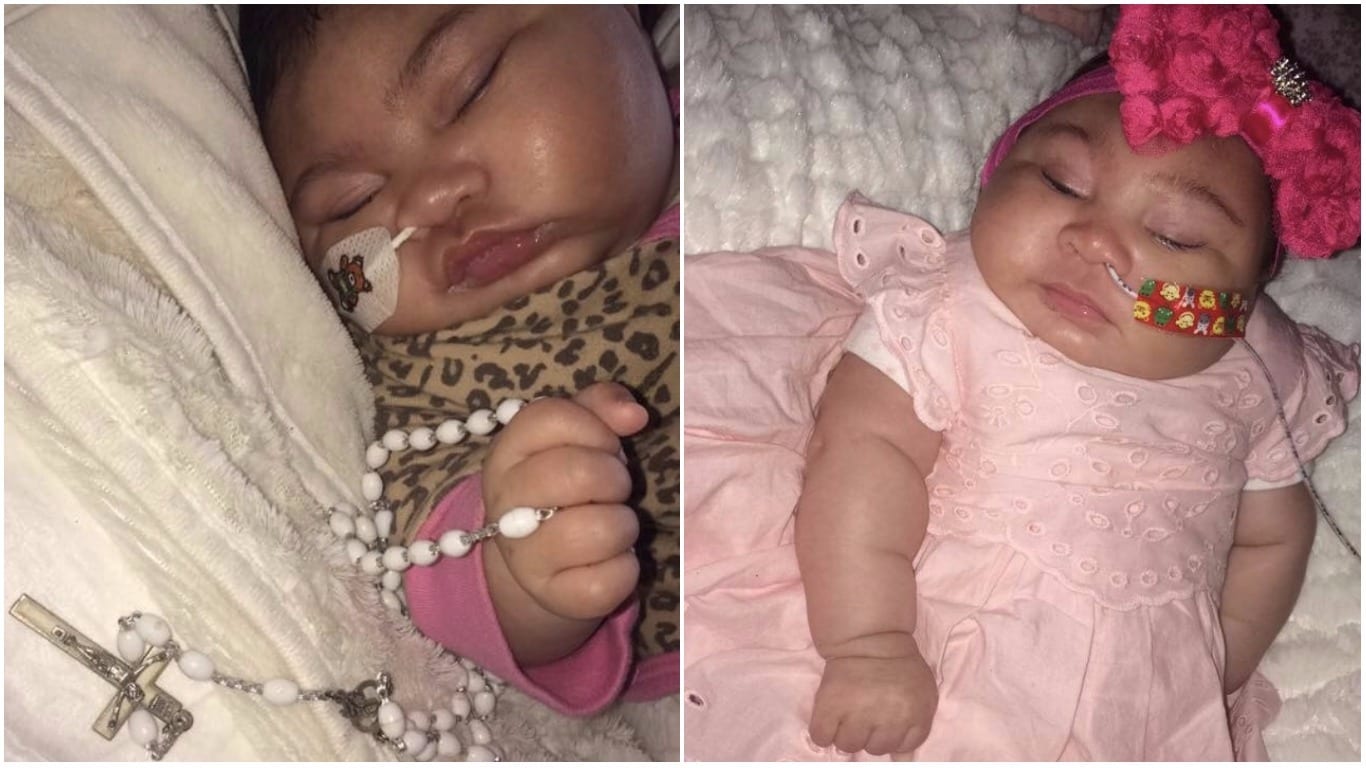 She has defied all the odds and has amazed her family and medical professionals.
The sheer strength and determination and the love of a mother which transcends everything.
Three weeks after undergoing surgery and little May Rose Gibney is home where she belongs – and "doing what babies do!"
It was on Monday, August 7, that May Rose was taken to theatre for surgery in Oxford.
Born in March, May Rose was diagnosed with a rare brain condition called Encephalocele – a neural tube defect on the brain. She has battled against the odds, defying doctors' opinions, and giving her mother Analee the strength needed to fight on for her daughter.
Her Encephalocele had grown in size to the extent that it could no longer cope with the pressure and was pushing fluid back inside her head.
May Rose underwent a major procedure at John Radcliffe Hospital in Oxford.
The community in Armagh and far beyond answered the family's calls for prayers as she was taken off a ventilator last weekend.
Analee had been preparing for the worst but remained hopeful despite the odds.
May Rose has battled on – an incredible and remarkable resilience.
After her first days spent in hospital in Oxford she was later transferred – by Air Ambulance – to the Northern Ireland Children's Hospice.
Mum Analee has been overwhelmed by the community's support and provided an update, through the May Rose Gibney's Journey Facebook page, to all those who have helped, prayed and supported them through these very difficult times.
"We had our positive days and then we had double the negative days, days we didn't think we'd see through. Days we thought is today the day?! But one person who didn't have doubts or lose any hope was our May Rose. She fought and continues to fight with every bit of her little body. She is such an inspiration to me, I cannot even put into words.
"She was put on this earth for a reason, she was brought into our lives for a reason."
Analee praised all of the amazing medical professionals who have cared for May Rose and supported the family throughout, keeping them informed, in an easily understood way, of what was happening.
She admits to being reticent about her darling daughter being brought to the Children's Hospice, Horizon House in Newtownabbey, adding: "When you think hospice, you think that's where people go to pass away, it's all doom and gloom.
"As soon as I stepped out the Ambulance I felt like a massive lift off my shoulders, I felt for the first time in a few hours I could breath. It was beautiful, colourful, another home from home. I would never hesitate about taking May Rose here again.
"The staff were unreal, friendly, and really dedicated to their jobs.
"So now we're home, into our own comfort, May Rose's own smells. She's doing so well at the moment, opening her eyes, giving some smiles, cooing away… doing what babies do!!!"
An incredible wee fighter – and a mother and family who have been through such traumatic times – we at Armagh I are delighted to learn such positive news, and assure the Analee and May Rose that they shall remain in our thoughts and prayers in the days ahead.
Sign Up To Our Newsletter