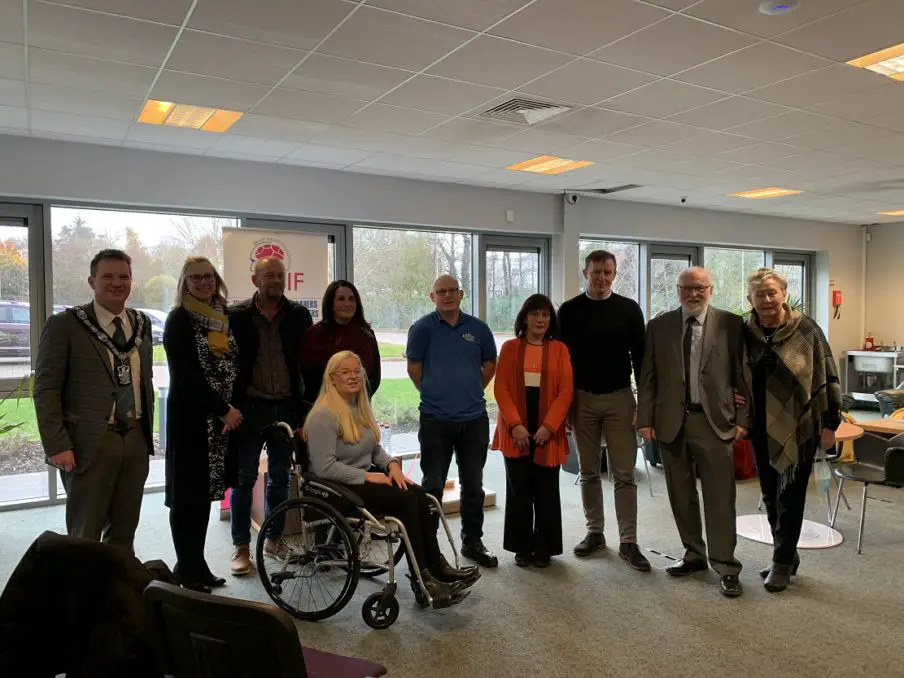 A support group which provides a lifeline for brain injury survivors, their families and carers has opened up new premises in Armagh.
The Brain Injury Foundation was launched by a group of survivors, carers and volunteers in August 2012 and has over 100 members from all over Newry and Mourne, Armagh, Banbridge and Dungannon.
BIF supports people with all forms of brain injuries including strokes. It differs from many charities in that it is service user led, meaning that service users are all members and have a vote in guiding the organisation.
BIF officially opened its newest premises at Formation Works off Armagh's Newry Road this week with an event attended by Lord Mayor Glenn Barr.
Frank Dolaghan, along with wife Aileen, launched the Brain Injury Foundation eight years ago with the primary purpose of helping to alleviate isolation and frustration for both brain injury survivors and their carers.
In a moving speech about the effects brain injuries can have on survivors, Frank told attendees at the opening: "Brain injury is a thief. It steals from you."
Frank explained that everything changes for both the survivor and their family, commenting that during this upheaval people become isolated and frustrated with their new circumstances.
He said: "There is an old Irish saying that 'it is in the shelter of others that people live' and that is what BIF is all about."
Frank thanked the Lord Mayor Glenn Barr, David McMullan from Armagh Community Network and Siobhan Donnelly, along with Paula Rafferty, from Southern Trust, for their attendance.
He also expressed his gratitude to Stuart Draffin of Portbannis for having provided the "dream premises" for their members in the Armagh area.
A number of survivors and carers were also in attendance to give speeches at the launch event.
Bronagh Rooney, the wife and carer of survivor Patrick, spoke of her experiences telling those in attendance of how her family life changed forever after her husband suffered a severe lawnmower accident.
As a result of the accident, Patrick was in a coma for months due to broken bones in his face and two bleeds on his brain.
However, according to Bronagh, it was not until her husband was discharged from hospital that she saw the true extent of his injuries.
Patrick was left in a wheelchair with little to no vision and needing support in almost all of his day-to-day activities.
Through work with BIF, Bronagh was able to see improvements in her husband's mobility and general cognitive condition.
She spoke highly of the service stating that both she and Patrick enjoyed a respite holiday with BIF where there was ample support. She commented that people were there to "carry her bags and help in any way they could".
Bronagh explained that BIF opened them up to a "new world", adding that they are "no longer alone" and there is always "someone on the end of the phone to talk to".
Philip Cloughlan is the carer of his daughter Lucy. She was in hospital just three weeks shy of a year after being involved in a car accident.
He stated: "Life doesn't just change for the survivor of brain injury, it also changes for the carers….our whole world was turned upside down and inside out. But help is there. Help like the Brain Injury Foundation."
Lucy and her parents have been members of BIF for three years now, and Philip said it was "great to see a place like this in Armagh".
He stated that the social element of BIF is "everything" to both he, his wife and their daughter.
"Everyone at BIF is in the same boat but just with different storms. But coming to BIF makes you feel not lost in the storm," he added.
Brain injury survivor, Pearse Rafferty was involved in an industrial accident 10 years ago and attends with the foundation almost every week.
He stated the new office opening up in Armagh makes life so much "handier to attend the workshops and provides me with structure to my life and routine for my week".
Pearse no longer works so he says that the "banter and craic" he has at BIF helps him "get through life and makes living with brain injury easier".
Olive Hawthorne has been working with BIF for the past four years and was honoured to be appointed manager in 2021.
When she started Olive had little to no understanding of brain injury but has come a long way since then and is "truly amazed by the survivors and their carers".
She said: "I can close the door when I get home from work but the survivors and their carers live with brain injury 24/7."
For that reason, Olive said it was vital that both carers and survivors have access to respite and support.
BIF offers many recreational activities and confidential therapeutic services including art therapy. They have respite holidays, days away, theatre outings and an annual carers weekend which are always a huge hit amongst members.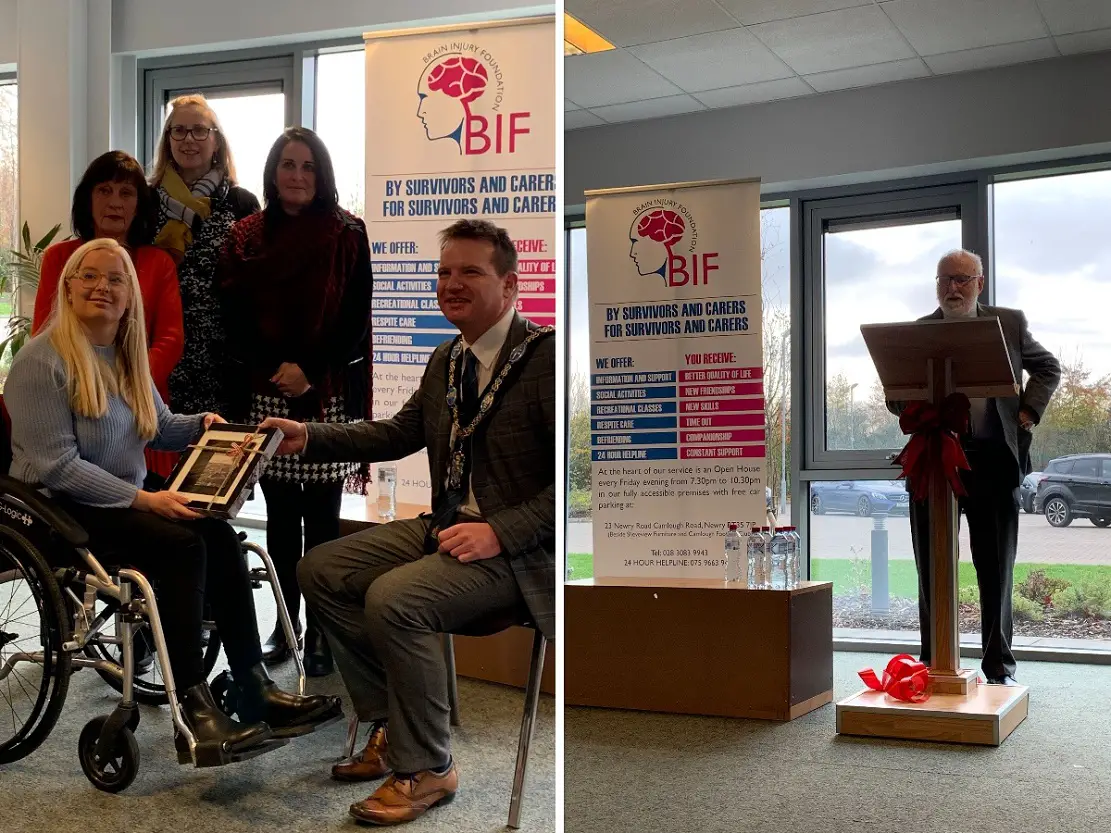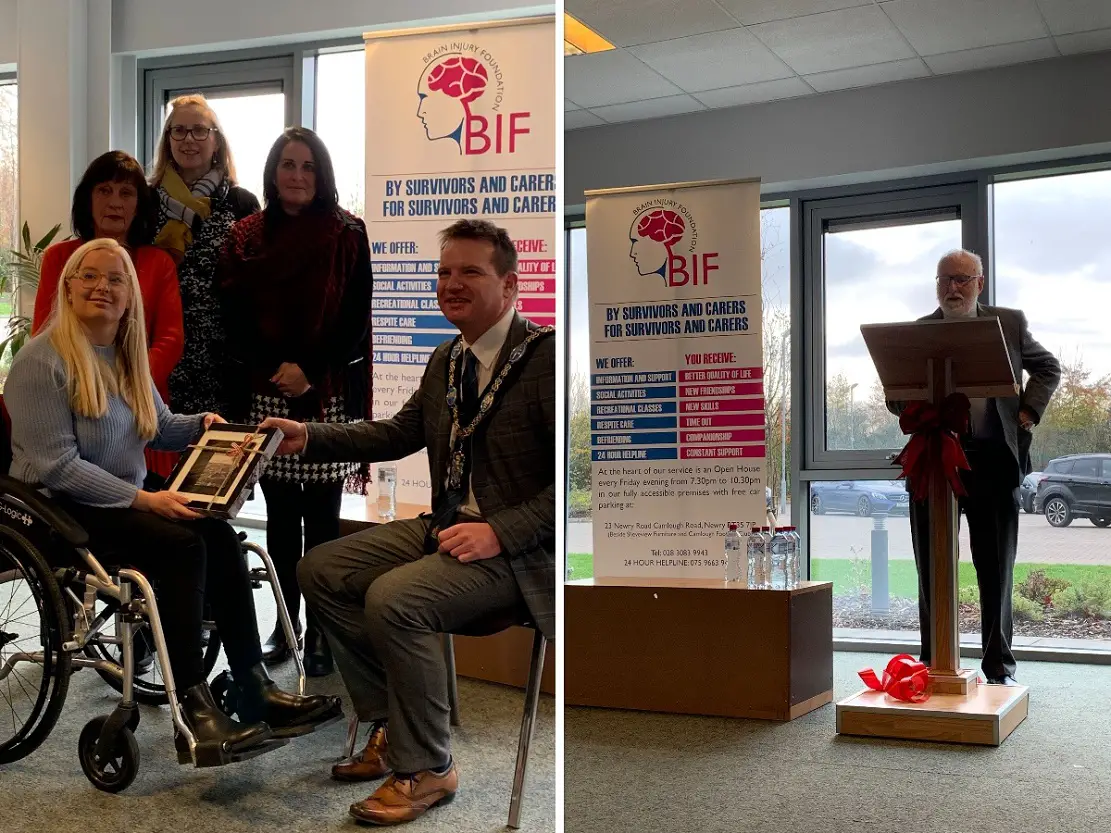 Olive stressed that BIF is not a government funded body and relies on its own funding through donations and fundraising events.
She said new premises in Armagh had been sought for so long by members in the area who have wanted similar activities to what is available in their Camlough site.
Over 2000 people suffer a brain injury every year in Northern Ireland, and Olive asked that everyone spread the word about BIF so that survivors and carers alike can be made aware that the help is out there.
Lord Mayor Barr thanked BIF for his invite to help open the new venue and was presented with a framed image of 'The Cut' in Banbridge by Lucy Cloughlan as a thank you for his attendance.
To find out more about BIF and the services which they offer visit their website.
Sign Up To Our Newsletter