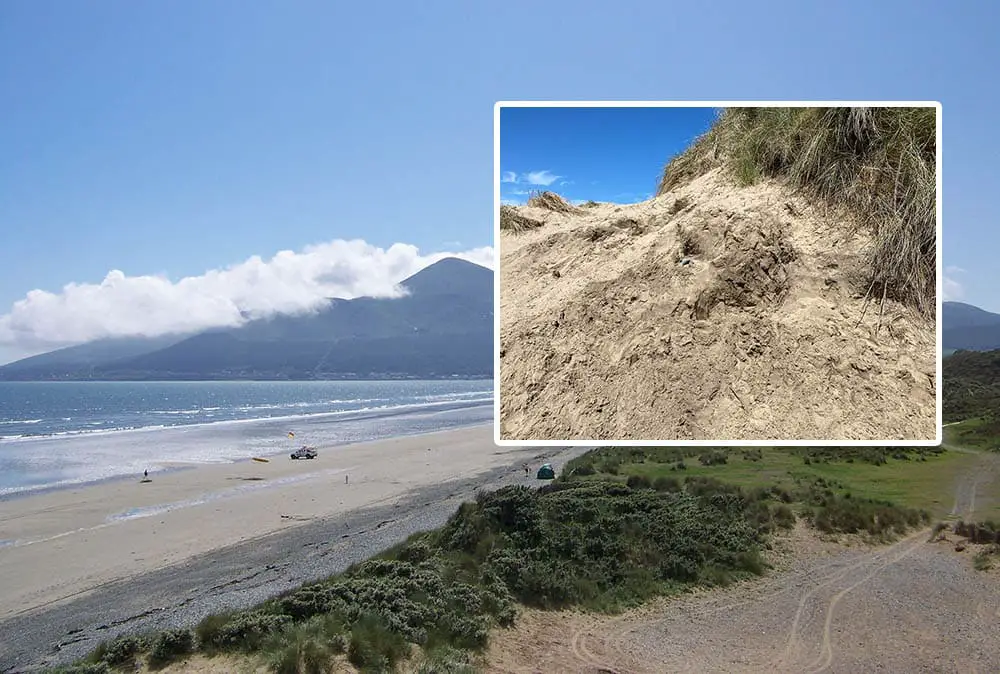 A Richhill man has warned parents to be aware of the dangers of collapsing sand after a day out at the beach turned into a rescue mission to save a young boy.
Paul Gwynne was with his wife and children at Murlough in Co Down on Friday when the incident unfolded in the early afternoon.
They has gone to their usual spot, right on the edge of a sand dune, and children from another family were playing up in the dunes behind them.
"There was a tunnel that someone had dug out before and these two wee lads proceeded to dig away at it," Paul explained.  "Their family was around the corner, so couldn't actually see them.
"I noticed one of the wee boys was on all fours digging in the tunnel. It was easily six or seven feet deep.
"I had just said to my wife about the size of the tunnel they had built when I heard the scream of the wee brother and I jumped up and there was no tunnel. The wee lad was just gone.
"I sprinted up – it was only 10 or 15 feet behind us – and started peeling back this sand and realised I was getting nowhere. I had to scream for help and my wee lad ran to look for the dad. He came running and another man as well. There were three of us digging, and we were just going on where I had seen him last.
"Three foot down and three foot in and we still hadn't got him."
Just then, they glimpsed a tuft of hair and managed to uncover his face.
"The child was blue. I genuinely thought he was dead," said Paul. "We got a bottle of water and got the sand off his face. It was coming out of his nose and everywhere.
"He just didn't have a clue what was going on. The first words out of his mouth were, 'Thought I was dead, thought I was dead'.
"His dad was in shock. I walked down to the water for about 20 minutes to clear my head. I thought I was going to throw up. Even the physical side of it was exhausting, never mind the mental.
"The dad couldn't thank me enough. It was by pure chance and very fortunate that the younger brother wasn't in the tunnel as well, and that we were so close.
"There was no noise when it fell. The only thing that alerted me was the wee lad shouting."
He added: "Our children are a lot smaller – ages seven and four. If they had been playing in it, they would just have disappeared. We would never have found them.
"It scared the life out of me. I haven't slept right since. I reckon, and the dad said the same, that if we'd taken another minute to find him, it would have been a different story."
Sign Up To Our Newsletter