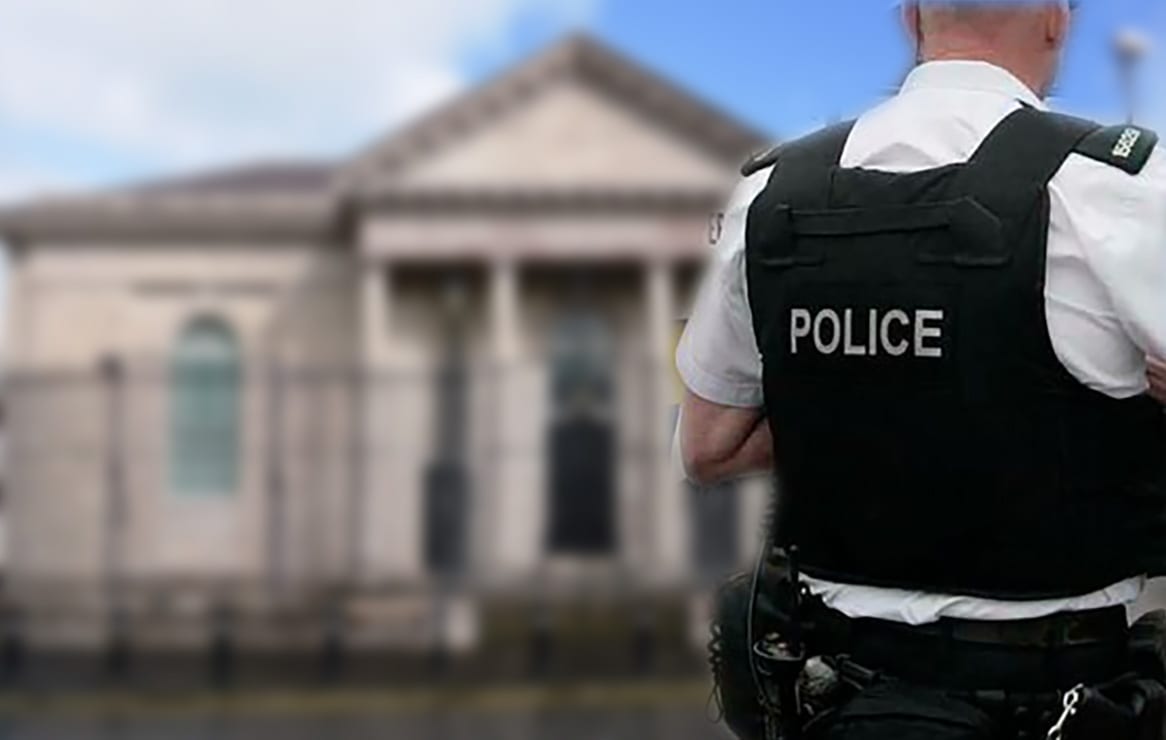 A forty-three-year-old man accused of a campaign of domestic abuse including threatening to cut his partner's throat and refusing to allow her to use the bathroom unless he was with her, has been released on bail.
Asan Mehmedov Hasanov of Callanbridge Park, Armagh is charged with threatening to kill the woman, assaulting her, stealing her phone and engaging in a course of abusive behaviour causing physical or psychological harm.
Offending is alleged to have occurred over dates between April 14 and 17.
A detective constable told Dungannon Magistrates' Court the charges could be connected.
He explained the complainant disclosed allegations which began after Hasanov consumed drugs.
He accused her of being in sexual relationships with other men, grabbing handfuls of her clothes, pillows and bedding which he claimed contained evidence of this.
Hasanov told her she has brought shame on the family and is "constantly exposing herself to other men".
Later that day, while a female relative was in the house, he claimed to have sat on the edge of the bed throughout the previous night "thinking about whether or not he should kill" his sleeping partner.
The following day he repeatedly threatened to "leave her throat opened".
Hasanov insisted she was hiding things from him in rubbish bags, so made her empty them and spread the contents on the ground so he could examine them.
He allegedly refused to allow her to use the toilet or bathe unless he was with her as he believed "somebody would come in from the garden and get into the shower with her."
In her presence, he allegedly told their son she was a whore who had sex in the garden on "holy grass".
The complainant said Hasanov had taken her phone and "forbidden" her from getting a replacement or using any device.
Hasanov was arrested and denied all allegations put to him, contending his partner had fabricated an orchestrated ploy to get him out of the house and "seize his assets".
Objecting to bail, the police constable referenced a previous report of domestic violence from 2020, when the complainant claimed Hasanov punched her and officers observed bruising and swelling to her face and her clothing was soaked in blood from her nose.
While it was confirmed no prosecution arose from that incident, it was nonetheless felt there may be "sustained violence in the relationship as the complainant states he has abused her throughout most of their 23 years together. He makes constant threats to slice her throat which he genuinely believes. There are allegations of controlling behaviour and police are very concerned he took her phone so she could not contact others or get help."
The detective confirmed Hasanov has a clear record although his partner alleges he "sliced a man's throat seven years ago in Spain and spent 18 months in jail".
District Judge Michael Ranaghan said he would be "placing absolutely no weight on that assertion by the complainant".
A defence barrister urged bail to be granted with appropriate conditions, pointing out the seriousness of allegations is not a reason to refuse.
Judge Ranaghan ruled: "The presumption of innocence has to apply. This man has no criminal record in this jurisdiction. The one incident of alleged domestic violence did not result in prosecution and the injured party didn't make a complaint. There are risks but the court is satisfied they can be managed."
Bail was set at £500 and Hasanov is banned from contacting his partner or any witnesses. He must reside at a Moy address, is excluded from entering Armagh and must surrender his passport.
The case will return to court next month.
Sign Up To Our Newsletter