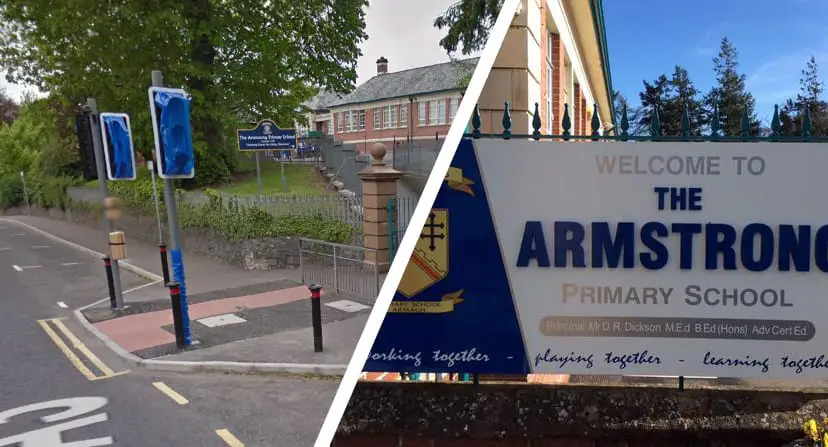 Children from a city primary school have been evacuated after a telephone threat this morning (Friday).
The staff and pupils of the Armstrong Primary School at College Hill have been moved to safety.
All are safe, it must be stressed.
They are currently being looked after at the Crozier Hall at St Mark's Church and parents are being urged to manke arrangements to have them collected.
Local politicians have reacted with anger and disbelief, with both the Ulster Unionist Party and Sinn Fein quick to condemn the culprits.
Armagh Sinn Fein Councillor Garath Keating questioned the mindset of those who would "want to cause such disruption and distress to the youngest and sweetest members of our society".
Councillor Keating, who visited with the pupils after their evacuation, said he hoped the "idiot responsible is identified".
He also praised the school team for their actions, saying teachers and staff had handled the situation excellently, although it was "not the lesson they want to have to be teaching the children".
Newry and Armagh Ulster Unionist MLA Danny Kennedy expressed his "disgust" at the incident.
He described it as "despicable behaviour" and said his thoughts with pupils and staff at the Armstrong.
Mr Kennedy expressed his concern for the welfare of children affected by the security alerts at Armstrong Primary School and other schools
"These incidents are very distressing for pupils, parents and school staff alike," he added.
"I have spoken to the principal of Armstrong Primary School and understand that, as a precaution, the children had to be evacuated to Crozier Hall, St Mark's Church following the telephoned bomb warning.
"Whoever is behind these series of threats to schools and schoolchildren are the lowest of the low, and must be caught and dealt with severely by the police and judiciary."
Alerts were also sparked and evacuations carried out at other schools in Bangor and Omagh.
It is not known at this stage whether the bomb threat call is related to "malicious communications" received by seven primary schools across Northern Ireland earlier in the week.
Those incidents are still under investigation by the PSNI.
Chief Superintendent Garry Eaton, alert these latest alerts, said today (Friday): "PSNI are investigating a further series of malicious communications to schools across Northern Ireland today.
"At this stage there is no information to suggest the incidents are terrorist-related, however enquiries continue to establish the facts.
"We continue to investigate who is responsible and whether these incidents are linked to similar calls made to seven schools earlier this week.
"Anyone with information should contact police on the non-emergency number 101 or call Crimestoppers anonymously on 0800 555 111."
Education Minister Peter Weir has condemned all of the threats made to schools across Northern Ireland.
The Minister said: "I am aware of a series of malicious calls that have been made to schools across Northern Ireland this week, most recently today.
"I utterly condemn these incidents which have only served to disrupt the teaching of some of the very youngest children in our education system.
"Schools have policies and procedures in place for dealing with such incidents and I commend them for taking prompt precautionary measures to ensure the safety of all children."
The Minister encouraged everyone with information to speak directly to the PSNI.
@uuponline disgusted at hoax bomb call to Armstrong Memorial PS, Armagh this morning. Despicable behaviour. Thoughts with pupils & staff

— Danny Kennedy (@DKennedy_UUP) May 27, 2016
Read more news:
Man charged with human trafficking in County Armagh
Further details of Borough's newest Cinema emerge
New Loughgall potato breed wins competition final place for outstanding inventions
Investigation underway in Armagh after alleged attacks on pet owners and walkers
Junior Minister role for south Armagh MLA Megan Fearon
Piece of Armagh history goes on the market for 'commercial development'
Council vote passed on funding for two more Somme centenary projects
Prince Charles and the Duchess of Cornwall sample Co Armagh's delights during second day of visit
Sign Up To Our Newsletter