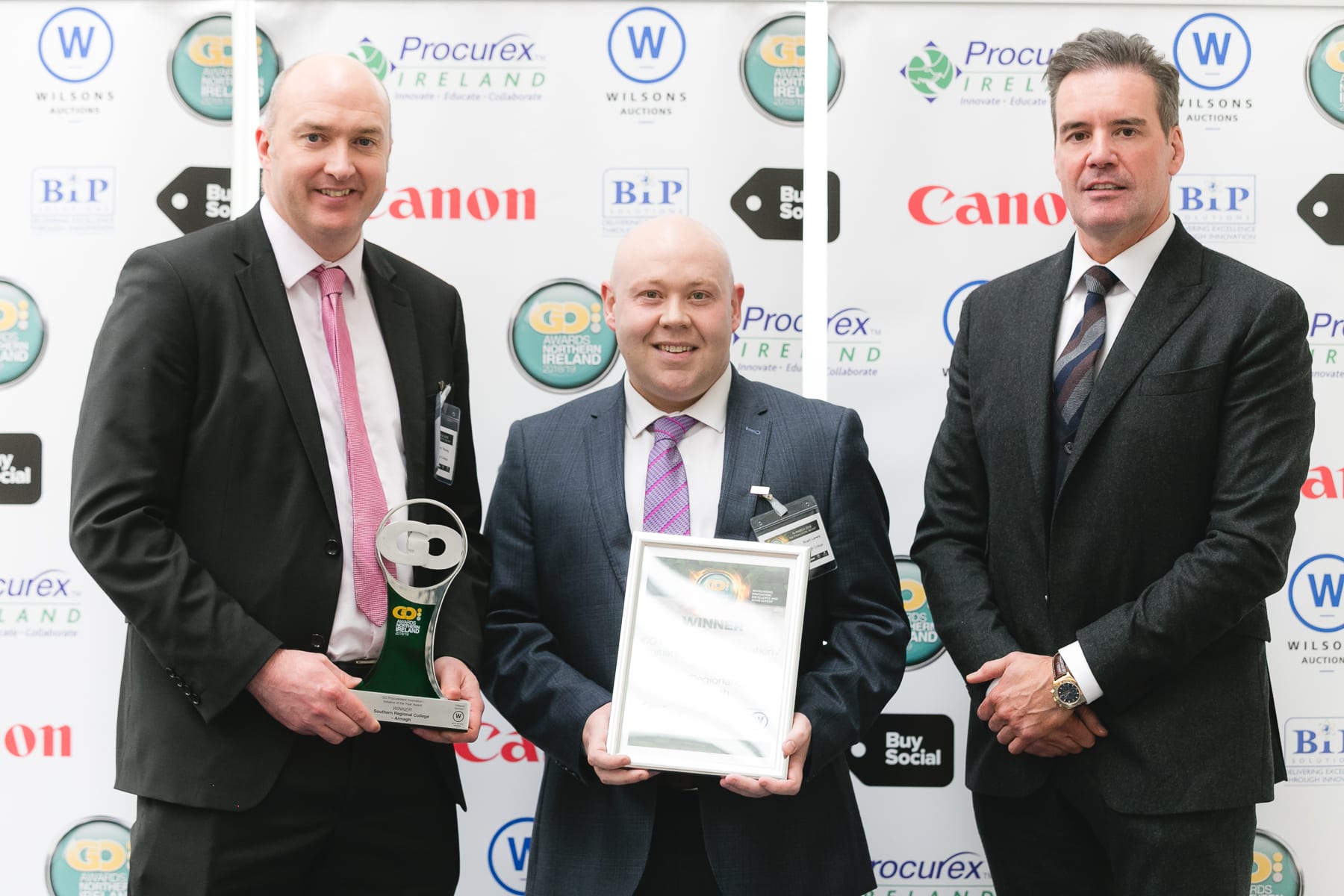 A new £35 million college campus in Armagh has won a major award – and work has only just started!
The Southern Regional College Armagh Campus was honoured alongside Northern Ireland's procurement community's finest recently at the Government Opportunities (GO) Awards Northern Ireland 2018/19, held at the Titanic Hotel in Belfast.
The new £35 campus development at Lonsdale Road – designed by WYG Group – won the Northern Ireland GO Procurement Innovation/Initiative of the Year Award at the prestigious event.
And it will now go forward to represent Northern Ireland at the UK Awards ceremony in April.
The GO Awards Northern Ireland recognise public sector procurement excellence, celebrate the role public, private and third sector organisations play in supporting the delivery of public services and are the benchmark by which progress in public sector commissioning is measured.
With over 30 finalists featuring many key organisations from within Northern Ireland's supply chain, the GO Awards Northern Ireland were a huge success and demonstrated many fantastic procurement initiatives.
After winning the GO Award, Brian Doran, Southern Regional College chief executive Brian Doran said: "We are absolutely delighted to receive this prestigious award for our new campus build project in Armagh.
"This achievement recognises the creative and innovative approaches used in the procurement and delivery of this exciting new build project for Armagh.
"I would like to take this opportunity to thank the entire project team, led by Project Director, Ruairi Lavery, for their continued commitment and drive for quality and excellence which is recognised in winning this award."
This new campus will feature approximately 14,000 sqm. of specialist accommodation and is designed to facilitate world class professional and technical education and training.
Felix O'Hare and Company Ltd were appointed in November 2017 to spearhead this new campus development, which upon completion in 2020, will facilitate students and staff in the brand new state-of-the-art facility.
Grahame Steed, Chair of the Northern Ireland GO Awards Judging Panel said: "The GO Awards Northern Ireland have showcased the depth of innovation, creativity and commitment in place across the country's procurement community.
"The judging panel were impressed with the quality and variety of the submissions, which clearly demonstrate Northern Ireland's growth in this area. All of the finalists – whether public, private or third sector – are to be commended for their outstanding work."
This year's winners included some of the country's leading procurement innovators, including FIN Maintenance Ltd working with Northern Ireland Water Ltd and Translink.
Sign Up To Our Newsletter