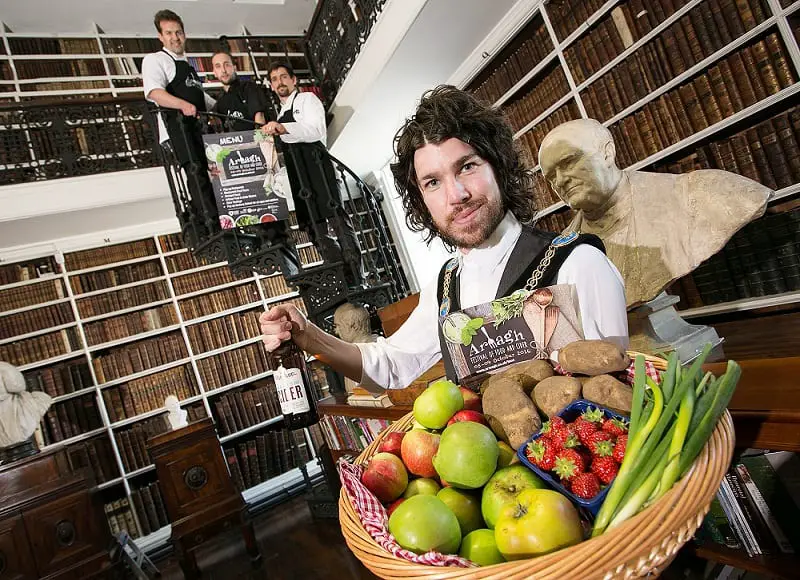 A five-day event-filled food and drink spectacular unfolds in Armagh next month as Northern Ireland's only Food & Cider Festival returns for a second year.
Armagh City, Banbridge and Craigavon Borough Council, in collaboration with the Food Heartland Hospitality Forum and businesses across the area, promises that this year's festival will pack an even bigger punch than last year's inaugural event, when visitors thronged the streets and multiple venues for a jam-packed gastronomical feast.
Kicking off on Wednesday 5th October, the five-day food and drink spectacular features a pop-up cookery school with dedicated classes for every age and an exclusive pop-up restaurant fit for a king and set beautifully in the stunning splendour of Armagh's Public Library and at the home of the Dean of St Patrick's Church of Ireland Cathedral.
Cider-tasting and drinking and afternoon tea and tours of the orchards will place visitors at the beating heart of Armagh's apple harvest, while dedicated restaurant food tours and a weekend Artisan Food & Cider Market at the iconic Shambles Yard will create a deliciously scrumptious foodie heaven to draw in visitors from near and far.
In a first for Armagh, a brand new Twilight Market at the Shambles on Saturday evening will add to the unmissable choice on offer in a city buzzing with atmosphere and home-cooked aroma.
Lord Mayor of Armagh City, Banbridge and Craigavon, Cllr Garath Keating, said: "Famed for its Bramley apple, Armagh is one of Europe's best apple and burgeoning craft cider producing areas. With a rich heritage in serving up quality, crafted home grown produce the area is packed with fine eateries, cafes, pubs, orchards and breweries which guarantees the best hospitality is always on the menu.
"The Armagh Food and Cider Festival continues to grow from strength to strength as a fine celebration of the excellent produce we have on offer here in the food heartland of the region. With the very best ingredients, award-winning chefs, unbeatable venues and a whole menu of choice in one big five-day programme, it's time to put the dates in your diary!"
Top chefs including Sean Farnan from The Moody Boar, Gareth Reid from 4 Vicars, Simon Dougan from The Yellow Door and Mervyn Steenson from Groucho's On The Square are among a long line-up of hospitality experts taking part in multiple events designed to showcase the finest local produce set in Northern Ireland's original Food Heartland.
This event is funded by Tourism Northern Ireland, 2016 Year of Food & Drink Fund and the Northern Ireland Regional Food Programme. To download the full programme of events and for booking details for some events, visit www.armagh.co.uk/food.
Read more news:
Passengers face 'noticeable jump' in fares but drivers out of pocket too
Homes evacuated in security alert as four men are arrested
Man threatens staff with knife in Armagh shop robbery
SS Connemara & Retriever disaster to be marked despite funding setback
GP out of hours service facing 'significant challenges' in Southern area
Second cash bid to transform Armagh City Centre due to be submitted
Major £200,000 improvements to begin at Armagh Road, Portadown
Sign Up To Our Newsletter