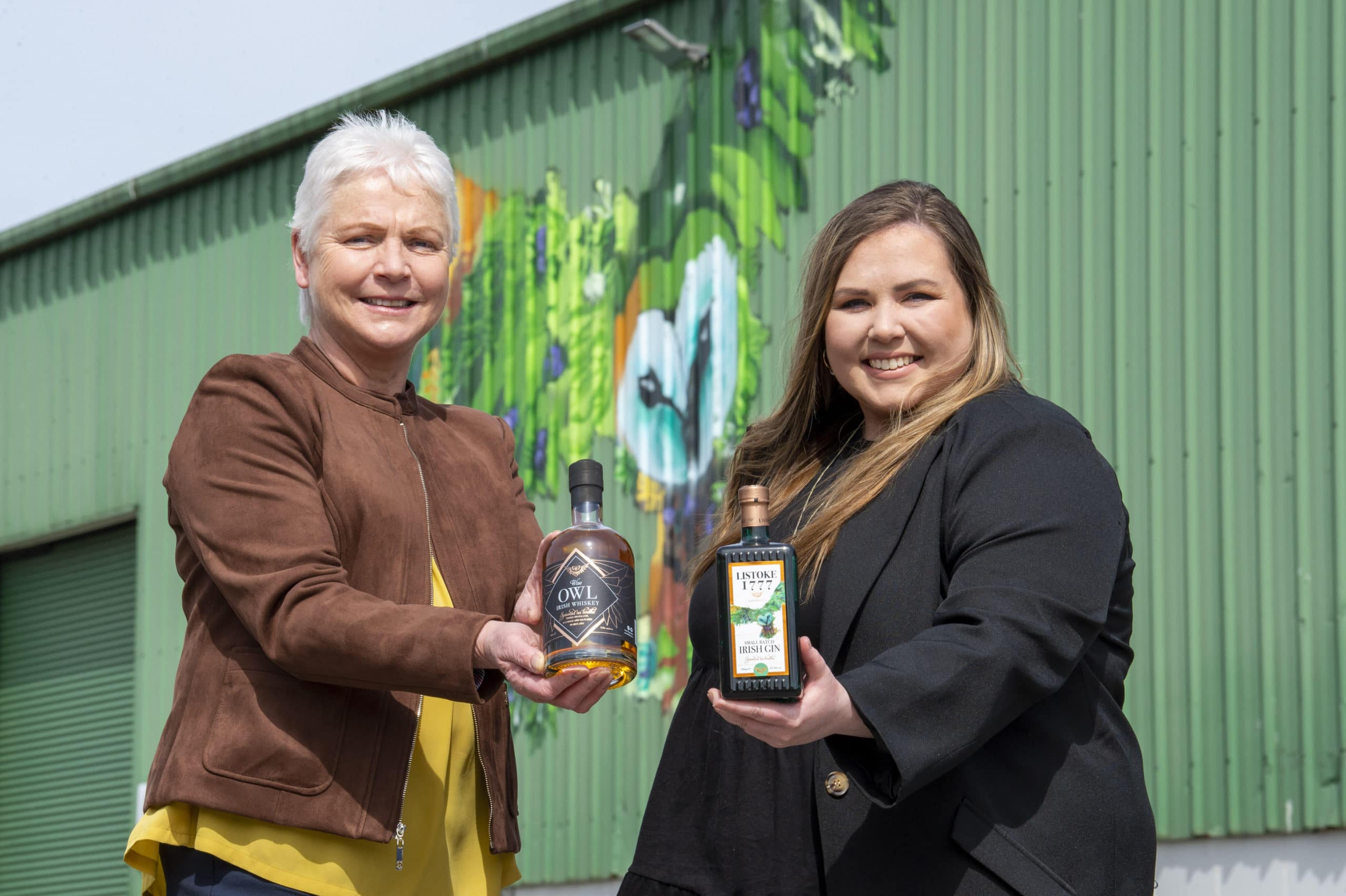 An Armagh woman who left a career in nursing to start up her own successful food business is making another bold entrepreneurial move – by raffling off a share of the family gin empire.
Bronagh Conlon, who is originally from Lisadian, near Tullysaran, but is now living in Co Louth, says the draw is the first of its kind in Ireland, and possibly further afield.
The 56-year-old set up Listoke Distillery in Monasterboice in 2016 and runs it along with her husband and daughters.
For £20, raffle holders can be in with a chance of winning a five per cent share of the business, a prize worth between £80,000 and £90,000.
There is a second prize of £10,000 and a third of £5,000.
This isn't the first time Bronagh has come up with an original and ground-breaking idea.
The distillery was the first in Ireland to set up a gin school – where members of the public can learn how gin is made – and the first distiller in the country to produce hand sanitiser when the Covid-19 pandemic hit.
"We donated about 7,000 litres of sanitiser, as well as selling it, and we are still donating to both north and south of Ireland," said Bronagh.
It's all a far cry from her first career in nursing and midwifery which she pursued for 10 years and enjoyed.
However, the mother-of-three always had an interest in the food industry. As an A Level student at St Catherine's College in Armagh she had offers to study both nursing and catering and resorted to flicking a 50 pence coin to choose!
After leaving nursing, and with no business experience, she set up the Real Irish Food Company, making products such as jams, marmalades and pasta sauces.
By the time she sold it to the Jacob Fruitfield Group, she had a factory with 10 employees.
Afterwards, Bronagh worked as a consultant, advising small businesses on setting up.
However, life hasn't all been plain sailing. In 2006, she was diagnosed with breast cancer and her family hit the headlines when she, along with all four sisters and one of her two brothers, were found to be carrying the BRCA1 gene, which can trigger cancer in the breasts and ovaries.
She and her sisters went on to have double mastectomies and their ovaries removed.
Meanwhile, the idea behind the raffle is to generate extra funds to enable the company, which also blends and bottles whiskey, to continue its plans to export to China and also to the US and Russia, and also to install a bottling line at its Co Louth premises.
"It's maybe for that 25-50 age group who want to be part of something different," said Bronagh. "It gives you the kudos of owning part of a company but without having to do any work.
"And as a shareholder you get a percentage of the profits."
"We always try and do something a bit innovative at Listoke," said Bronagh's daughter, Sarah McAvinchey, who is head of sales.
"Whether you win or not, every entry is helping support a small Irish business to grow into a successful future throughout the world."
Among the other perks, the winning shareholder can bring their friends to the Gin School, enjoy a lifetime supply of gin and become a taste tester and help create new products.
The raffle is open until Friday, July 9 at 6pm. It is open to those over 18 years of age and is hosted independently by raffall.com.
To enter go to https://listokedistillery.ie
Sign Up To Our Newsletter