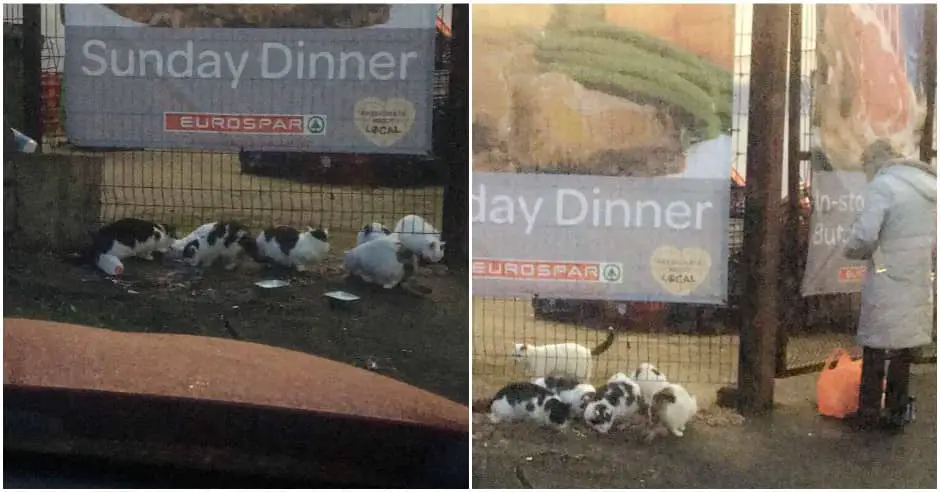 A young Armagh woman was close to tears when she witnessed at first hand a true act of kindness this evening (Monday).
Kellyann Conlon watched on as a pensioner spent her own money to feed and nurture cats, which otherwise would be left to fend for themselves.
And it has transpired that it was not just a simple one-off gesture; day in and day out for the past year this elderly lady has walked to the Eurospar at Dobbin Lane at 6am every morning.
There she buys cat food, various treats and two litres of milk, leaving the store to feed her feline friends. She couldn't help but stop the lady to ask her watch she was doing.
It turns out the pensioner spends in the region of £25-a-week of her own money to care for the cats.
Kellyann, speaking to Armagh I, explained: "I just saw the lady come out with a bag full of cat food, wee treats and two litres of milk. She stood there for about 15 minutes feeding the cats. There were seven cats around her.
"When she finished she walked past the car and smiled at me. I just thought it was lovely; the lady didn't look to have much herself, so for her to do this was such a lovely gesture."
Kellyann added: "I had to ask her why she did that and she told me she has been feeding them cats every day for a year. She walks over at 6am to do so.
"She doesn't drive. She said it costs her about £25-a-week and that she has to stop soon because it's costing her a fortune. It really touched my heart and I thought this wee lady needed to be recognised. There are just some lovely people about.
"I offered her a lift home but she said she was okay and thanked me before continuing on her journey."
Read more news:
Decade-long dream for state-of-the-art community centre moves a step closer
Anger and disbelief as deal to save Bannview GP practice falls through
Scam artists 'pretending to be homeless' in Armagh
Co Armagh man makes semi-final of Ninja Warrior UK
Thieves steal 20 cattle from farmer (62) in hospital with pneumonia
Owners distraught after personalised vintage tractor stolen from Armagh farm
Boy, 5, remains in critical condition after being struck by car on Thursday
Co Armagh woman's brilliant cover of James Arthur's 'Say You Won't Let Go'
Death of boy, 11, may have died because of lack of senior A&E staff
Cattle, including eleven bulls, stolen in two south Armagh farm thefts
Sign Up To Our Newsletter