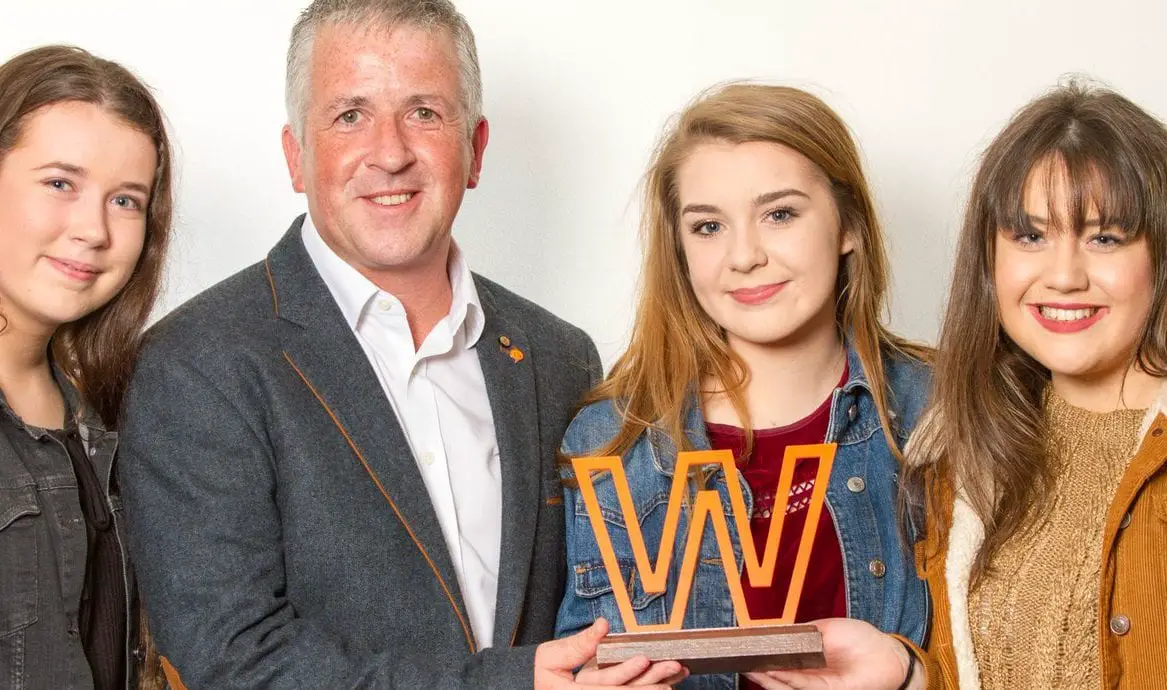 CAIRDE Teo has scooped first prize for best Irish language website at the National Realex Website Awards at a glittering awards ceremony that took place in Liberty Hall in Dublin Wednesday night.
Despite having received several national and regional awards in recent years for their community enterprise and Irish language development work, it still came as a surprise to the organisation when RTÉ 2FM presenter Rick O'Shea read out the name of the Armagh group as overall winners in the Best Irish Language Website category.
Several of the group had made the trip to Dublin for the awards and the post-ceremony celebrations went on long into the early hours, as the group painted the capital city red.
Established in 2009, the not-for-profit group recently invested in a completely new website to meet the growing demand for its services. The cultural development group worked closely over several months with Website NI, the professional website service based in Benburb, Co. Tyrone. Part-funding was provided from Foras na Gaeilge's 'Scéim Tacaíochta Gnó' [Eng: Business Support Scheme].
The final product provides the organisation with an eye-catching, online presence and an appropriate worldwide platform to showcase the broad variety of services that they provide to the local community. The new bilingual website also contains multi-media functions with links to online radio and video features.
The Web Awards took place in Liberty Hall in Dublin on September 28th and attracted nominees from all over Ireland, including many large companies and organisations.
There were 700+ category nominations last year when prize winners included household names such as 98FM.com for Best Media Site, Tayto Park for Best Entertainment Website, Silicon Republic for Best Science and Technology Site and waterfordwhispersnews.com for Best Daily Web Only Publication.
Competition was no less stiff in 2016, with entries from some big names in the commercial and arts sectors.
CAIRDE faced competition in their categories from aikenpromotions.com, comhaontasglas.ie, cnag.ie. warnermusic.ie, corkcityballet.com, NOS.ie, thedivinecomedy.com and wexfordopera.com – to name but a few! Over 300 people attended this year's glittering awards ceremony.
Strategic Development Officer with CAIRDE Teo, Gearóid Ó Machail, expressed his delight at the group's success: "Simply being nominated for another prestigious national award was a great honour for our small organisation, but to win such a prestigious award in the face of stiff competition caps off another wonderful year of progress for CAIRDE Teo. Much of the credit in this instance must go to the team at Website NI.
"Website NI is a professional organisation with a solid team of 13 designers and developers with over 40 years combined experience in the industry. We worked in close partnership with their design and production team to ensure that our new website not only looks great, but it is closely aligned with our overall strategic objectives. Safron (Client Advisor), Gareth (Web Developer) and Paul (Web Designer) were extremely responsive to our ideas and offered creative solutions on each occasion that we presented material for the new site. Their back-up services are fantastic and they have been very generous with their time and patience throughout.
"CAIRDE Teo faced some very stiff competition in our nominated categories from large-scale organisations with resources and budgets to match. Nevertheless, I'm delighted that the creative endeavours of our website design team have been recognised on a national stage and in such esteemed company. In addition to our web design team, I'd like to thank Foras na Gaeilge for their generous support and offer a special word of thanks to my colleagues Seán Ó Maoilsté, Máire Ní Phronntaigh, Erin Nic Giolla Cheara, Luíseach Ní Threinfhir and Faílenn Nig Fhionnbhairr who travelled to Dublin to collect the prize for our award winning website".
Safron Thomas, Client Advisor with Website NI, added: "After some initial consultations with the CAIRDE Teo team, it was clear that they wanted to focus on improving and redesigning the overall look and feel of their website, to modernise it, to make it accessible and engaging to users and to incorporate an online radio station streaming functionality. With a significant corpus of video material from TV news stations, the group were also keen to incorporate a 'CAIRDE TV' function within the website.
"Our main goals in creating the new CAIRDE website were: (i) to engage the community through the Irish Language; (ii) to keep relevant organisations up to date with CAIRDE Teo's work in the local community in a positive and engaging way; (iii) to showcase the organisation's projects and services; (iv) to promote the physical shop – 'Cultúr'; and (v) to promote the new radio station – Raidió Mhacha. We hope that we have been successful in meeting our client's needs with their new website presence. We would also like to congratulate CAIRDE Teo on their fantastic success in winning the national award for Best Irish Language Website".
Main Picture: L-R Luíseach Ní Threinfhir, Gearóid Ó Machail, Erin Nic Giolla Cheara, Faílenn Nig Fhionnbhairr ) – pictured with the award at Liberty Hall, Dublin.
Read more news:
Pet owner hits out at driver who ran over his dog before fleeing from scene
Watch the shocking moment woman and child duck under barriers as train approaches
Fifteen people imprisoned in house forced to live in squalor by gangmaster
Young family left shaken as thugs target house as baby slept
Lithuanian man extradited to face charges including county Armagh rape
Another major cash windfall confirmed to help revitalise Armagh city centre
Sign Up To Our Newsletter