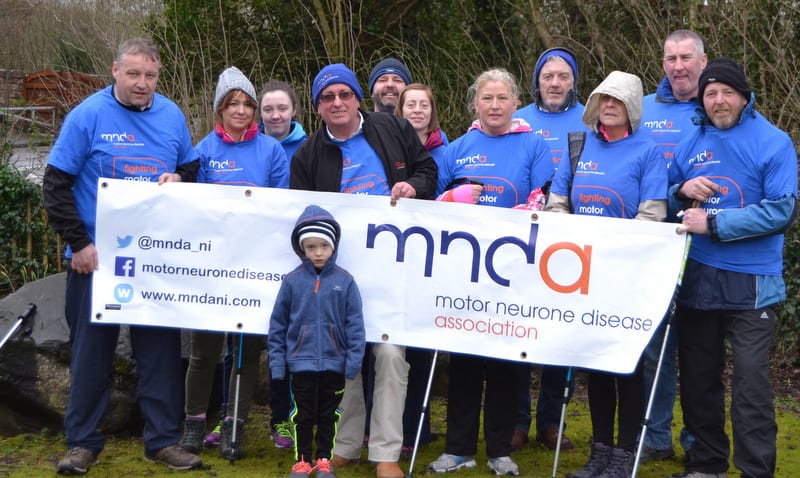 An adventurous Armagh group are to scale the dizzy heights this June as they aim to complete a 'Four Peak' challenge for charity.
Having selected the four highest mountain peaks in the four provinces, the group plan to scale them in a 72 hour period over the first week in June.
All money raised from their selfless and strenuous endeavours will go directly to the Motor Neurone Disease Association.
The mountain schedule will kick off with Carantouhill in Kerry, highest peak in Munster which is also the highest peak in Ireland. Then it is off for an overnight but trip to Lugnaquilla in Leinster,, followed by Mweelrea in Connaght on the same day.
The last day will see the team back in Ulster to tackle Slieve Donard
Taking part will be John Fields, Barni Maguire, Berndan Maguire, Cathy Rafferty, Bernard Rafferty, Mark Grimley, Mairead Grimley, Stephen Fields, Caroline Fields, Julie O'Neill, Kevin Conlon, Garath Keating and Nicola Mallon.
The team leader John Fields, a keen mountain hiker himself, said: "When the idea for this event came up we thought that we would be lucky to attract four or five climbers.
"However, the enthusiasm shown by the 12, many of whom are complete novices, is very gratifying.
"Over the coming months we will be organising a series of fundraising events and hope that people will come along and support our initiative. We have set a target of £10,000 although as anyone who has been involved in charitable fundraising will testify, targets are merely goals and all monies are welcomed."
Among the climbers is former Lord Mayor of Armagh City Cathy Rafferty, who when welcoming the challenge added that she was confident that the people of Armagh and surrounding districts will show the same level of support that she enjoyed when raising funds for the office of Lord Mayor's selected charities
For the novices among the squad, training has already begun with a romantic St Valentine's Day climb of Slieve Gullion.
There will be a regular series of climbs over the coming months wih the next being Slieve Foy. The intention is that the peaks will steadily get higher as the training progresses.
Throwing his support behind the fundraising venture was Stephen Thomson, of the Motor Neurone Disease Association, who said: "Myself and MNDA are very glad to be the beneficiaries and part of this epic fundraising event which involves our fundraisers climbing the highest mountain in each of Ireland's provinces over one weekend.
"The money raised is much needed to fund research of MND and providing support to those affected and their families.
"I wish our mountaineers god speed and a safe journey and judging by their training and organisation of this challenge and scheduled fundraising activities I have no doubt they are well up to this most exciting of tasks."
Read more news:
Major Keady housing development to be approved more than five years on…
Public inquiry into controversial north-south interconnector to reconvene in June
First look inside new trampoline park at the Outlet Business Park
Police in urgent appeal to help find 'high risk' missing person David Duprey
Picture Exclusive: Memorial Battle of the Somme seats for Armagh and borough's towns and villages
Top fire officials state case for cutbacks in Armagh as firefighters attend fatal blaze
Sign Up To Our Newsletter