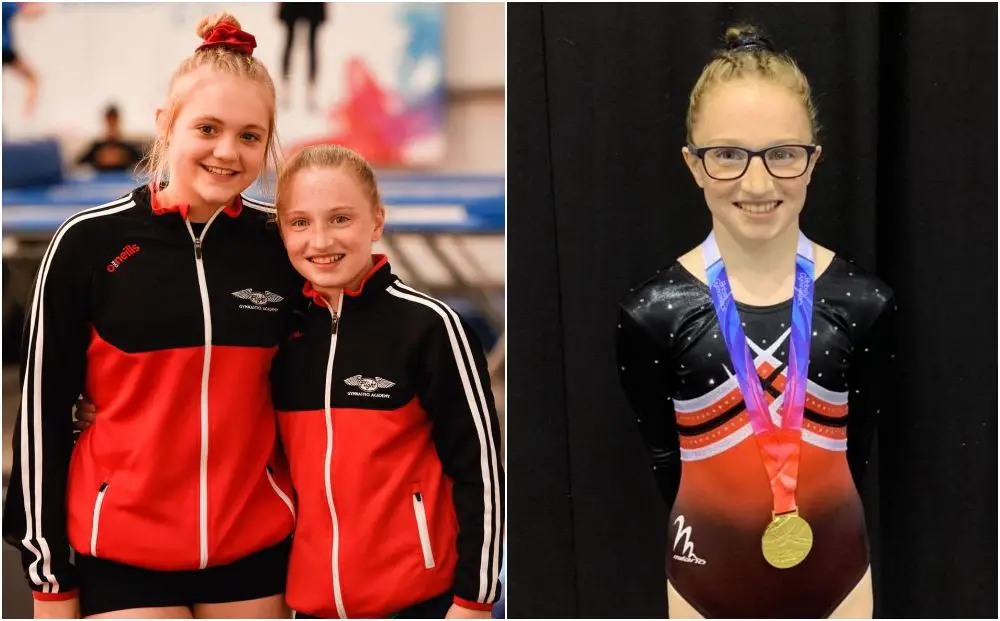 This time next week, three gymnasts from Northern Ireland's largest trampoline club will be competing on the world stage for Great Britain and Ireland respectively.
While 16-year-old Ellie Reid and Fionnuala Mulholland (13), who goes to school in Armagh, will be bouncing for the Great Britain team at the World Age Group Championships in Baku, Azerbaijan, Ryan Devine (20) will be competing for the Irish team in the senior World Championship and the trio's coach Simon Flannery couldn't be more proud.
"It hasn't been easy for them but it's amazing, it's absolutely massive for them," says Simon, the head coach at Flight Gymnastics Academy in Newtownabbey where the three elite gymnasts train.
"They have been training hard and were able to get elite status during Covid but it's been really tough psychologically because with lots of competitions cancelled over the last year, they have had to keep training for something they don't know whether it's definitely happening."
Ellie, a pupil at Dunclug College in Ballymena and Fionnuala, a pupil at St. Catherine's College (Colaiste Chaitriona) in Armagh, are both British Champions having won gold in their respective DMT (double mini trampoline) categories at the British Open in October and are ranked no. 1 in the country.
"They're both medal potential for sure," says a confident Simon, "I believe that they have got enough difficulty and routine sets that there's definitely potential for medals."
Ellie and Fionnuala were also crowned British champions in 2019 and both girls qualified for the World Age Group Championships in Tokyo in Dec 19 where both of them impressed with Fionnuala finishing 4th and Ellie 7th.
Due to the Covid pandemic, they both missed out on the European Championships but having earned elite status, they have continued to work hard and train five days a week at Flight with Simon as well as training sessions with the British team over half a dozen weekends at Lillieshall in England.
For many people training so hard and having to keep up with their schoolwork would be overwhelming but according to the girls' extremely proud mothers Alyson Reid and Rosemary Mulholland, the girls take it all in their strides.
"Ellie just take each day at a time," says Alyson, "she doesn't feel pressure whatsoever even though she's British champion and doesn't get nervous at all – she's just excited to be going and is really looking forward to it."
It's a similar story for Rosemary who says that Fionnuala "just loves the sport so achieving so well is just an added bonus."
"What she has achieved is absolutely fantastic and given the last 18 months it's been phenomenal that they have been able to keep up the standard that they achieved."
"Getting elite status meant so much because it meant they could keep training but with the pandemic and everything that entailed, it was a social outlet and was great for emotional and mental stability."
While the girls maybe hoping for medals, Ryan's determined to make sure the rest of the world wakes up and sees the potential in Ireland as he makes his senior world championship debut.
The only Irish gymnast to qualify for the World Championships, Ryan was junior European DMT champion and is hoping to earn some Olympic points for the 2024 games in Paris.
"I'm aiming for Semi Finals (top 24) as that will put me amongst the countries that will contend for the 16 Olympic spots in 2024.
"There's plenty of pressure but that's what I like to compete under. It gives me extra motivations to get out there and perform – I like the pressure, it's the thing that has kept me motivated."
Despite not being able to compete for almost two years, Ryan puts a positive spin on it and explains: "It was good not to have the stress of competition but being able to focus on routine structure, developing new skills and working in things that I didn't have before.
"I think that's the main reason why I have come back better than when we left."
With Baku less than two weeks away, Ryan is fiercely determined: "I want to go out there and prove that I'm world class – I'm not just going out there to compete but to try to make history for Ireland."
While Gymnastics Ireland foot the bill for Ryan to compete as juniors, Ellie and Fionnuala have to pay for their own trips and while they have gratefully received grants from the Mary Peters Trust and Antrim and Newtownabbey Council along with donations from a handful of local businesses, there is still a significant bill to be paid.
Check out their GoFundMe pages here and here.
Sign Up To Our Newsletter