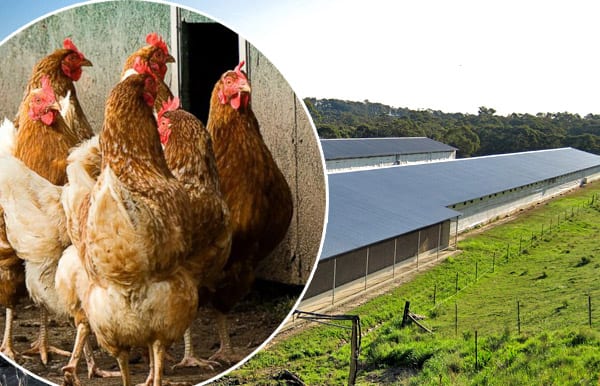 An Armagh farm business is to be given the go-ahead to construct three new broiler poultry sheds – housing up to 105,000 birds – on the outskirts of the city.
Eight objections to the proposed development, located on lands approximately 375 metres south west of 106 Battleford Road, were received during the public consultation process.
But the application, which includes six feed bins, an ancillary building for biomass boiler, together with biomass storage, an office, charging and generator, along with a new access, has been recommended for approval by planning officials.
It will be presented as such to a meeting today (Wednesday), of Armagh City, Banbridge and Craigavon Borough Council's planning and regulatory services committee sitting in Banbridge.
Council has been told that collectively the poultry sheds will cost almost £1 million to construct – £350,000 each – and will allow the applicant to move away from dairy farming and into poultry farming full time.
The proposal was submitted under the name of Ballybrocky Poultry Farms Ltd, and planning officers, who have set down certain conditions, report they have come to the view that all issues that have been raised have been adequately addressed and the relevant bodies consulted.
Among the conditions are that work should begin within five years, existing trees and hedging, as indicated, will be retained and vehicle movement on site will be restricted to between 7am and 10pm daily. All dirty water will be directed to a collection tank with no contaminated surface water runoff entering any waterway.
The number of broilers will be limited to 105,000.
Among the issues raised in the eight letters of objection received were the potential for the impact on current views, odours, noise levels, dust, health concerns, and high levels of traffic serving the site.
In outlining the relevant site history, the planners report that, according to the environmental statement, the existing poultry site was originally developed in 1971 as a broiler production site and extended with a second house in 1973, producing broiler chickens on contract for Moy Park.
The original broiler houses were replaced in 2001 and developed with three new efficient modern broiler houses on the site. It was renovated in 2012 with the environment enrichment feature of double glazed windows to produce broiler chicken under the Higher Welfare production system, supplying broiler chicken to a specialised market.
The surrounding area is described as rural in nature and outside any settlement limits as defined within the Armagh Area Plan. Along the Battleford Road there is a scattering of single houses and farm complexes, however within the vicinity of the poultry farm there is a pocket of roadside residential development.
The proposal is for three broiler houses, each 20.7 metres wide, 85.4 metres long and with a ridge height of 5.4 metres. Off set to the left side of the north western elevation of each chicken house, two meal feed bins – six in total – will be sited.
Ancillary building for biomass boiler and biomass storage will be located to the north of the western most poultry house and will have a height of seven metres from finished floor level, a frontage of 14.8 metres and gable depth of 12.2 metres.
An office, changing area, WC and generator building is to be sited to the north east of the broiler houses, with a height of four metres from finished floor level, frontage of 11 metres and gable depth of 4.3 metres.
A new access is to be created from the Battleford Road to cater for the new development and the existing entrance only used for right of way and existing farm traffic.
Planning officers report the proposal complies with Policy CTY 1 of PPS 21, in that it is one of the range of types of development which, in principle, are considered to be acceptable in the countryside and that will contribute to the aims of sustainable development.
In terms of impact on the countryside, they say the proposal is for the expansion of the applicant's existing poultry farm. They say this is an investment opportunity for the existing business and part of Moy Park's expansion programme and in line with the Agri-Food Strategy.
Officers are of the opinion that this proposal supports the needs of the existing business.
The business has been in operation for more than six years and, as such, is viewed as an established farm business in the countryside.
Officiers, in their report to council, state: "The proposed sheds are to be located in a neighbouring field (approximately 200m away) to the existing poultry units. The form and design of the proposed buildings are similar to the existing buildings. It is considered buildings of this type are common in the rural area.
"There are no suitable existing buildings on the applicant's landholding. Moy Park are unable to utilise existing agricultural buildings to house broiler chickens as there are no existing general purpose agricultural shed or livestock shed constructed to the specifications insisted upon for efficient, climate controlled and cost effective poultry production.
"The current consumer market demands a greater deal of high welfare poultry, therefore Moy Park require new, purpose built houses with windows and advanced climate control systems for the product required by supermarket contracts.
"It is noted that the proposed poultry broiler sheds are not located next to the existing farm buildings. The agent has stated that the proposed siting site was chosen as it is a greater distance from nearby sensitive receptors than the existing houses, and sited to ensure there would be no unnecessary impact on the amenity of residential dwellings on Battleford Road."
Planners say the applicant is hoping to 'wind down' his dairy farming operations in favour of poultry production.
The proposed development, they say, would allow expansion of the poultry business at the Battleford Road site, meaning the applicant can become a full time poultry farmer without the need to rely on cattle for the farm's income.
It is considered that the proposed development will have an estimated capital spend of £310,000 per poultry house and, as such, this was likely to translate into newly created employment opportunities, both direct and indirect.
Direct jobs during the construction phase would include the contractor appointed to oversee the design of the installation, procure the necessary materials and construct the poultry houses.
Environmental health have considered concerns over impact of odour and are "satisfied there will be no adverse impact".
The agent has also clarified details of the proposed biomass boiler and storage room stating that the objectors had mistaken it with an anaerobic digester.
Council will be told that health concerns, as well as spread of disease had been raised as a concern, but again environmental health was "satisfied there will be no impact on human health".
Read more news:
Family fundraising drive to help others after losing Charlene and baby Myla
Budget retailer's massive Banbridge store plan to be recommended for approval
Step inside this stunning £1.35m county Armagh home
Former soldier to go on trial for shooting of county Armagh man
Sign Up To Our Newsletter
Sign up to our newsletter for major breaking news stories as they happen – right to your inbox.