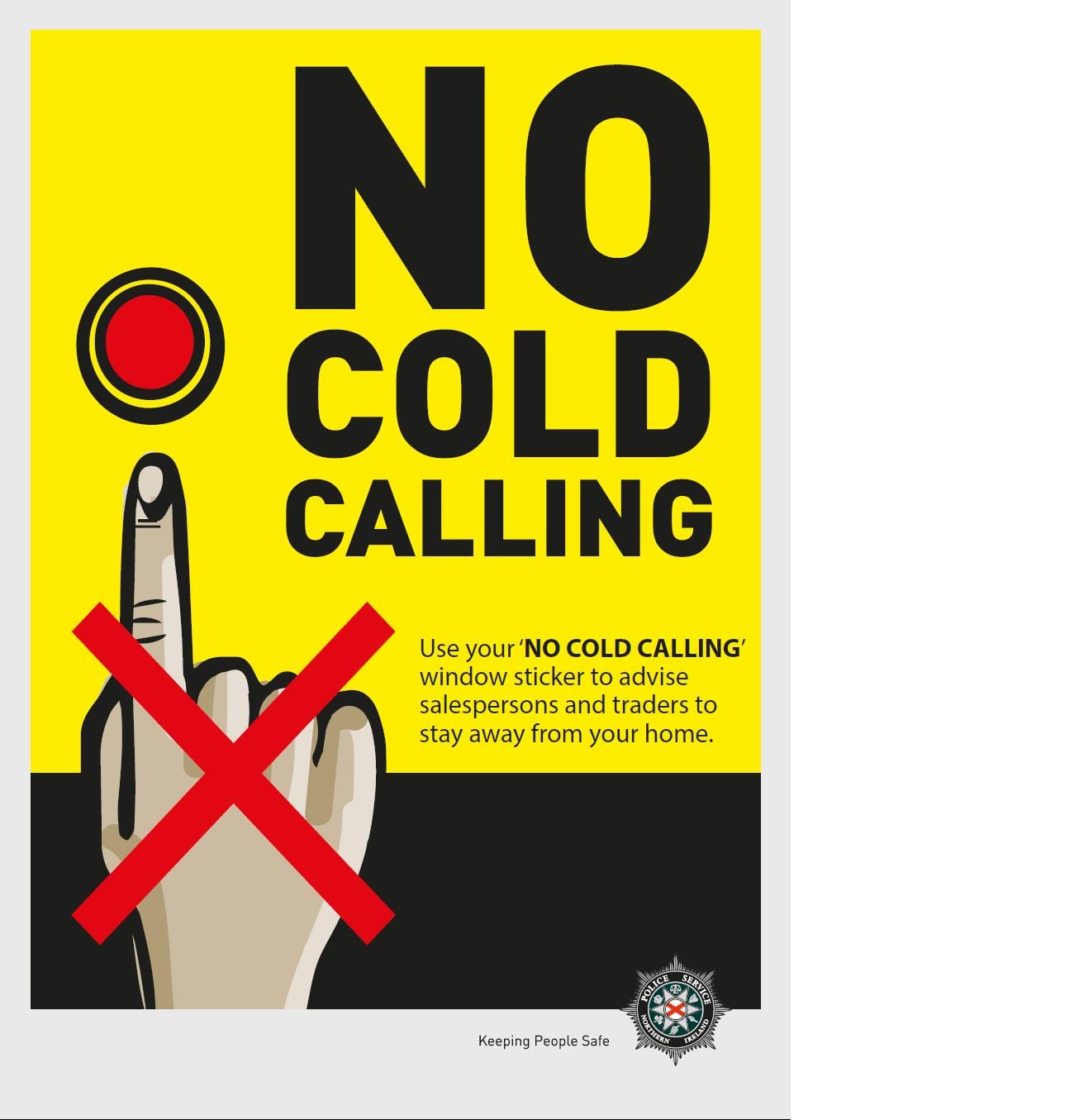 As part of their focus on burglary, police in Armagh, Banbridge and Craigavon are encouraging the public to make their homes 'No Cold Calling' zones.
District Commander, Superintendent Davy Moore said: "We recognise that not all cold callers are rogue traders or criminals however we want every householder, particularly the more vulnerable, to have the confidence to refuse services they do not require or want."
The No Cold Calling initiative aims to empower householders to feel safe in their own home through the display of No Cold Calling stickers which clearly instruct cold callers not to call at that property.
Packs with No Cold Calling stickers and leaflets, developed in association with Trading Standards, are available for homes. The No Cold Calling window stickers can be placed on doors and windows to make cold callers aware that they are not welcome at that address. The sticker also has a contact number to report any callers who ignore the warning to police and Trading Standards."
Police are also encouraging elderly and vulnerable residents to take advantage of the Nominated Neighbour scheme.
This is an initiative where a householder can direct an unrecognised caller to a nominated neighbour if they are home alone or uncomfortable with the caller. The resident will display a card instructing the caller to contact their nominated neighbour, who will then try and check the caller's identity.
Superintendent Moore continued: "These schemes aim to help people feel more secure in their own homes. They offer an extra layer of protection that will empower residents and discourage rogue trading and cold calling.
"We are also here to keep you safe. If you notice unknown vehicles in your community or become aware of cold callers, please phone us straight away so that we can prevent, detect and deter any criminal activity."
If you are interested in making your home a no cold calling zone or would like more information on the nominated neighbour scheme, please contact police on 101.
Read more news:
Black Mamba drug 'worse than heroin being sold in Armagh'
First new store at vacant Tesco has potential to create up to 100 jobs
Air quality safety breach: Armagh named one of UK & Ireland's most polluted
ETT pulls plug on Armagh leaving 38 apprentices seeking alternative training provider
Man (20) dies after road traffic collision in Portadown
Armagh woman who cut dog's tail has sentence increased upon appeal
Council no plans to buy Courthouse — despite newspaper claims
Staff and pupils' in cookery book fundraiser in memory of Lesley-Ann and John
Portadown man Willie loses cancer battle months after dream wedding
Sign Up To Our Newsletter