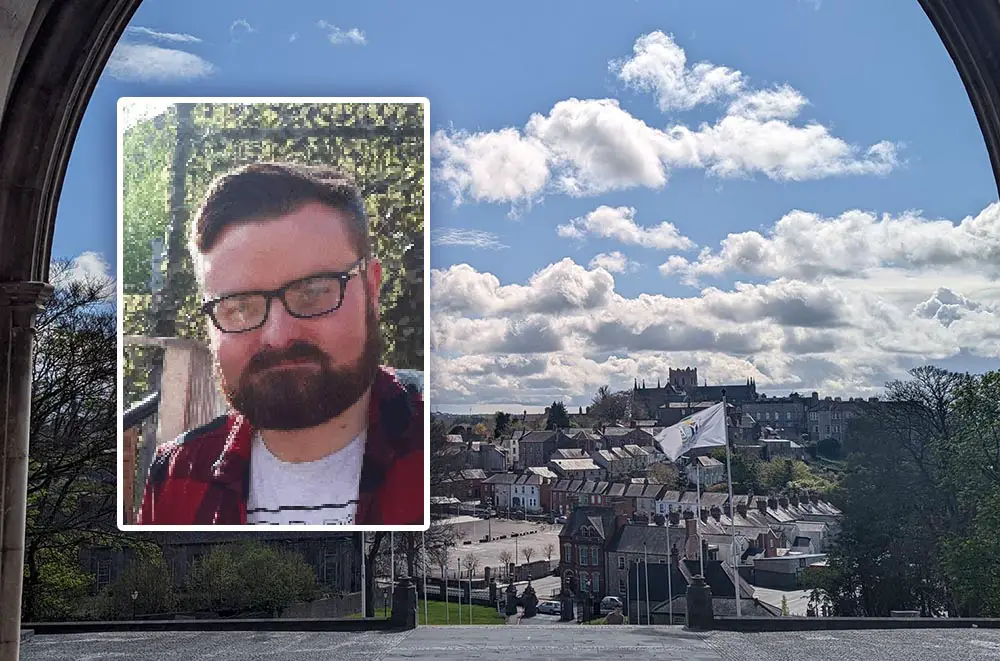 An Armagh mother has spoken of her heartache after her only son died during a desperate attempt to save the life of a young woman in Belfast on Friday morning.
Patrick Fearon, who had only just moved to Belfast from Armagh last month, passed away after he jumped into the River Lagan to make sure the female had secured herself to a life-ring he had thrown in moments before.
While the woman was ultimately saved by the selfless and heroic actions of the Co Armagh man, Patrick tragically did not make it out alive.
The 30-year-old was removed from the water at approximately 2.30am and paramedics worked tirelessly for close to two hours to save his life, but he was pronounced dead at 4am.
The passing of a young man, who endeared himself to all he met, has torn a hole among his friends, and family – and none more so than his mother, Linda, who described Patrick as "a joy to have as a son".
"Everyone loved him; every member of his whole family loved him," she said. "Nobody ever had a bad word to say about him. I'm not just saying that because I'm his mother, I'm saying that because it's true."
Linda recalled how Patrick, selfless in nature, thought of everyone else before himself and did so again during the early hours of the morning when the young woman entered the water.
"Patrick being Patrick, he threw the life ring into the water and I think he went in after that to make sure she got it. She got out okay in the end – he didn't.
"He couldn't swim that well, certainly not well enough to be in a fast flowing river, but he didn't even think about that, he was just concerned about making sure the girl got the life ring."
Patrick died a hero but he also lived a hero. Linda recounted how in the past he saved the life of his sister, who loved him to bits.
"When he was 14 my house went on fire and he ran in to get her and his pet cat out," said Linda.
"That's the sort of person he was, he always put other people before himself, that's just who he was."
The passing of any young person always hits hardest; Patrick's passing in particular will be a difficult one to reconcile with – truly one of life's good ones.
Patrick had only recently moved to Belfast, having relocated back to Armagh after a number of years studying and working in Scotland.
He had studied at the University of Ulster in Coleraine before that. In Glasgow he got his Masters and worked for a company there for a couple of years.
His mum Linda said it was a lack of work-life balance that prompted her son to return home where he re-trained as a data analyst at the Portadown campus of the Southern Regional College.
"He landed his dream job as a data analyst in the NHS," said Linda, proudly.
"He was living with me for a year and he only moved out five weeks ago – to go to Belfast. He got a wee flat; he was so excited and so happy because it was his own little flat. He lived in one before but he was always sharing with other people. This was his first flat on his own; he bought all his own furniture; he was over the moon.
"And he got a promotion a few months ago; he was so happy and told me how much he absolutely loved it. He loved the fact he now had a good work-life balance that he always wanted. He could see his friends at the weekend. He had so many plans.
"When he came back from Scotland initially he had plans to return but he had friends here, his family were here, so he decided to stay. Obviously, I was delighted!
"I was okay with him moving out and down to Belfast because I could still see him. I saw him on the Thursday before he died. We went shopping together; we had a nice chat and spoke about what he was doing at the weekend. He was planning on coming down to Armagh next weekend to watch the Ulster final.
"He was a big Armagh fan. He was also a big Manchester United fan – he's being buried in his Manchester United top and scarf."
Patrick's passing has left a mother devastated, a sister heartbroken, and wide array of friends and family crushed.
His funeral, which will take place at St Patrick's Cathedral on Monday at 11am, will see many who held Patrick close to their hearts in attendance.
"He had friends all over, not just here," Linda added. "He had friends in England and Scotland and he even has a friend flying from Canada to attend his funeral.
"I know I'm his mum but he was loved by everyone. He never ever did anyone any harm in his life. He never gave me a moment's worry in my life. I always say he was a joy to have as a son. No mother should bury their son."
Patrick was the cherished son of Linda and loving brother to Eisha and his step dad Eddie.
Patrick's remains will repose at his late home until removal on Monday at 10.15am to St Patrick's Cathedral. After the funeral, he will be laid to rest afterwards in St Patrick's Cemetery.
Sign Up To Our Newsletter