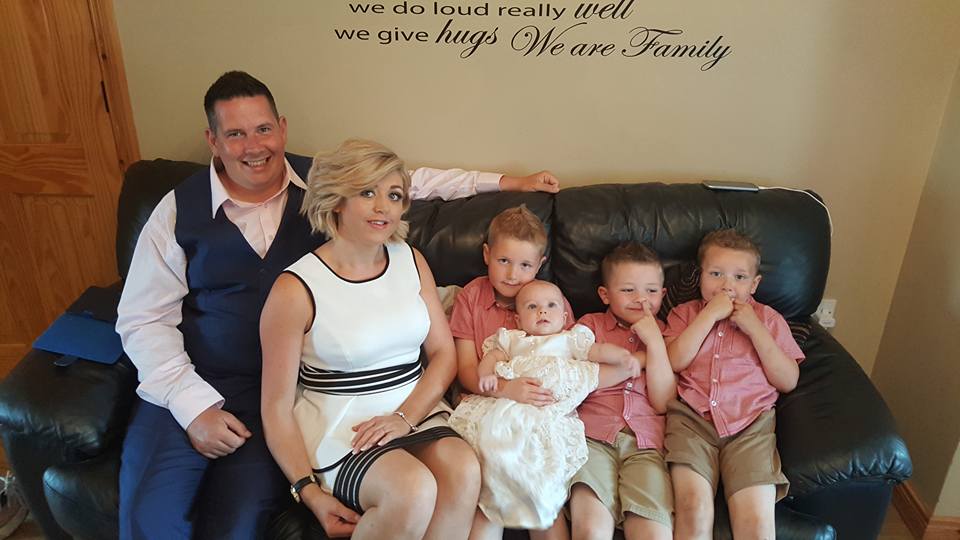 A young Armagh mum with a rare cancer-causing gene is planning to host a special 'Pink Party' in the city to raise money and awareness.
Ciara McKenna and her sister Siobhan both have the BRCA1 gene and she says the more people know about it the more lives will be saved.
The 31-year-old receptionist is currently planning to have a double mastectomy and have her ovaries removed as a preventative measure.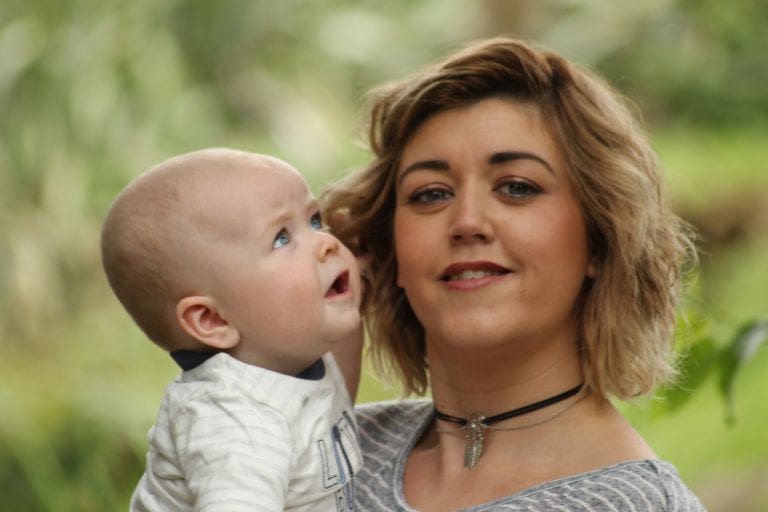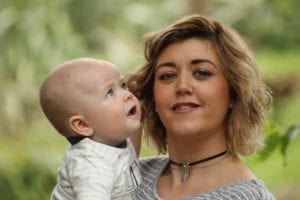 Ciara is married to Michael and they have four boys, Kian (7), Ryan (5), Marc (4) and seven-month-old Ethan.
She says she is having the surgery because she feels it would be "unthinkable" to put her family through the grief of losing her.
Ciara has bravely spoken out to support the work of Cancer Focus NI which is raising awareness.
And she is planning a special fundraiser in the Northern Bar in Armagh next Saturday, October 22, to raise money to support the charity's work.
Ciara told Armagh I : "My own personal reason for fundraising is for my children and grandchildren. Further research into BRCA could mean that they won't have to face the life changing decisions that myself and my sister have had to deal with.
"I would also like to raise awareness of the BRCA gene. If you have had a strong family history of breast or ovarian cancer I would urge you to talk to your GP about genetic testing – it could save your life."
Ciara inherited the mutant gene from her father, who tragically died in a car crash when she was three and he was just 21.
She explained: "About four years ago his sister explained about BRCA to Siobhan and me after she discovered she was positive and we went together to have our blood tested. I'd already decided that if it was positive I would have the surgery. To put your family, your children through losing you is unthinkable.
"At the same time we both thought, what are the chances? Although we were aware that we had a 50/50 chance of being positive, we were really doing it so that we'd be eliminated and move on with our lives. We were both very shocked at the result.
"Michael and I already had three boys but it was very important to us to finish our family before I went ahead with surgery. Before I was expecting Ethan I went for regular MRI scans and check-ups to keep an eye on things, but we were against the clock.
"While a little girl would have been lovely, I was relieved and thrilled to have another boy. If our boys are carriers I feel I don't have to worry quite as much about their health. Men can be at greater risk of breast cancer and prostate cancer because of the gene but it isn't as risky for them as for women. It makes me feel a little less guilty that I may have passed the gene on to them.
"You never know how things will change over the years. Hopefully by the time my boys are having families there will be many new developments that could perhaps eliminate the gene or stop it causing cancer.
"Since learning I am BRCA1 positive, every bump and lump I find fills me with dread. One time I thought I'd spotted dimpling on my breast and flew into a panic, because this can be a sign of breast cancer. I was so relieved that it turned out just to be stretch marks, but I suffered a great deal of stress and worry over something so simple.
"The worry in your head is unbelievable. It takes over your life, and that's no exaggeration. I don't want BRCA to have that power over me, I want to control it. Advances in medical technology allows me to take control, and I feel that surgery is the best way forward for me.
"Now I'm a few years down the line, I still think about it every day but I can say that it no longer consumes my life and, though I know I have a tough time ahead, I think of the goal and I am now ready to take the necessary steps.
"It's because of fundraising for charities like cancer Focus NI that researchers can do their amazing work and give people like me the options that we have. I am very optimistic that in the future there will be many more wonderful developments too, so I'd urge everyone to get on board and do their bit for the Cancer Focus NI PINK fundraising and awareness campaign.
"The more people who know about BRCA the more lives will be saved. Cancer Focus NI is not only saving lives now but also creating hope for our future generations."
Ciara's own fundraising event has already received lots of backing and she is looking forward to seeing as many as possible coming along on the evening to show their support.
The whole idea is to 'think pink'!
Simply dress in something pink and come on down and enjoy the party.
"Lots of local businesses have very generously donated prizes for a raffle on the night," added Ciara.
"It would be fantastic if we could see as many people throw on something pink and join us to help raise a few pounds."
Music will be provided by Heels & Reels on the evening and the Pink Party gets underway at 9.30pm. Tickets are only £5 each and it is such a fantastic cause so please do show your support.
And, if you are unable to make it to the Northern Bar, Ciara has also set up a fundraising page so anyone can make a donation.
If you would like to donate you can do so at https://www.justgiving.com/fundraising/Ciara-McKenna2
All donations, no matter how big or small, will make a big difference and support the vital work of Cancer Focus NI.
Picture: Ciara McKenna with her husband, Michael, and four boys, Kian, Ryan, Marc and baby Ethan.
Sign Up To Our Newsletter