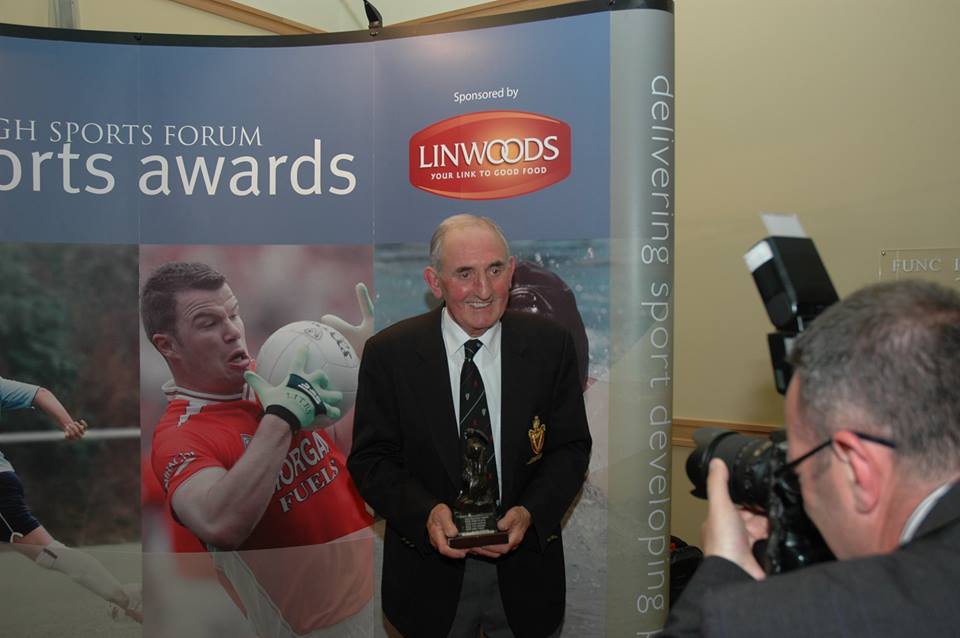 A legend in the world of rugby and an Armachian through and through, Armagh has lost one of life's true gentlemen with the passing of Mr Billy 'Min' Davidson.
He had been a familiar face at the Palace Grounds for seven decades!
And one of the highlights came just nine years ago when he received the prestigious Dorrington B Faulkner Award for Services to Rugby at the Ulster Rugby Awards in Belfast.
Mr Davidson, who was married to Jean, passed away on Wednesday, causing much shock and sadness across the city and wider community.
He joined Armagh Rugby Club at  just nine years of age and remained an active member for the best part of seven decades.
Min Davidson played for many, many years and captained teams to both league and cup successes during his illustrious career.
He  even played into his 40s and 50s and put many a younger man to shame! He was one of those whose love and passion and drive to keep playing led to the foundation of the 'Golden Oldies' team.
Off the pitch and he also held all office levels – he had served on the committee and was a man who 'got things done'.
He also served as President on two separate occasions.
It was under Min that the Palace Grounds was a proud place for many players and supporters alike.
He devoted so much time to ensuring its development and maintenance. He toiled behind the scenes and it's fair to say that the City of Armagh Rugby Club would not have enjoyed the success which it has done without Min Davidson.
Min ran four marathons in the 1980s to raise the money to pay for the floodlights at the Palace Grounds.
He bought them himself and put them up, such was his determination and his devotion to club.
He has done so much to inspire men, women and children in the sport and his influence and commitment are without compare and beyond measure.
Min Davidson, who lived at Charelmont Gardens, passed away on Wednesday and we extend to the family our deepest sympathies; to his wife, Jean, daughters Gillian, Sharon and Elaine, sons-in-law of Ciaran, Neil and Adrian and grandchildren grandfather of Patrick, Matthew, Calum, Cerys, Bethan, Conor, Owen, George and Cathal.
His funeral will take place on Saturday, at 1pm, to St Mark's Parish Church, and he will be laid to rest afterwards in the adjoining churchyard.
Donations in lieu of flowers are being accepted for St Mark's Fabric Fund c/o Jackson Stoops & Sons, Funeral Directors, 44 Moy Road, Armagh BT61 8DL.
Sign Up To Our Newsletter