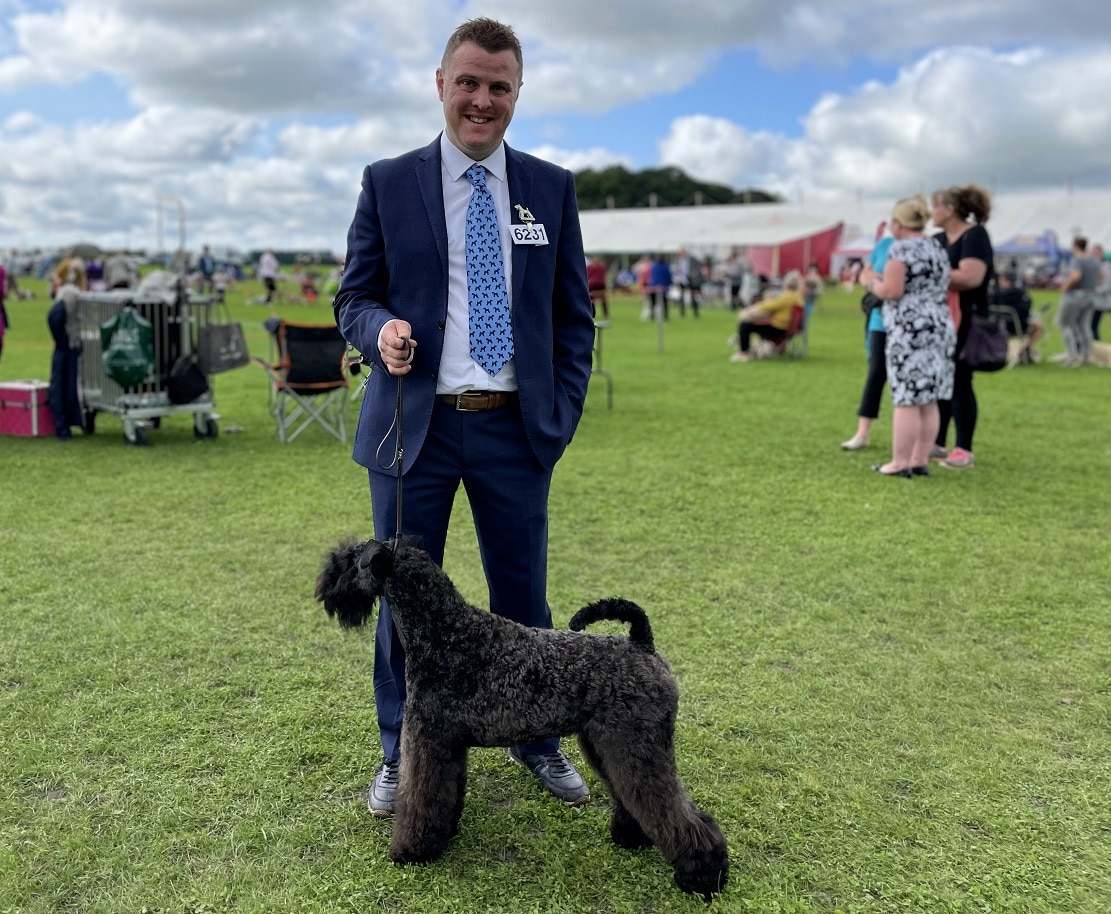 Armagh man Gareth Smyth bought his Kerry Blue Terrier Jimmy as a family pet.
But next week, they are set to make their television debut as they prepare to take part in a Crufts qualifier.
The pair will be appearing on BBC One's True North film Top Dog on Tuesday, April 19.
The programme follows dog owners from across Northern Ireland as they prepare for the world's biggest international dog show.
Gareth (36), an electrician who is originally from Darkley, is a relative beginner when it comes to showing.
He bought Jimmy, aged two, when he was just a pup. Although his family had always kept dogs when he was young, it was not until Gareth and wife Orlagh came home from England that they had enough room and time to have a dog.
Jimmy's star qualities became apparent when Gareth took him to handling and socialisation classes, and breeder and trainer Darwin Martin encouraged him to start showing and competing.
Said Gareth: "Once I started going to the shows, I really enjoyed it. It's a new hobby. Darwin took me under his wing. I wouldn't have known half the stuff or been able to get to half the shows without his help."
The show follows Gareth and Darwin as they prepare for the Blackpool Championships, a qualifier for Crufts.
And their preparations obviously paid off, as Jimmy was placed second and then went on to take second in his group at this year's Crufts show in March.
Said Gareth: "Jimmy is cheeky and happy, a lovely, loving dog. As a handler I enjoy the rapport you have with the dog, learning about the breed and getting away for the weekend. I have met a bunch of nice people."
His daughter Annie is as keen as her dad and "dotes" on Jimmy while son Thomas (3) is still a bit young.
Gareth, who admits he has got the showing 'bug'  is currently considering buying another Kerry Blue.
His ultimate ambition is to see Jimmy pick up a Championship title in either England or Ireland.
Meanwhile, he is "nervous but excited" about appearing on the programme.
"I don't know if I need to go and hide for a week or go on holidays!" he laughed.
The programme also features Tracey Douglas , a Labrador owner and professional dog groomer from Dundonald, who along with dad Alec has been involved with competitive dog showing all her life.
In Enniskillen, Steve Kennedy is passing on his handling expertise to niece Katie, one of the youngest competitors to make it to Crufts at the age of nine. Steve has dementia and describes being diagnosed as a blessing which led him to make some serious lifestyle changes.
Michael McCartney and his son Crawford are two of Northern Ireland's most successful agility competitors, with their Border Collies Robbo, Denny and Scholsey all named after Manchester United former players.
While Crawford has taken over agility training at the family dog centre, Michael still steps in to help his son at the Lisburn and District show – the only Crufts qualifier in Northern Ireland.
True North:Top Dog will be aired at 10.45pm and will also be available on BBC iPlayer.
Sign Up To Our Newsletter